Table Talk
Table Talk: September 7–14
This week: The Ozark Mill Restaurant, El Tamale Drip and Storming Crab are all newly open in 417-land.
By Katie Pollock Estes
Sep 07 2021 at 8 a.m.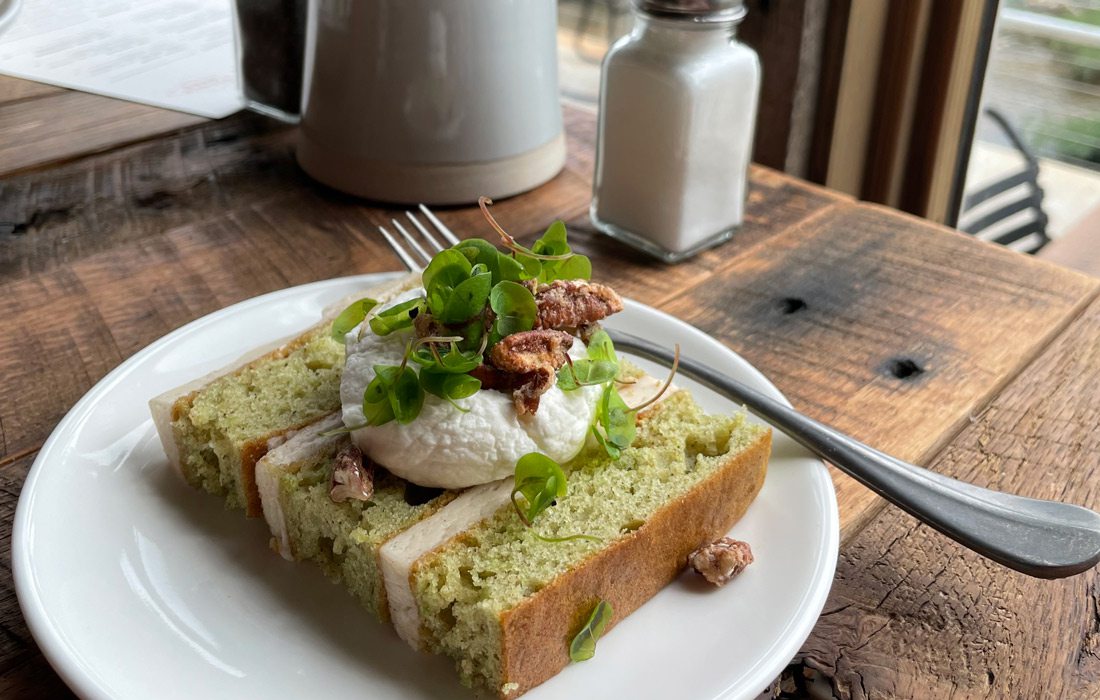 The Ozark Mill Restaurant is Finally Open!
Last Friday, The Ozark Mill Restaurant opened for business at Finley Farms—and on Thursday I got a sneak peek of the much-anticipated eatery inside one of Ozark's historic landmarks. It was such a treat! The mill building itself was lovingly and painstakingly restored, using existing materials. That gives it a beautifully old-meets-new vibe that is filled with personality and steeped in history. You can even see the old millworks in the ceiling in some areas, and walk across the original hardwood flooring. The space is bathed in natural light thanks to tons of windows facing the Finley River. When I first walked in, I got to browse around the general store, which is filled with fun foodie finds and handcrafted items. But I was most excited to try the food, and it did not disappoint. There are standard lunch and dinner menus, plus an ever-changing seasonal menu—and all of the menus highlight ingredients that are grown on the land at Finley Farms, like honey from their beehives and produce from their gardens. I tried a sampling of items from the lunch and dinner menus, including the Mill Burger (made with short ribs and truffle aioli), the risotto fritters with pickled pepper aioli (hands-down my favorite flavor of the day), a beautiful salad and the restaurant's green tomato cake that was as tasty as it was beautiful. Right now, the restaurant is open by reservation only, and you can make them online.

Still on the horizon at Finley Farms is The Garrison, a downstairs speakeasy-style bar serving craft cocktails and small plates. Its name is a nod to the beloved Riverside Inn's original owner, Howard Garrison. The speakeasy is not yet open, so of course we're dying to try it. We don't know what'll be on the menu yet… but with that Riverside Inn legacy, we can't help but wonder if fried chicken will make an appearance. We shall see!

Oh Hello There, El Tamale Drip
Remember when Secret Sandwich Shop opened inside Sweet Boy's Neighborhood Bar, and we were blown away by those seriously delicious sammies? They've since outgrown Sweet Boy's and moved down the block to their new home on McDaniel Street. That left a vacancy inside Sweet Boy's that was finally filled last week when El Tamale Drip opened for business. The new spot serves a small-but-mighty menu of tamales and a handful of other goodies. We don't know if we're more excited to try the Cochinita Pork (filled with traditional Yucatan-style pulled pork) or the Green Chili Chicken (made with both green chilis and poblano peppers). You can also get tacos, nachos, elote salad (omg yes!), pickled veggies and a few more goodies. If this spot isn't on your must-try list, you need to add it!
A New Place to Get Your Crab Fix

This weekend, Storming Crab opened on on the east exterior side of Battlefield Mall, and the spot is all about the shellfish boil. You pick your seafood of choice (including several kinds of crabs and shellfish) and your sides (think sausage, potatoes), then you're served a heaping plate of boiled goodies. Storming Crab isn't the only new food going in at Battlefield Mall. The food court has seen some shifting eateries as well. Sno Bubble Tea, the boba tea spot that's been at the mall for a few years ago, has moved away from its old location and into the food court. Tacos El Champu, which has two mouthwateringly tasty taco trucks, found its first brick-and-mortar home at the food court as well and has already opened up shop. And on the horizon is the not-yet-opened Yan's Sushi & Grill which will soon be located inside—you guessed it—the food court. For a little preview of some of what these spots have to offer, see our review of the wildly fluffy Sno Cloud drink from Sno Bubble Tea and our "Best Tacos" feature that included some great eats from Tacos El Champu.
Snow Cones + Pumpkins?
Snow cones and soft serve ordered from a sweet little food truck and eaten outside might be a distinctly summertime treat, but Sno Ballz in Ozark has found a way to make it super autumny as well. The little teal trailer with the sweet red-and-white awnings is still out there slinging frozen treats, but they've brought in hundreds of seriously beautiful pumpkins and gourds so you can do your fall front porch decor shopping while you grab dessert. They have longneck squash, striped gourds and pumpkins of all varieties—from classic carvable orange ones to decorative pumpkins in pure white, sage green, stripey yellow, creamy blush, and (my personal favorite) tons of warts. So embrace spooky season, and get your pumpkin shopping fix while you indulge in pumpkin pie soft serve.