Table Talk
Table Talk: July 18–24
This week: Plus lots of sweet cookie news for Springfield, Rosé Day returns, Jamaican Patty Co. gets a second location and more in Table Talk.
by Tessa Cooper
Jul 18 2023 at 8 a.m.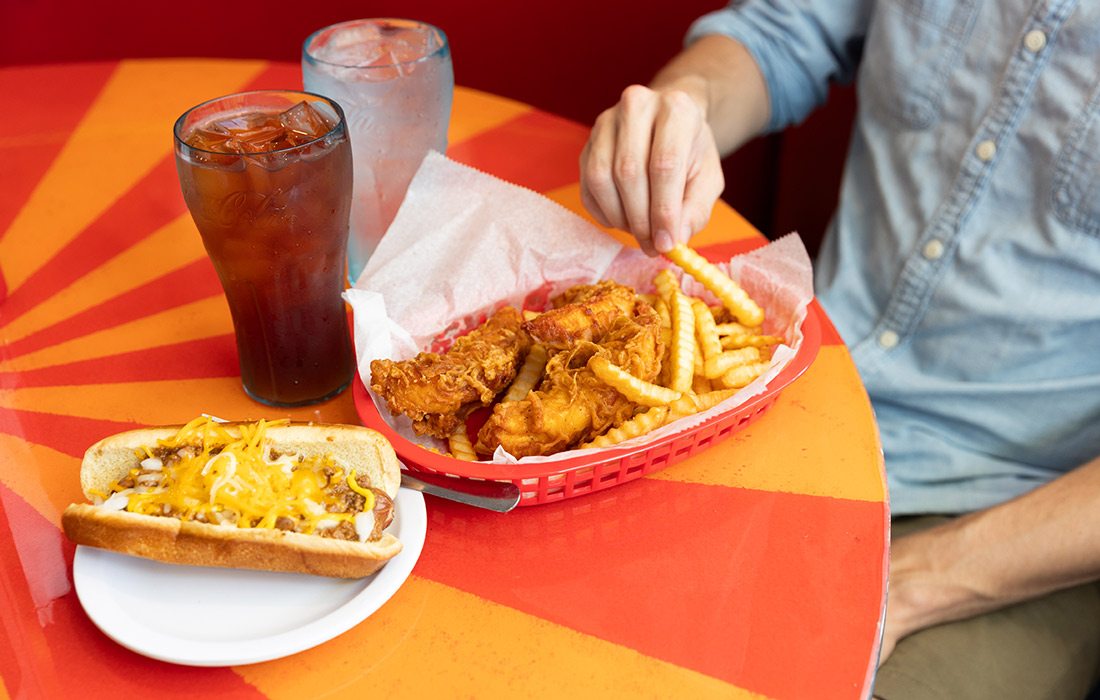 An Old Haunt, Reopened
Good news: Casper's Diner is back baby! The long-time Springfield staple just wrapped up a year-long hiatus while awaiting renovations at their new location. Now, they're once again slinging chili cheese dogs, burgers and fries, but now at 937 S. Glenstone Avenue in the former Anton's Coffee spot. We checked out the new location last week, and it definitely lives up to the hype. When you walk in, you'll feel right at home amid the bright color scheme and decorative tchotchkes that the old location also featured. If you were a fan of Anton's Coffee, you'll love the nostalgic feeling of dining inside. Now for the main event: The menu. You'll find all your old favorites like overflowing bowls of chili topped with a layer of shredded cheese, but also some new offerings like the hand-breaded and fried chicken tenders. Whatever you order, we recommend drizzling on the Arizona Gunslinger hot sauce available on every table, which is vinegar-forward with a spicy jalapeños kick. 🌶
The Return of Rosé Day
Rosé Day at Cherry Picker Package x Fare (601 S. Pickwick Avenue) comes but once a year, and this weekend marks its seventh annual edition. This Sunday, July 23, from noon–6 p.m. you can imbibe on a selection of more than 30 varieties of rosé by the glass. It's a great way to discover your new favorite bottle and learn about the tasting notes, pairing suggestions and production process. The event always produces a great turnout, so you never know which familiar faces you'll get to run into. However, this also means we recommend getting there on the early side of the event so you can snag a prime spot on the patio. We'll see you there!
Patty Please
Jamaican Patty Co.'s second location just opened up in downtown Springfield at 301 Park Central West, so now it's more convenient than ever to cure a patty craving. You'll find all the same popular offerings they serve at their southside location, like their curry chicken patty with plantains (our personal favorite) as well as additional options like a jerk chicken burger, Rasta pasta and fries. You can dine inside or take your order to-go from the walk-up window if you're feeling like a downtown stroll. The team at Jamaican Patty Co. is still working on finalizing the hours for this location, but they plan on being open extra-long on the weekends for your late-night needs.
Itty Bitty News Bites
• Springfield is getting its very own Dirty Dough! The cookie franchise is on track to open on September 1 at 401 S. Kimbrough Ave. We're super-excited to try the standard stuffed chocolate chip cookie (for baseline research, of course), but we're most looking forward to trying the more novel rotating flavors like orange creamsicle or the Cinnamon Toast Crunch.
• In other cookie news, Crumbl Cookies is also coming to town. The Northside location is on track to open before the end of the year at the corner of Kearny and Glenstone, and there are also plans in the works for a Southside location. The cookie flavors will rotate every week but expect classic flavors like chocolate chip as well as specials like blueberry cheesecake and churro. Our sweet tooth can hardly wait. 🍪
• Immediately following Progress's closure announcement, inquiring minds were curious about chef Daniel Ernce's next moves. The sad news is that he is leaving Springfield, but the good news is that he is staying in the restaurant industry and heading to a place within driving distance. Ernce will be working at Conifer (321 SE 2nd St. Ste. 100, Bentonville, Arkansas) to work as head chef for the eatery that serves gluten-free meals with a seasonal focus. Ernce's food is more than worth the drive, so check out our profile on Conifer from our Dining Day Trips feature as you plan your visit.