Dishes
The Bulky Bowl at Morning Day Café
Plus six more dishes and drinks that have passed our taste buds this month and made us rave. They are ranked by level of yumminess.
By The Editors
Jul 2020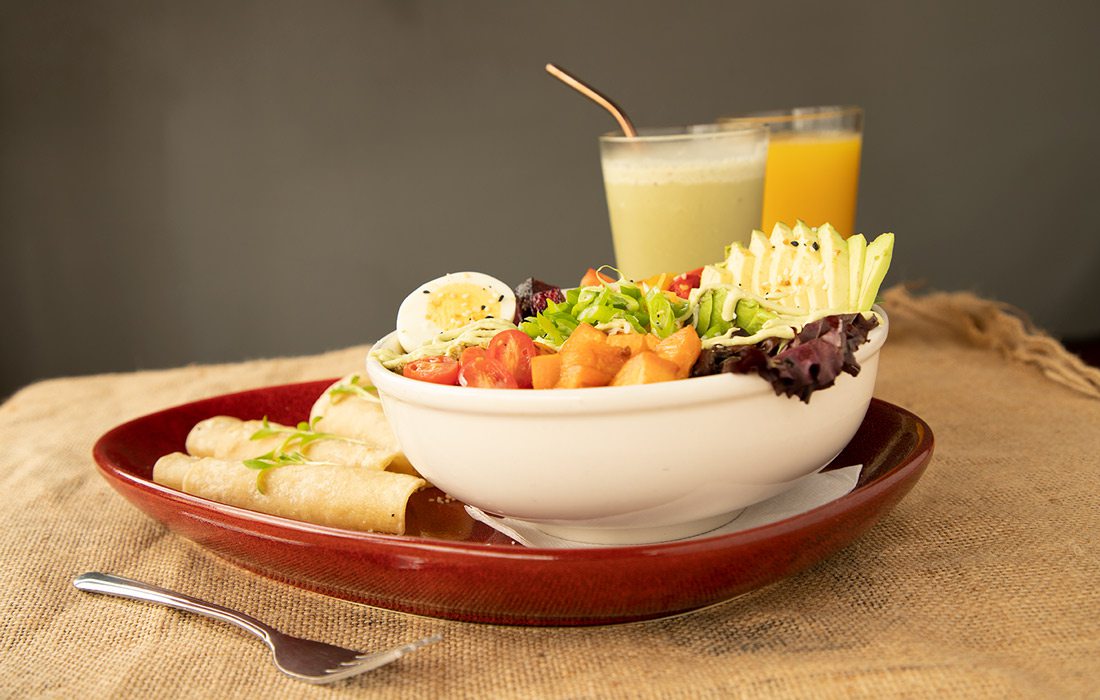 1. We love to order The Bulky Bowl from Morning Day Café (106 S. Main St., Nixa, 417-494-5055) when we're super-duper hungry but want some veg in the mix. This breakfast bowl features filling quinoa and black beans, peppers, onion, shredded cheese and fresh avocado served over spinach with a side of chips and salsa.

2. Summertime is ice cream time (or… excuse us… custard time), and build-your-own concretes from Andy's Frozen Custard (multiple locations, eatandys.com) are one of our favorite ways to get that sweet frozen treat. Go for our favorite combo: raspberries and pecans.
3. How do we love the pesto pie from Derby Deli (2023 S. Glenstone Ave., Springfield)? Let us count the ways: crispy naan, loads of fresh veggies, pesto sauce, provolone cheese and local goat cheese. It's pizza perfection.
4. An awesome indulgent-but-still-features-veggies dish is the brussels sprouts appetizer from The Pitch Pizza & Pub (2924 E. Sunshine St., Springfield). They are roasted and served with crispy potatoes, bacon lardons, garlic and goat cheese.
5. We don't recommend you skip dessert at Jimm's Steakhouse (1935 S. Glenstone Ave., Springfield, 417-886-5466). Dive into the indulgent Jimm's Brownie instead. The fudgy brownie is served with peanut butter mousse, vanilla ice cream and espresso fudge sauce. Spring for the pecans and caramel too. Oh. Em. Gee.
6. The fish tacos from Haruno Japanese Sushi Bar & Grill (3044 S. Fremont Ave., Springfield, 417-887-0077) is one of our favorite lunches, with a killer combo of fried fish, crispy cabbage, fresh herbs and a mix of spicy seafood, avocado, and wasabi sour cream sauces.
7. The recently released strawberry cream cheese fruit sticks from St. George's Donuts (3628 E. Sunshine St., Springfield; 1415 W. State Highway J, Ozark) are a welcome change of pace to the morning routine. A flaky pastry is wrapped around fruity filling, baked and coated in a sweet glaze.