Food
Gardening and Culinary Tips for Squash Blossoms
Squash blossoms are a delicious delicacy at farm-to-table restaurants, prompting many gardeners to harvest their own.
By Rae Swan Snobl
Jun 2021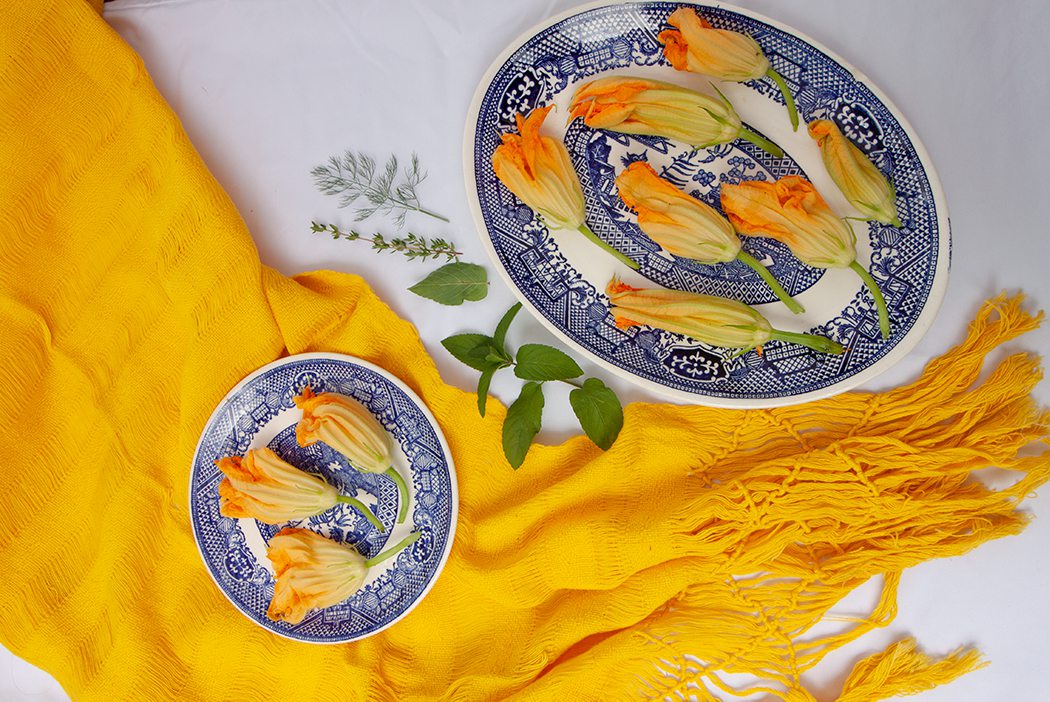 Millsap Farms (6593 Emu Ln., Springfield) is a small 20-acre family-run farm located minutes from Springfield that raises organic vegetables all year long. "We've known about the culinary uses of squash blossoms for a while," Curtis Millsap says. "But Vadim inspired us to start harvesting and selling them." Dr. Vadim Putzu, an Associate Professor of Religious Studies at Missouri State University, grew up in Turin, Italy, and squash blossoms are a seasonal delicacy throughout his country. "To me, their colors represent late spring, early summer and make me happy," Putzu says. 
Putzu notes most people in Italy coat the blossoms with a simple batter of egg wash and breadcrumbs and pan fry them. They are also often stuffed with a mild cheese like mozzarella or ricotta and anchovies, or a chopped sausage or salami, and then baked in the oven or deep fried. "Since their flavor is quite delicate and fresh, a more elegant way to appreciate them is in a risotto, pasta or frittata alongside diced zucchini and some fresh herbs like basil and parsley," says Putzu. 
There's a trick to harvesting squash blossoms and still getting a good squash crop, though. "The key is to pick the male flowers, which do not have small squash at their base," says Millsap. "The females will have tiny squash between the stem and the blossom. The female blossoms are also delicious, but if you harvest those, you won't get squash." Millsap also notes that squash are a little challenging to keep healthy organically in the Ozarks because of our abundance of squash bugs and cucumber beetles. "They are otherwise really easy to raise," he says. "They love heat, so need to be seeded or transplanted after the temperatures warm and stabilize (generally first of May). They are big plants, so plan for them to take up a 3-foot diameter circle." 
The blossoms are very delicate and ideally should be picked, cleaned and cooked the same day. "They can be stored the same way you store flowers," says Putzu. "Place the stems in water or keep them on a dry paper towel in the fridge for about 24 hours."