Real Parties
A Grilled Cheese Christmas Tradition
Lydia Shaulis and her family of foodies holds a grilled cheese cook-off every Christmas Eve.
As told by Lydia Shaulis to Rae Swan Snobl
Dec 2019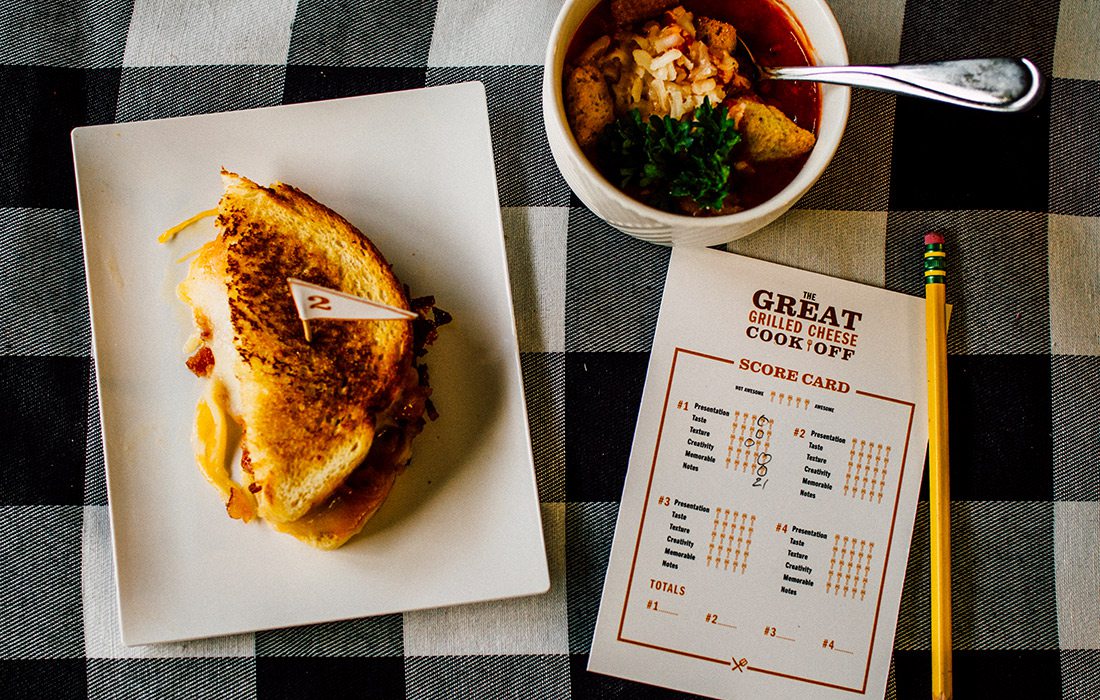 My family loves to cook, but we also love friendly competition. In 2011, we started an annual Christmas Eve tradition—a showdown for the best grilled cheese. It's a fun challenge to innovate a basic recipe. Our favorite part is coming together and making great family memories.
We have gotten pretty serious about this cheese-filled contest over the years. We spend the better part of the year brainstorming and coming up with ideas for our entries. Then, the week before, we gather ingredients from places like Neighbor's Mill, the International Wine Center, Heather Hill Farms, MaMa Jean's Natural Market and Osceola Cheese. On competition day, everyone dons their stretchy pants and picks a spot in the kitchen to prep their entries.
Figuring out the judge's likes and dislikes is a big part of our strategy. We all try to incorporate his or her favorite foods into a yummy grilled cheese sandwich recipe to guarantee a high score. Some of our past entries include caprese, banana Nutella, cheddar bacon mushroom, French toast, pepper on a pretzel and Hawaiian. A scorecard is used to rank the entries and the judge tries to guess who made each sandwich before announcing second and first place. Afterward, everyone goes home and slips into a carb coma until Christmas morning.


Recipe courtesy Kristi Delp, 2013 Winner
Ingredients
1 tablespoon powdered sugar
¼ cup mascarpone cheese
2 tablespoons butter, melted
2 slices sourdough bread
2–3 tablespoons Nutella
1 Banana, sliced
Kosher salt
Coarse sugar
To Prepare
With a mixer, blend together powdered sugar and mascarpone cheese until smooth and creamy. On one slice of bread, spread the mascarpone cheese mixture; on the second slice, spread Nutella. Arrange sliced bananas in a layer on top of the Nutella side. Sprinkle with kosher salt, then sandwich the two slices together. Lightly butter each side of the sandwich and cook on medium heat in a nonstick skillet. Flip the sandwich when the bread is slightly golden. Sprinkle with coarse sugar and continue to lightly brown both sides of the sandwich until it creates a sweet and crunchy coating. Watch closely to not burn the sugar.


---
Recipe courtesy Jesse Shaulis, almost-winner of 2018
Ingredients
2 slices bacon
2 ounces young cheddar
2 ounces mozzarella
2 ounces Muenster
2 tablespoons butter, softened
2 slices sourdough bread
To Prepare
Chop bacon into small pieces and fry over medium heat in a skillet. Remove bacon from pan and drain on a paper towel. Grate each cheese and toss together in a small bowl; set aside. Spread butter evenly on both sides of bread slices. In a separate skillet or griddle, lightly toast each side of bread slices and flip when golden brown. Add cheese mixture and bacon to one slice of toast, then top with the remaining slice of bread. Turn heat to low and cook until cheese is melted. Best served with a hearty tomato soup and a pickle.