Dishes
Take a Bite Out of the Spicy Buffalo Cauliflower at The Rock
These seven dishes or drinks have passed our taste buds this month and made us rave. They are ranked by level of yumminess.
By The Editors
Feb 2020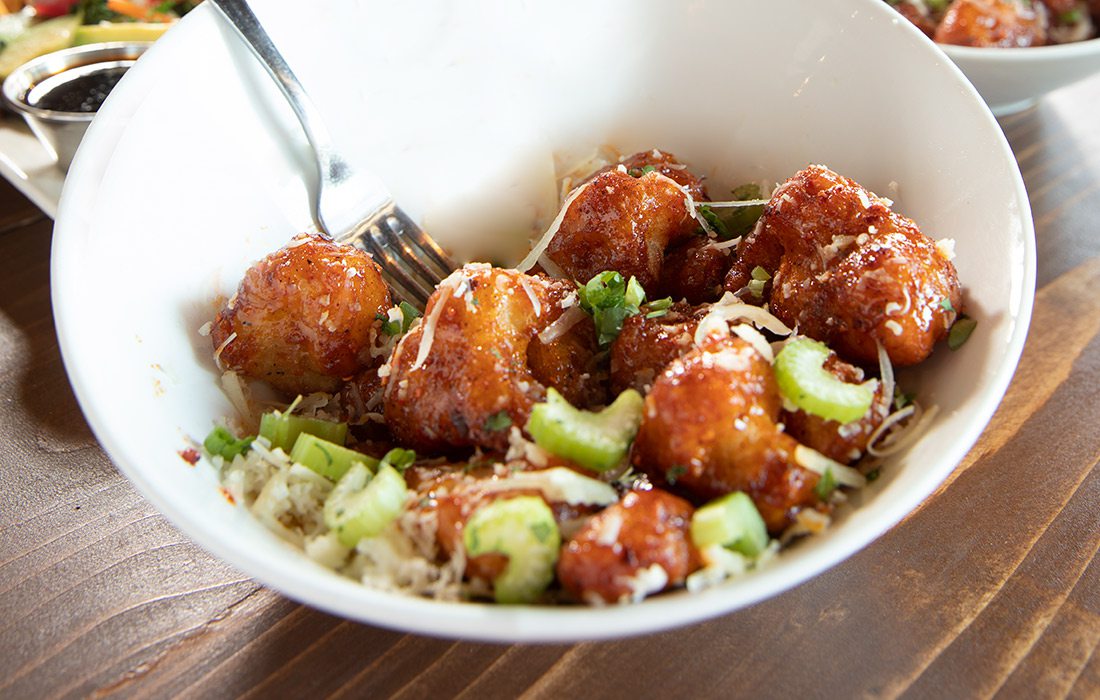 1. You know the phrase "So hungry I could eat a horse"? Well, try eating a boat instead. Truly, the sushi boat at Sushi Village (1440 W. Republic Road, Springfield, 417-890-1016) is big enough to feed a crowd of four, and it's a visual crowd-pleaser, too, jam-packed with various rolls and sashimi.
2. This dish is an architectural beauty that rivals its namesake. The Nachos Picchu at Cafe Cusco (234 E. Commercial St., Springfield, 417-868-8088) smothers a mountain of white corn chips in black beans, Huancaina cheese and your choice of chicken or steak, plus fresh toppings and avocado sauce.
3. For a poppable you-won't-believe-this-is-healthy bite, try the spicy buffalo cauliflower at The Rock Food & Friends (4018 S. Lone Pine Ave., Suite B, Springfield, 417-986-0632). Buttermilk breaded cauliflower florets are deep fried and tossed in a spicy buffalo sauce with scallions and Gruyere.
4. Nothing beats a good burger, and Burger Shack (1946 W. 76 Country Blvd., Branson, 417-544-9856) knows how to serve 'em. It's a choose-your-own-adventure menu, but we're partial to the combo of grilled pineapple, jalapeños and pepper jack cheese.
5. Still feelin' beefy, even after a burger? Lighten up the typical meaty offerings with Mo' Beef's (405 W. Walnut St., Springfield, 417-771-5111) Mo' Beef Salad. Don't be put off by the name; this crispy mound of romaine is topped with tomatoes, provolone, signature Italian beef and spicy giardiniera.
6. Tie & Timber (1451 E. Cherry St., Springfield, 417-429-9131) has given one of its most popular brews the barrel treatment. The Barrel-Aged Cherry Street Sour is aged in a Black Swan American Oak Barrel, and the results are delightful. Hints of the sour's signature tart pucker with the oakiness of a Chardonnay.
7. It might not sound like much, but the shrimp cocktail at Cesar's Old Mexico (2627 E. Sunshine St., Springfield, 417-881-8252) is a sight to behold. A towering dish of fresh shrimp comes straight to your table. Yes it's simple, but trust us. This classic dish is so delicious and so shareable.