Dishes
7 Great Take-out Ideas in Springfield
This list is all about the take-out we've been loving in Springfield, MO while social distancing. All have passed our taste buds and made us rave.
By The Editors
May 2020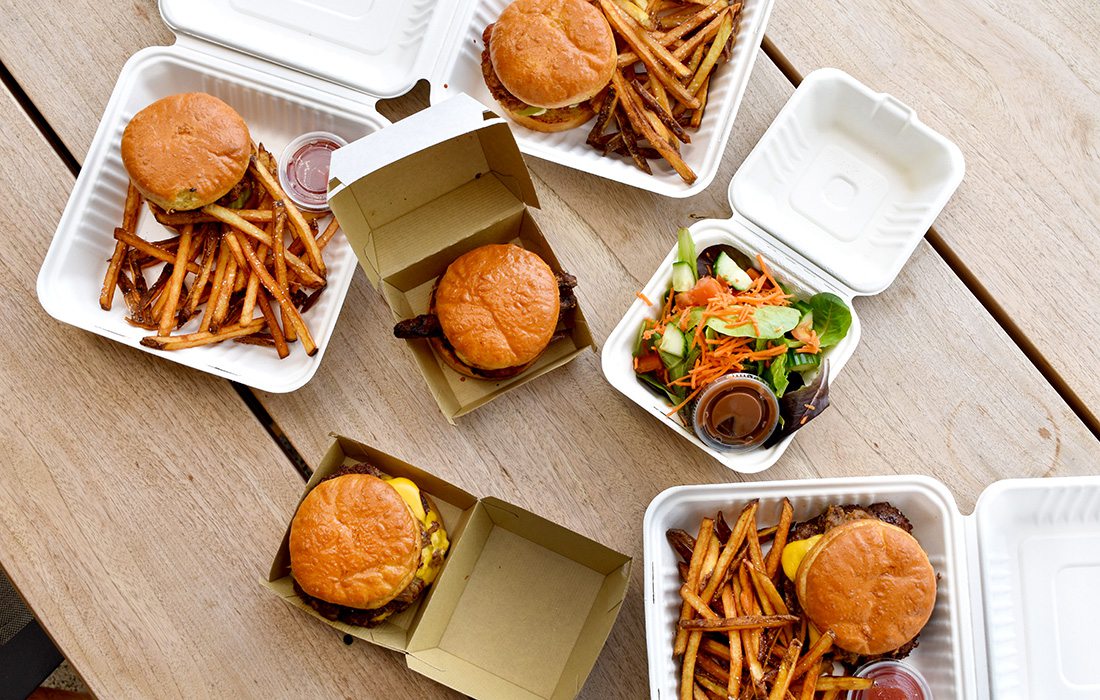 1. Right now we can't enjoy a brew on the lawn at Mother's Brewing Company (215 S. Grant Ave., Springfield, 417-862-0423), but that doesn't mean we can't enjoy a Mother's brew on our own lawns. We've been picking up cans of Trop Top Passion Fruit Pale Ale to sip on our patios at home. 
2. When we're all finished with social distancing, the first thing we want to do is have brunch with friends. In the meantime, we're eating the Brunch Burger from Morning Day Cafe (105 S. Main St., Nixa, 417-494-5055) is an awesome pick-me-up for a weekend brunch at home. It's topped with a fried egg, cheddar cheese and bacon bourbon jam.
3. The combo of an Al Prosciutto Crudo pizza with an Insalata di Arugula al Basamico Con Pinoli makes the perfect shareable lunch for two from Bruno's Italian Restaurant (416 South Ave., Springfield, 417-866-0007). The pizza is topped with Italiana Parma ham, arugula, mushrooms, olives and ham. The salad adds bright, fresh notes with arugula, toasted pine nuts, shaved Parmesan and balsamic vinaigrette.
4. We couldn't help but indulge in an order of the Lobster Chorizo Mac and Cheese from Lindberg's Tavern (318 W. Commercial St., Springfield, 417-868-8900) for a to-go brunch—with a mimosa of course. The dish was offered as a special, and it was intensely good, smothered in so much cheese, rich lobster and a kick of chorizo. Fresh chives and a lemon wedge freshed it up.


5. The burgers and sandwiches at Progress (2144 E. Republic Road, Suite B101, Springfield, 417-799-9388) make for stellar curbside to-go meals. We especially love the Bacon Progress Burger that features two patties and a ton of great flavors: smoked mayo, pickles, onion jam and crispy bacon.
6. Tortilleria Perches (1601 W. Sunshine St., Springfield, 417-864-8195) has been offering Taco Family Packs that feed the whole crew. They come with 24 tacos, a pan of beans, a pan of rice and a gallon of either horchata or tea for $50. That's like $2 per taco plus extras! We're hooked.
7. Another great value is the Family Style Pasta at Bambino's (2810 E. Battlefield Road, Suite D, Springfield, 417-881-4442) that gets you a huge tray of any pasta (go for the ziti... trust us!), a huge salad and ton of freshly baked bread for $19.99. They say it feeds two to four people. For us, it was enough to feed six!