Reviews
California Dreaming at Vineyard Market
With winery vibes and Napa Valley inspired charcuterie, Ozark's Vineyard Market is a great place to gather and share something delicious.
By Katie Pollock Estes
Jan 2021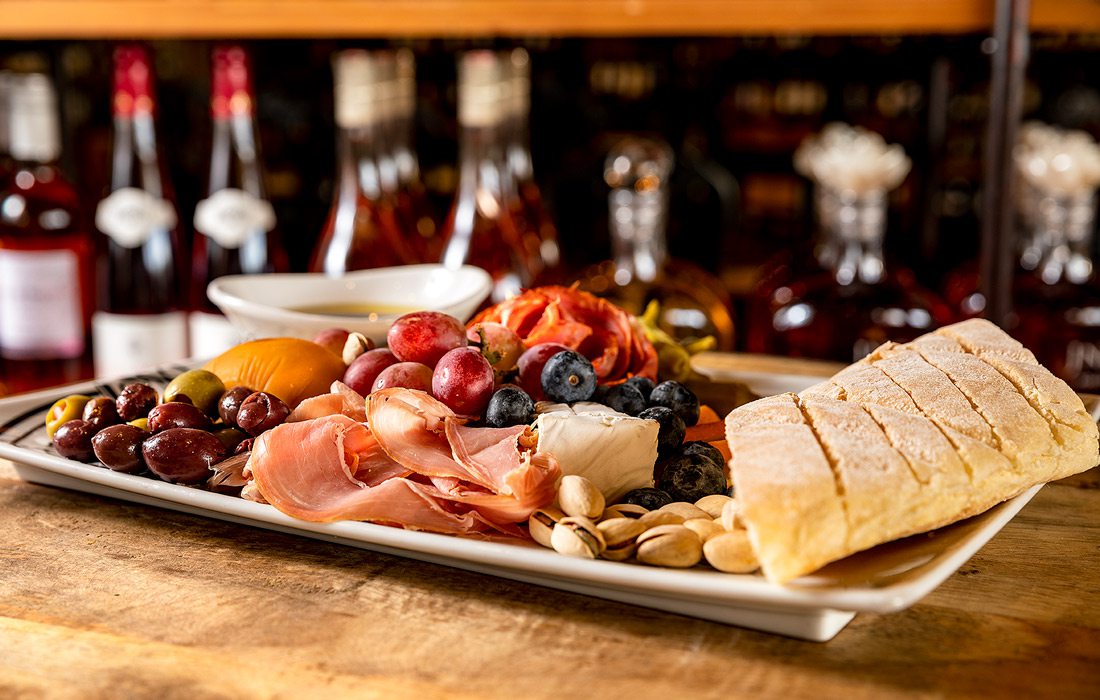 The Vineyard Market (1759 W. State Highway J, Ozark, 417-882-0399) is one of those little-bit-of-everything spots where friends love to gather. It's a wine shop with an extensive cigar collection in its humidor, which makes it a great place to shop. But the tempting food menu is nothing to sneeze at, and the shareable options are great for a lazy afternoon dining with a friend or a sweet date night option.
Aside from a strong cocktail game and the obvious plethora of wine options, the Napa Valley Charcuterie Boards might be the menu's centerpiece. They just look beautiful, and who doesn't love a big tray of nibbles? Depending on what size you order, you'll get a few kinds of meat, a few kinds of cheese and lovely extras like fruits and veggies, olives and nuts and carbs in the form of bread and crackers.
My husband Eli and I didn't really mean for it to happen this way when we chose what to eat, but we ended up ordering a whole lot of cheese, served a whole lot of ways, on our visit. First off was my very favorite, the baked brie and peppered bacon toast points. Everything about it was delightful: the crunchy slices of toasted bread, the ooey-gooey stinky-cheese joy of the warm brie, the hit of salt from the extra-crispy bacon, the tart bites of thinly sliced sour apple and the sweet drizzle of the berry sauce. I thought the sauce would be too sweet for me, but it was just enough to meld perfectly with all the other delightful flavors. I could seriously eat this dish every day.

The second warm-and-cheesy dish we ordered was the tomato and basil flatbread. The homemade marinara was delicious—not exactly smooth, not exactly chunky, but full of fresh flavor. There was just a little too much of it for my taste; if you're a sauce fiend when you eat pizza, you'll love this. I couldn't get enough of the chewy-crunchy crust and the big bites of fresh basil, and, of course, the fresh mozzarella was delightful.
For dessert, we tried the Drunken Berry cheesecake, and it really made my day. The cheesecake was perfect—nice and tall, and so creamy! It was served with fresh blackberries and the same sweet berry sauce that's served with the baked brie. Here again it was very sweet but perfectly balanced once it was drizzled on the dessert.
Although we kind of regret this decision, we ended up not ordering a charcuterie board. There were just too many other dishes we wanted to try, and we figured we could come back for charcuterie on our next visit. Now we just need to get that tasty trip on the calendar.