Things to Do
5 Best Places to Watch a Sunset
We found five spots in southwest Missouri where you can see the most gorgeous sunsets with the prettiest views.
By Savannah Waszczuk
Apr 2012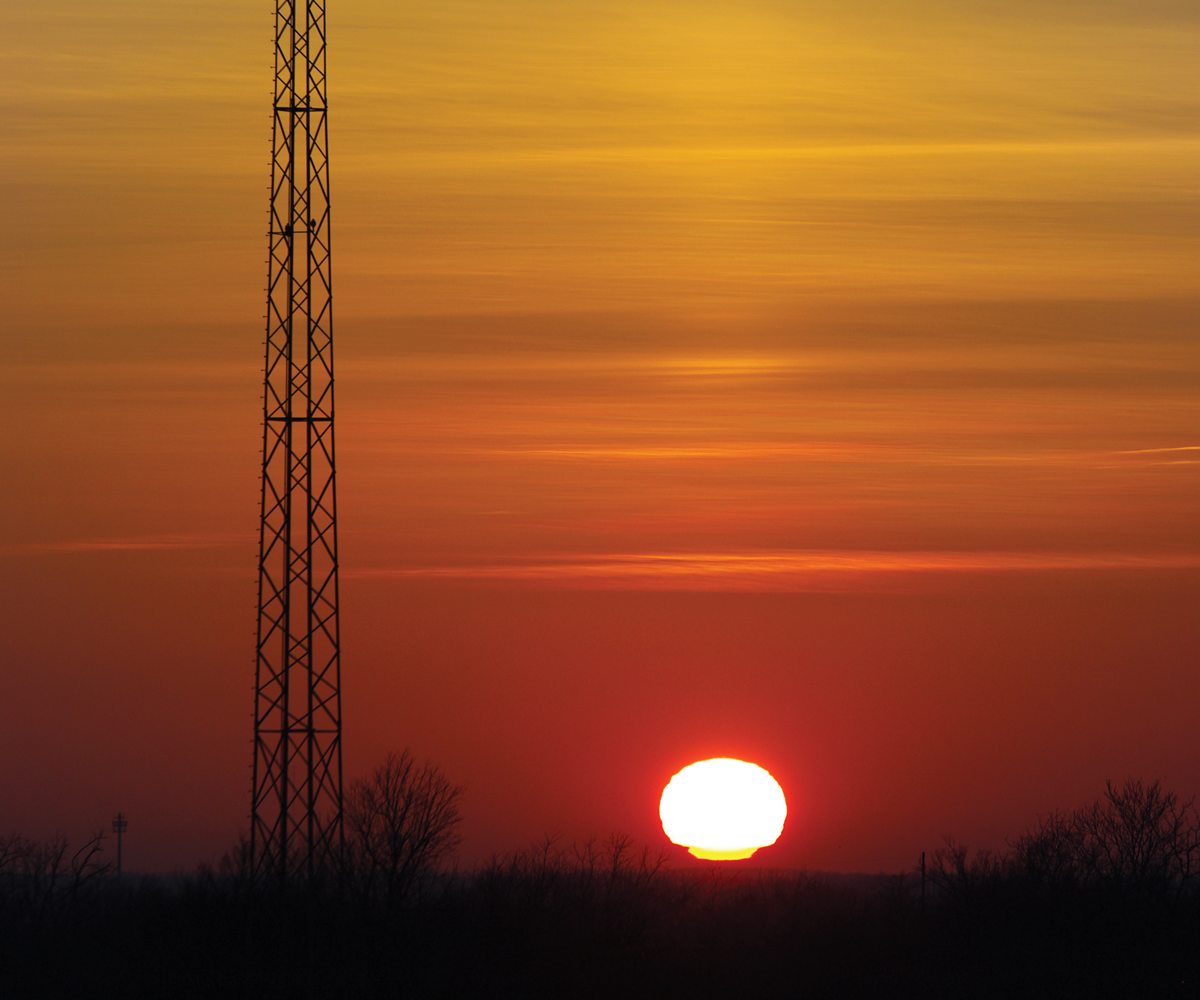 The Mound at Jordan Valley Park
Located off the corner of John Q. Hammons Parkway and Trafficway Street in Springfield.
Why We Love It:  Jordan Valley Park is built on a bit of an incline in the valley of Jordan Creek. The mound, really just a tall grassy hill, sits at the highest elevation in the whole place. It's across the street from Hammons Field and Hammons Tower—two iconic Springfield landmarks you can take in from the spot, and you can see a little bit of downtown Springfield skyline. But at sunset, the magic happens when you turn to the west. With fountains, the water cascade, more grassy hills and some stone landscaping in sight, you can watch the glowing red-orange sun slowly set into the evening sky.
Recreational Area, Fellows Lake
Located west of Highway 65 at Highway C/Highway AA in Springfield.
Why We Love It: There's a recreational area on the north side of Fellows Lake. It's filled with several picnic sites, and there are a handful of spots where you can drive off the paved road and down to the water to see the sunset. All of these places offer great views that allow you to watch the reflection of the setting sun on the lake. If you're up for it, head to the far west end of the recreational area at the park by the dam. There you'll find a place to park, and you can walk and watch the sun set over beautiful Missouri landscape. Oh, and don't forget your fishing pole (and fishing license) to keep you busy while you wait for the sun to
go down.
360 Hill at Hercules Glades Wilderness
Located in Mark Twain National Forest
Why We Love It: Tucked away in the Hercules Glades Wilderness in Mark Twain National Forest is a hill that avid local hikers and outdoors enthusiasts call 360 Hill. It earned this nickname for the great views it offers: You can see 360 degrees around you. If you're looking to see a great sunset from this hill, take Highway 65 to Highway 160 and go through Forsyth and Kissee Mills. You'll cross a bridge at Beaver Creek and continue a few miles more until you see a sign pointing to Coy Bald access to Hercules Glades. While you'll see many great sunsets from Hercules Glades, the 360-degree view (our favorite spot) can be seen from the hill, located near Pilot Knob. From the Coy Bald Trailhead (which is off Highway 160), on Cross Timbers Road, take the Devils Den Trail toward Pilot Knob. 360 Hill is between the Lower Pilot Knob and Pilot Knob, which is between HG-5 and HG-6.5.
Grand Top Deck at Showboat Branson Belle
4800 Hwy. 165, Branson
Why We Love It: We all know that many beautiful views of Table Rock Lake can be seen while taking the two-hour dinner cruise on the Showboat Branson Belle. But if you really want a spectacular view of the sunset on one of our region's most gorgeous lakes, we suggest heading to the grand top deck of the Showboat Branson Belle, where you get a view of the deep blue lake around you and a changing view of the beautiful sun setting in the wooded mountains and treetops.
Glass Look-out at the top of Heer's Car Park 
(Editor's note: The Heer's building has been converted to luxury apartments since the publication of this article. Parking is now restricted to residents.)
Located just east of Hollywood Theater at the southeast corner of Campbell Avenue and Olive Street in Springfield.
Why We Love It: The next time you head downtown for a night out, go a little early, park at Heer's Car Park and take the stairs to the top. There's a glass look-out there, and it's the perfect spot to take in a variety of sites: Hollywood Theaters, a view down Campbell Avenue, college kids scattered about every which way. But since the car park is high and located on the edge of downtown and away from building tops and street lights, you can also get a crisp, clear view of the sunset to the west. All from that little glass look-out. After you see it once, you'll head downtown early every time, guaranteed.