Spaces
A Healthy Home
Mark NeSmith and Lela Panagides made their east Springfield home an eco-friendly oasis that comforts all the senses with all-natural products with the help of designer Gina McMurtrey.
By Rose Marthis | Photos By Jeremy Mason Mcgraw
Apr 2015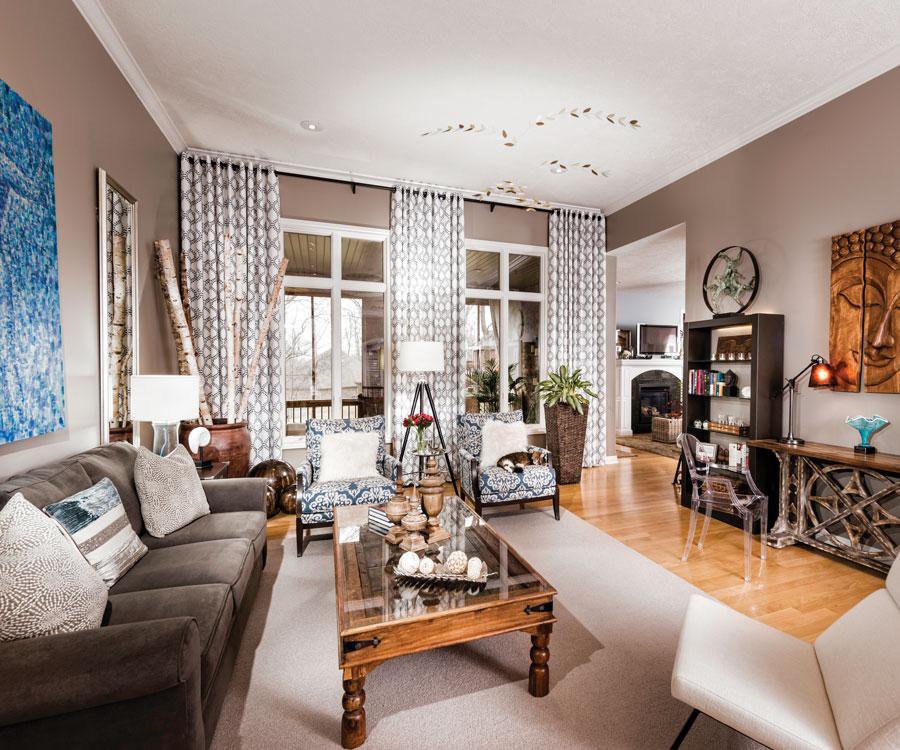 As beach-lovers living in southwest Missouri, Mark NeSmith and Lela Panagides wanted to bring the outside in when they moved into their east Springfield home two years ago. Being all-natural became the inspiration for every design choice they made. Panagides wanted her home to have little impact on her families' health and the health of Mother Nature, and since she couldn't build her green home from scratch, she implemented sustainable interior design.
Panagides researched how environmental quality affects health and wanted to reduce pollutants in her home. "Since you spend so much time in the home, it should help you feel your best physically, mentally and emotionally," she says.
She chose all-natural fibers for her upholstery, rugs, linens and furniture and painted her walls with VOC-free paint. Panagides also took every opportunity to use reclaimed and repurposed furniture.
To embrace her family's love for nature, Panagides brought in indoor plants to help filter the air, and she even installed a chemical-free waterfall in the backyard.
For décor, Panagides showcased her collections from her world travels, something Gina McMurtrey enjoyed as her designer. "I was able to see what she gravitates toward and the culture she appreciates," McMurtrey says. "I wanted to create a multicultural space for a multicultural person." 
These worldly pieces mix with natural textures including wood and hemp to create a casual beach look for the home. Though McMurtrey says it was challenging at times to find local products that were both eco- and budget-friendly, they used them up as much as possible. 
No structural changes were made, but Panagides used light and colors to affect mood in a positive way. She added accent lighting above and under the kitchen cupboards and installed a solar tube where the dining room and kitchen meet to increase natural light.
Ultimately, Panagides says she wanted a comfortable space for her family to live and work in, and that makes guests feel good and relaxed when they visit.
Continuing to save on furniture as much as possible, the dining room table is a repurposed barn door. Panagides liked the look of birch branches in the corner and added a wool rug underneath the table for comfort. She says she wants guests to feel as comfortable as possible and have a great time while minimizing their impact on the environment. Designer Gina McMurtrey helped the family create a space that connected with the senses emotionally and used light and colors to resonate with guests when they entertain.
Panagides found this blue sideboard cabinet in Kansas City and uses it to hold her entertaining dishes on the side of the dining room. It is made from mango wood, a sustainable wood repurposed from India. The lamps are made from iron bases and have natural fiber lamp shades. The Buddha head helps tie in the international décor from the hearth room to the living room.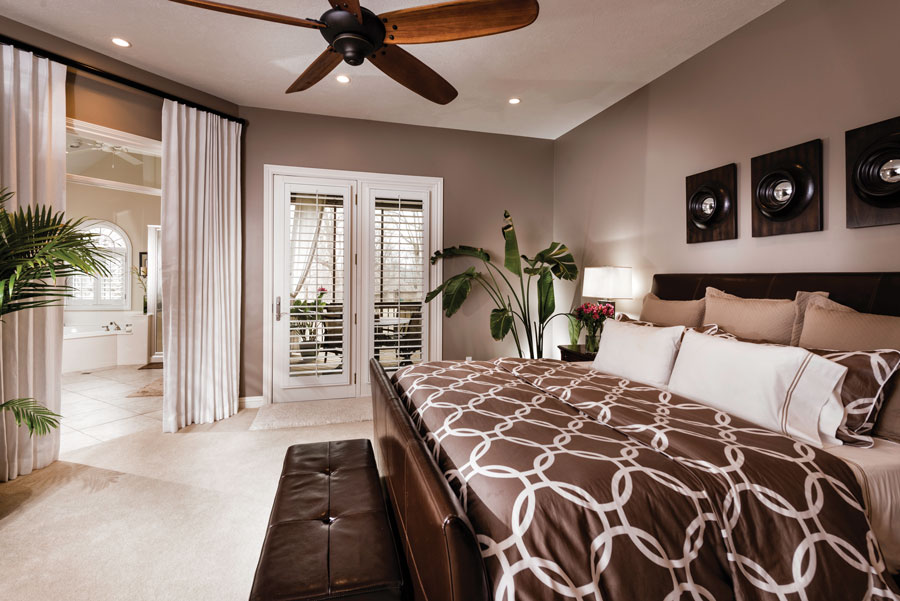 Panagides designed her own bedroom and says she is happy with how it turned out. "It was the first room I finished in the chaos of moving because I needed a space to call my own," she says. She added a natural linen curtain to set off the master bathroom, which gets cold in the winter months. The couple added plants and dimmers on the overhead lights to create a relaxing atmosphere. 
To match the home's eco-friendly décor, indoor plants were placed throughout living spaces to add natural color and a welcoming atmosphere. But the plants do much more than add pleasing aesthetics. They also help clean the air.
Updating the mantel and television stand was the only structural change the family made to their home. Panagides picked all-natural fibers for the blinds and seating areas and added a wool rug. The throw pillows are filled with recycled materials, soy filling and plastic bottles. She says she wants to live consciously and know how every part of her home is impacting the earth. Atop the wicker table are Mark's books on surfing, a way to keep him close to the ocean while living in the Midwest. 
To Panagides, living sustainably and living green isn't just how she decorates, it carries into what she feeds her family and the products she uses to create a sustainable lifestyle. The couple didn't do anything structurally to the kitchen, but did add energy-efficient appliances and dimmers to the lights. After meals, the family recycles as much as possible and even worked to get recycling for the entire neighborhood when they first moved in.