Dishes
Mike's Dam Good Sandwich from Undercliff Grill & Bar
Plus six other things that passed the test of our taste buds.
By The Editors
Apr 2015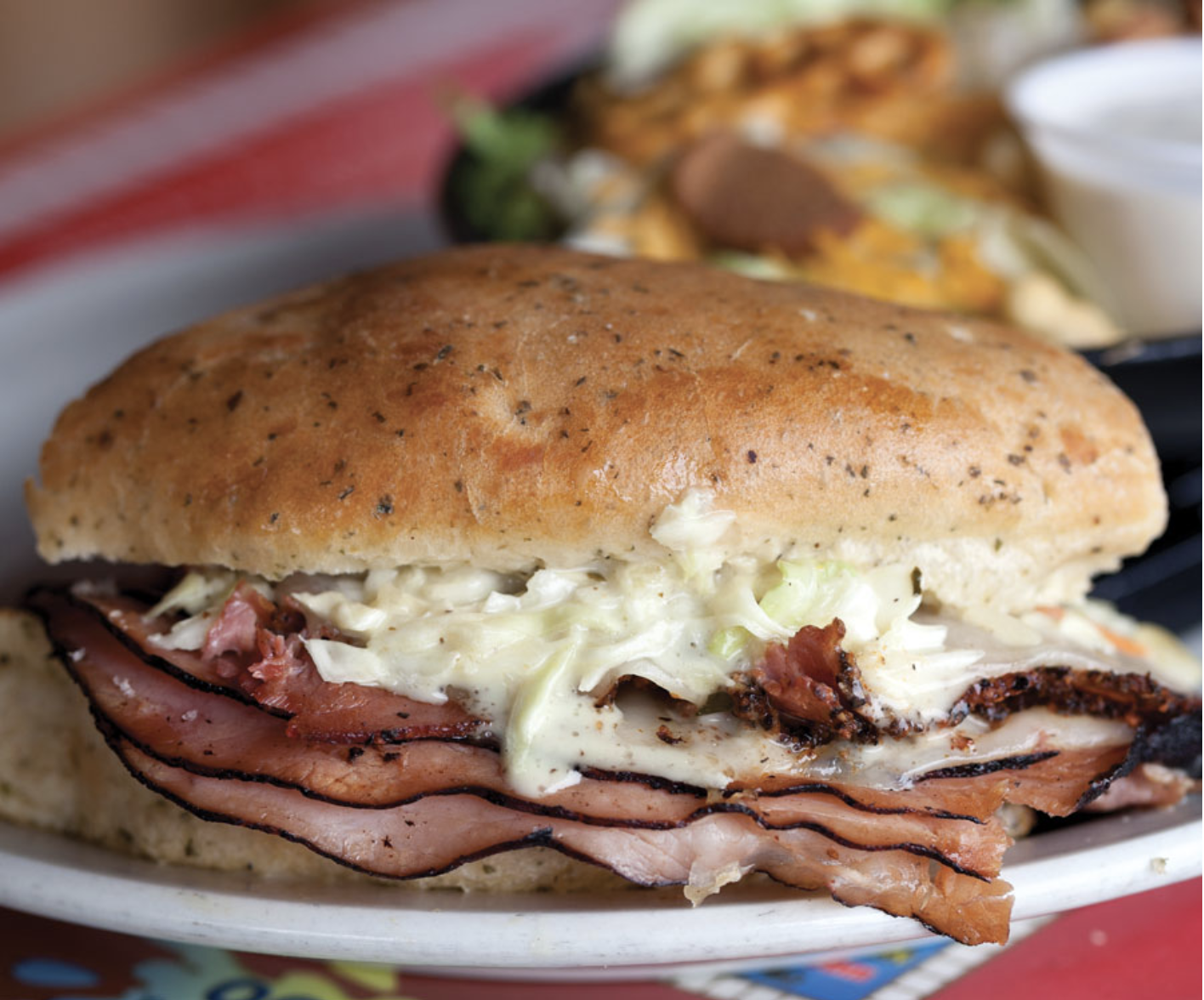 1. Hit up Undercliff Grill & Bar (6385 Old Highway 71, Joplin, 417-623-8382) and dig in to Mike's Dam Good Sandwich. Served on focaccia with pastrami, ham and provolone and topped with sweet and sour coleslaw, the sandwich does not disappoint. 
2. The Market House Café and Bake Shop (113 N. Second St., Ozark, 417-551-4370) makes a killer muffuletta sandwich. With homemade olive spread, huge chunks of olives and fresh-baked bread, what's not to love?
3. Craving crab cakes? Gilardi's (820 E. Walnut St., Springfield, 417-862-6400) has you covered. Made with Maryland blue crab and no filler, this appetizer never disappoints. The cold Mediterranean bulgur wheat salad served on the side pairs perfectly with the warm, crispy cakes. 
4. Blue-plate lunch specials are always stellar at Metropolitan Farmer (2144 E. Republic Rd., Springfield, 417-720-1665, metropolitanfarmer.com), and the fried chicken is no exception. The crunchy, juicy pieces of chicken are served with creamy mashed potatoes, the veggie of the day and a tasty side salad with homemade dressing.
5. Step up your bloody mary game by ordering the classic drink at Springfield Brewing Company (305 S. Market Ave., Springfield, 417-832-8277). A spicy Tabasco salt rim, an abundance of toppings and a sidecar of delicious Brew Co. beer of your choosing make this bloody mary extra indulgent. 
6. We can never resist crème brûlée, especially if it's from Avanzare (1908 S. Glenstone Ave., Springfield, 417-567-3463). Served in a shallow bowl, the custard-to-caramelized-topping ratio is fantastic, and the vanilla flavor is just strong enough. 
7. For an entree that is both satisfying and healthful, we love the garlic-infused sea bass from Haruno Sushi Bar & Grill (3044 S. Fremont Ave., Springfield, 417-887-0077). The seasoned rice, asparagus and wasabi misoyaki sauce that accompanies the fish will make your taste buds happy.