Style
How Amy Blansit Invented Solely Jolíe Makeup Clearing Palettes
Amy Blansit wore a silicone bracelet in support of her husband, Drew Lewis, who was diagnosed with and died from colon cancer. That bracelet inspired a new beauty product.
By Jenna DeJong
Aug 2017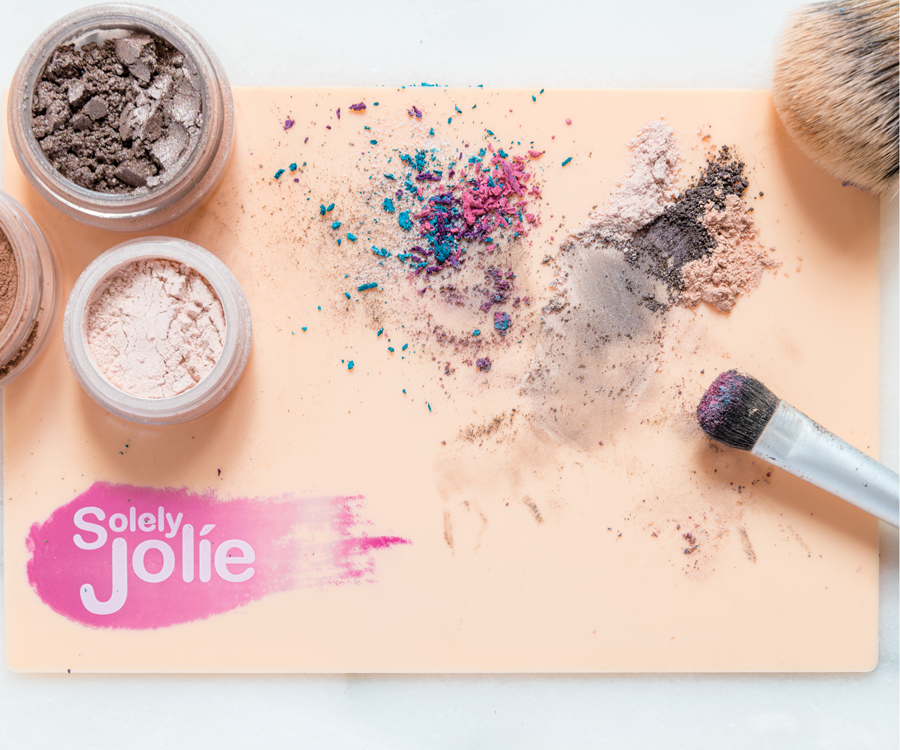 Amy Blansit was wiping her makeup brush along her wrist to clear the color as she switched from one eye color to another when she noticed something peculiar. Every time the brush skidded along the royal blue support bracelet she wears for her husband, the makeup came off easily and with minimal effort. Her husband, Drew Lewis, had been diagnosed with colon cancer earlier that year in 2012, and as the bracelet became part of her daily wardrobe, she made it her routine to clean her brushes along the material. 
As time went on, Lewis encouraged Blansit to look at the market for any makeup-clearing products made of the same silicone material, and an idea was born. 

Solely Jolíe Makeup Clearing Palettes became a reusable and durable alternative to clearing makeup on countertops or in warm water. The 4-by-6 palette creates a static connection between the bristles and slightly porous silicone material that rubs powders, liquids, loose minerals and oils off a brush in just a few swipes. Once finished, the user cleans the palette with soap and water before drying and storing it to minimize the chance of bacterial and fungal growth. 

When she first started researching, Blansit found few products on the market that were a water-free solution to cleaning brushes, and even fewer that had a simple cleaning process. She also wanted something that would cut back microbe growth—using a palette that is easily cleaned and stored makes a difficult breeding ground for germs, unlike countertops or washcloths. 
Born from misfortune, the product was developed as Lewis became sicker. Blansit says both she and her husband thought the product could act as a small light in the worst of times. Lewis died in May 2013. 
"It's a way for him to continue giving back and make sure that his kids are taken care of with him not being able to do so," Blansit says. "He said that if I have to deal with cancer, it is possible that something good could come out of it."
The palettes went on the market in March and cost $14.99 each; they can be found at Acacia Spa, on Amazon or at solelyjolie.com. A small portion of each sale is donated to the Drew Lewis Foundation, a nonprofit organization dedicated to improving the lives of those living in under-served urban neighborhoods in Springfield that Blansit and Lewis founded.