Things to Do
Take a Springfield Bicycle Tour
Enjoy a scenic bike ride and learn a few fun facts about the city with Springfield Bicycle Tours.
By Savannah Waszczuk
Aug 2017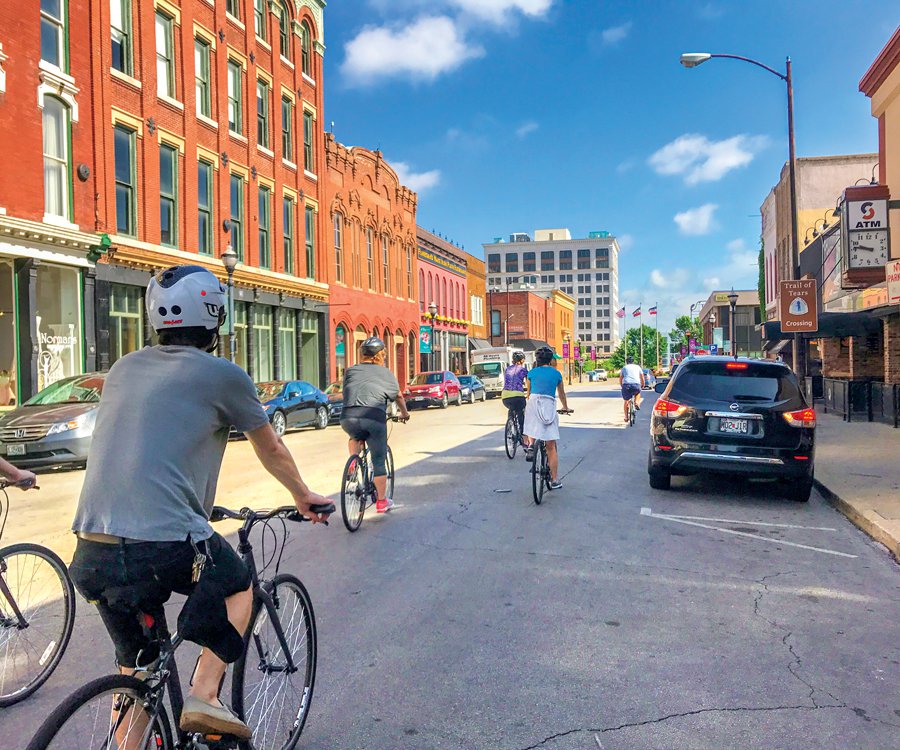 One of the things I lament about living in southwest Springfield is not being close to the Ozark Greenways trails. When I lived in town, I'd occasionally hop on my old bike and spend an evening pedaling my worries away. Every time I'd get into the rhythm of riding, those childhood memories would come back. It took me back to being a kid. 
I felt those warm fuzzies again when I spent a morning out with members of Springfield Bicycle Tours (417-421-8313, springfieldbicycletours.com) a few weeks ago. It was an easy process—after booking the Short Circuit tour with owner Shaun Fossett, I simply met him and a few other riders at The Potter's House at 9 a.m. on a sunny Thursday morning. First I found a bike to ride—the company owns a fleet of bikes and they help you pick one that fits you best. They also offered an optional helmet, to which I said yes—I have plenty of spills when I'm walking on my own two feet, and I wasn't taking any chances while going mobile. Next came a quick little get-to-know-you chat among riders, and then we were on our merry way.
It took a few minutes for me to feel comfortable pedaling down the city streets I'd normally drive, but having a fleet of bicyclists around me and tour guides at both ends put me at ease. We rode on a lot of side streets, so traffic wasn't often a worry, either. We first found ourselves riding on the well-manicured grounds of Missouri State University, where we stopped near the football field and Fossett shared various facts about the Springfield campus. Wonder how Springfield got the nickname "Spring Vegas?" It sprung from the Vegas-esque fountain located in front of the university's library! 
We continued pedaling and soon found ourselves at the downtown square and Jordan Valley Park, among other hot spots. There were plenty of breaks built in—perfect for novice riders like myself—and every stop had some more of those fun facts built in, which made the nerd in me rejoice. The miles went by quickly, and I was actually sad when we finished up two hours later. Lucky for us all, though, I later learned the tours go through October. Next time I'm over adulting and want to feel like a kid again, I know exactly where to go.
Book it!
Springfield Bicycle Tours range from $14 to $26 and offer the following excursions:
Coffee Meets Donut
A ride featuring life's greatest treasures
Parks and Recreation Tours
A scenic route of local trails and city parks
Short Circuit
A tour of Springfield's popular landmarks
Homeland Tour
An extended tour of landmarks and Springfield's most popular neighborhoods
Le tour de springfield
A mega tour for seeing all the sights and sounds of the city. This tour is for those willing to go the extra mile.