Style
Dressing for the Decades at John's Suit Shop
After 25 years, John's Suit Shop has switched owners and seen an increase in modern menswear.
By Ettie Berneking | Photo by Brandon Alms, courtesy of Viktoriya Hawkins
Dec 2017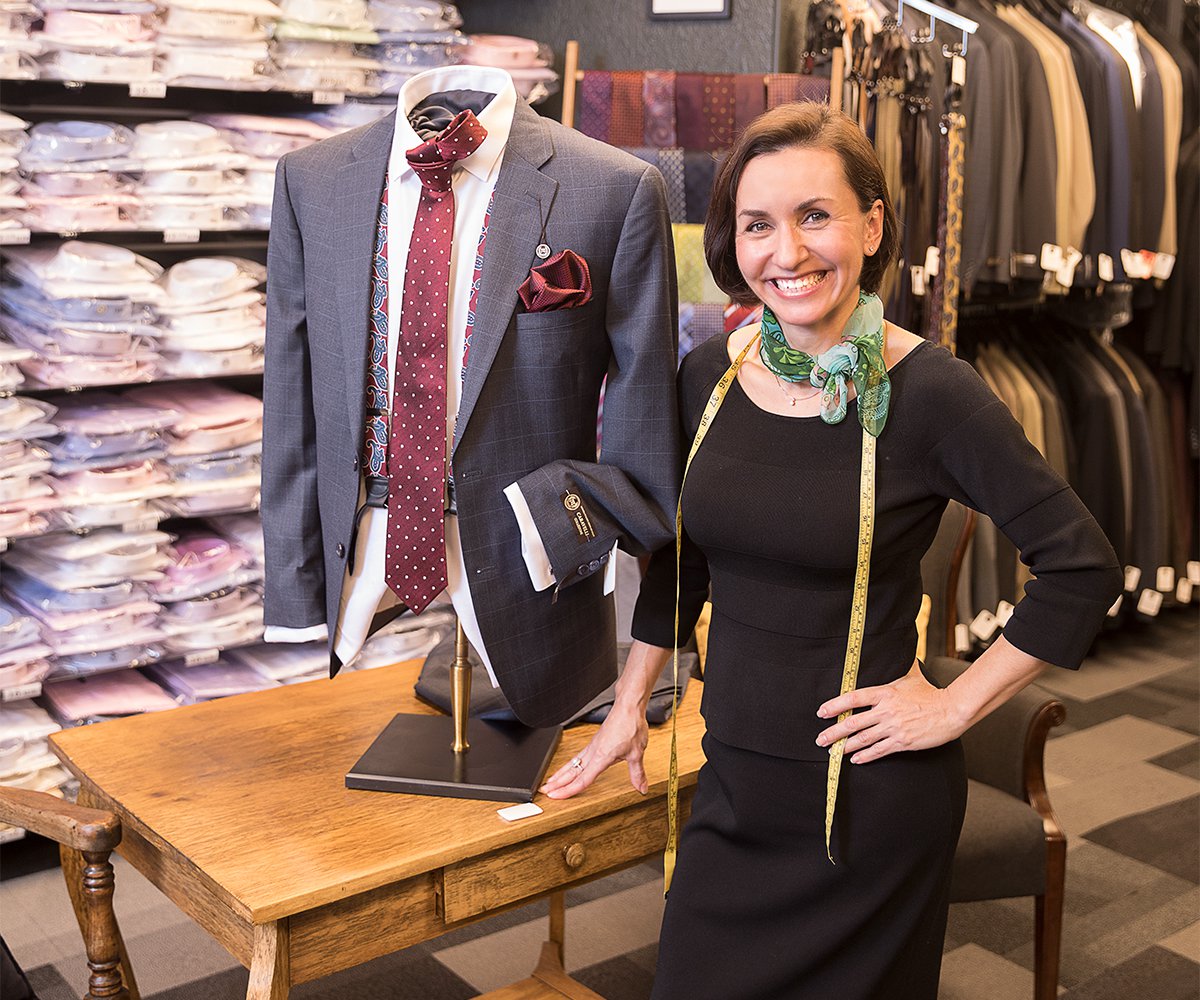 Viktoriya Hawkins first discovered John's Suit Shop (1315 S. Glenstone Ave., Springfield, 417-883-6919) in 2004 when she moved to Springfield. With some 25 years of experience in the apparel industry working on mass production, pattern creation and high-end fashion design, Hawkins could appreciate the high-quality menswear the suit shop stocked. Fast forward to today, and Hawkins now owns and runs John's Suit Shop. 
For the last 25 years, John's Suit Shop was run by Cassandra and Steve Divine, who took over the store from Cassandra's dad who originally opened the shop in 1972. After more than four decades of doing business, John's Suit Shop has a steady following of customers, which was part of the appeal for Hawkins, who, despite her experience in the apparel industry, has never owned her own store. 
"A lot of people thought the store had closed for good," she says. "But people learned we're still open, and I hear all the time from customers that they've been a customer for years, and they're thankful the store's still open." 
With an eye for fashion, Hawkins spent two months refurbishing the renowned men's boutique. New carpet was installed; walls were painted; ceiling tiles were replaced and LED track lighting was installed above the racks of suit jackets that hug the perimeter of the compact store. Colorful silk pocket squares and slim-fit dress shirts now stock the shelves along with a pattern-heavy selection of bow ties and novelty socks. As Hawkins explains, "These fun items accentuate a suit and give men a chance to express themselves in fashion."
While some of the store's merchandise has been modernized, the backbone of John's Suit Shop remains the same: Quality. And for Hawkins, quality rests with the fabric. Walking down the aisle of sport jackets and blazers, Hawkins reads off the lists of fabrics. "We have 100 percent lambswool, cashmere, linen blends and cotton." Depending on their budget and their style, customers have their pick of fabric, print and style. For 29 dollars, a customer can head home with a budget-friendly polyester-blend dress shirt. For 52 dollars, they can leave with a crisp, 100-percent cotton dress shirt that magically remains wrinkle-free. The range in styles and prices is part of what's helped concrete John's Suit Shop securely in Springfield's crowded clothing market. 
But part of what makes the shop stand out from the competition is Hawkins' alterations services. Within 30 minutes, customers can find a suit and accessories and be fitted for alterations. "It's pretty rare to see the person who measures you also do the alterations," she says. But with 25 years of experience, Hawkins hasn't yet met a garment she can't alter. "Having a background in pattern-making, I know what I can touch in a garment and how it will affect other areas of the piece," she says. 
After more than four decades of doing business, John's Suit Shop seems to be in store for several more decades of success with Hawkins at the helm.
Q&A with Viktoriya Hawkins
417 Magazine: Which fabrics do you prefer?
V.H.: Personally, I like natural fibers like linen. Many people don't like linen for that wrinkled look it has, but I love linen. I also love silks.
 
417: For dress shirts, cotton or polyester?
V.H.: A high-quality shirt is made out of two-ply cotton fabric, and those shirts also come with wrinkle-free finish. That's the beauty of natural fiber. It's carefree, and it breathes better than polyester.
 
417: What features do you look for in a high-quality garment?
V.H.: I pay a lot of attention to the quality of fabric. That's the first thing I notice when something's on a hanger.
 
417: How do you describe the inventory you have at the store?
V.H.: It's a lot of traditional business and formal attire with both timeless and classic garments that follow fashion trends. There really is something for all age groups, and I've enjoyed bringing in more trendy options with fresh colors and designs for a younger audience.