Spaces
A Millwood Makeover
Stan and Sandy Coffman brought an outdated Millwood villa back to life with new paint, furniture and a few family heirlooms.
By Savannah Waszczuk | photos by Jeremy Mason McGraw
Feb 2013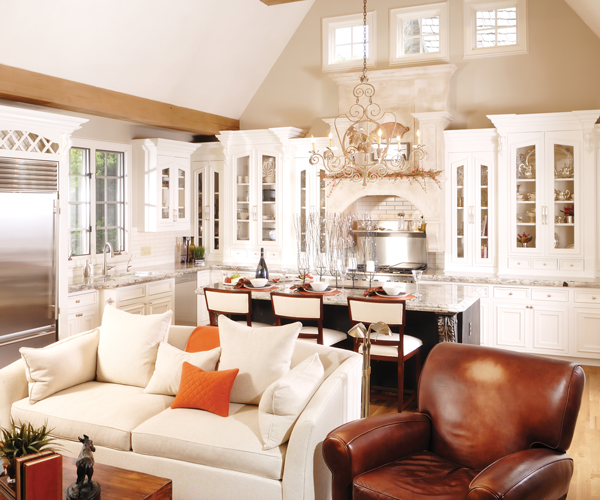 For a while, Stan and Sandy Coffman enjoyed the country life. The couple lived on a 165-acre farm in Lebanon, which is where the offices to their agriculture-based newspaper, Ozarks Farm & Neighbor, are located. Although most of their time was spent in Lebanon, their lifestyle often led to overnight trips to Springfield. "We were spending a lot of time in local hotels, so we decided to start looking for a condo or somewhere where we could stay for the long weekends," Sandy says. 
While golfing with a friend at Millwood, Stan learned of a place under foreclosure in the community's St. Andrews area. "We were told it was a little rough but decided to take a look at it," Sandy says. The next day, Stan and Sandy called and made an offer on the villa, and they bought the place a week later. "It was vacant for a couple years, so it was really dirty on the inside," Sandy says. "And a lot of things were missing. It had definitely been neglected and needed some TLC." 
The two worked to transform the home into their ideal weekend getaway. They decided to repaint cabinetry and replace countertops in the kitchen, plus retouch trim work, refinish wood floors and give the spot a complete interior redesign. Joan Summers, an interior designer from James Décor, had worked as an interior designer for the couple's farmhouse. Sandy called her to help with this space as well.
Soon after the couple finished remodeling the 3,200-square-foot villa and  its guesthouse, originally purchased as a weekend getaway, they had an offer to buy their farm, and they couldn't pass it up. They sold the Lebanon property, and they moved into the Millwood villa in March 2011. "When we were remodeling and working with Joan, we had no idea we would be making it our permanent home nine months later," Sandy says. "But it really worked out well."
Before the remodel, the kitchen featured distressed, whitewashed cabinets. But rather than replacing this cabinetry, they had it painted a crisp white. "I loved the style of it," Sandy says. They also added high-gloss white subway tile to the backsplash. The island, which formerly had a butcher block, had definitely seen better days. "We used the same granite and brought it over to the island," Sandy says. The island used to be brown, but they painted and rubbed it. "Stan actually painted the corbels," Sandy says. The kitchen is connected to the hearth room, which adds a contemporary splash to the space with new furnishings and accessories. 


Dining Room: In the formal dining room, French toile wallpaper was replaced with a rich charcoal gray grasscloth. They decided to paint the chandelier, which was formerly a rubbed gold. "We painted it and finished it with a light glitter glaze," Sandy says. To add interest, the dining chairs were finished with a combination of linen embroidery and solid gray velvet. To ground the space, a striated gray rug, made from natural bamboo, was added. 
 
Powder Room: The Coffmans added a new sink in the powder room, and the mirror hanging above it came from Sandy's uncle's estate. "The sconces on the sides of the mirror had bows on them," Sandy says. "They were already there, and they matched the mirror."  



Master Bedroom: The couple added new furniture in the master bedroom, including a bed complete with an upholstered headboard and cantaloupe-orange bedding. Art on the room's wall is from Sandy's dad's estate. "I was able to bring in family heirlooms and reframe them," Sandy says.


Courtyard: When the couple bought the house, the outside was extremely run down. "The courtyard was all overgrown," Sandy says. "We hauled out three or four pickup loads of debris." After all the dead limbs, shrubs and trash were removed, Stan and Sandy worked to transform the courtyard into a place of beauty. The spot is great for entertaining, or for enjoying morning coffee or evening wine.