Recipes
Some Like it Hot
Spice up your kitchen with the addition of the hotter-than-hot horseradish root.
By Ettie Berneking | Photos by Brandon Alms, Shutterstock
Mar 2015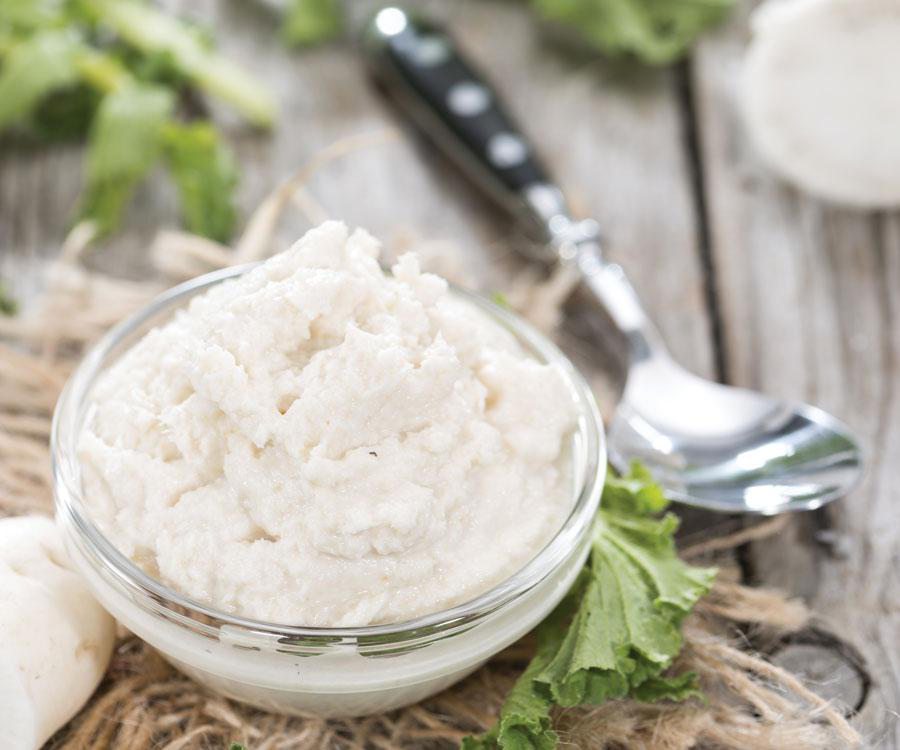 Packed full of flavor that's sure to knock your taste buds into overdrive, horseradish root is an unexpected but tasty addition to your pantry. And no, we're not talking about the pre-made stuff you can pick up at any grocery store. We're talking about the slightly gnarled, sort of nubby, but always peppery root.
But before you shave handfuls of this spicy kicker over your next bowl of mashed potatoes, a few experts share some words of wisdom when it comes to cooking and enjoying horseradish.
First and foremost, horseradish is hot. It packs a powerful punch of pepper-like heat that can send you running to the nearest glass of water. But used in small doses, this root can be a great addition to sauces, spreads, steak or salmon, and it offers more than great flavor. "Horseradish can clear your sinuses and boost your immune system, and it protects you from bacteria in the air," says Autumn Whitaker at MaMa Jean's Whole Food Market. "This root is used by many to relieve joint discomfort, improve circulation and even fight dandruff."
We found five delicious ways to use spicy horseradish.
1. One of the most popular ways to enjoy the sharp flavor of horseradish is to pair it with a juicy steak. "Horseradish is especially good with prime rib," says Justin Vaughan, manager at Jimm's Steakhouse. "You can even mix it with some sour cream or mayo to make a tangy aioli for a French dip sandwich."
2. For a true flavor sensation, Vaughan suggests mixing some blue cheese crumbles with a pinch of raw horseradish root and salt to form a cheesy topping for a steak. Spread this mixture over your favorite steak, and pop it in the broiler.
3. For those who can't get enough spicy food, Cameron Roy at Buckinghams BBQ suggests stirring in some Sriracha. "You'll get two different burns—one on the tongue and another deeper on the palette," he says.
4. If you're not a big red-meat person, you can still enjoy this tangy ingredient. "Cut it with some Miracle Whip to make a creamier sauce," Roy says. "This will add a little sweetness to the heat, which is perfect for smoked salmon."
5. You can't go wrong by adding horseradish paste to a bloody mary or mixing a spoonful into a bowl of mashed potatoes. "It adds an invigorating flavor," Whitaker says. 
So go load up on some horseradish root and start spicing things up!
Make It: Horseradish Paste
Ingredients:
8 to 10 inches of whole horseradish root
2 tablespoons water
1 tablespoon white vinegar
Pinch of salt
Directions:
Use a vegetable peeler to peel the surface skin off of the root, and coarsely chop the root. Add the chopped root to a food processor with the water. Process until well ground. The mixture should be wet, but not runny. Strain out some water if the mixture is too liquidy. Add the vinegar and a pinch of salt, and pulse until blended. Transfer to an airtight container. The paste will keep for three to four weeks in the refrigerator.
Note: Raw horseradish can be hard on the eyes and sinuses, much like raw onions. Be sure to avoid contact with eyes, and work in a well ventilated space.
Where to buy it
Hy-Vee
1720 W. Battlefield, Springfield, 417-881-1950, hy-vee.com
Price Cutter
Various 417-land locations; pricecutteronline.com