Recipes
Give Microgreens a Try
A mini-portion of these little shoots packs in a ton of nutrition. Learn how to grow them, where to get them and how to serve them.
By Julie Sedenko Davis
Sep 2017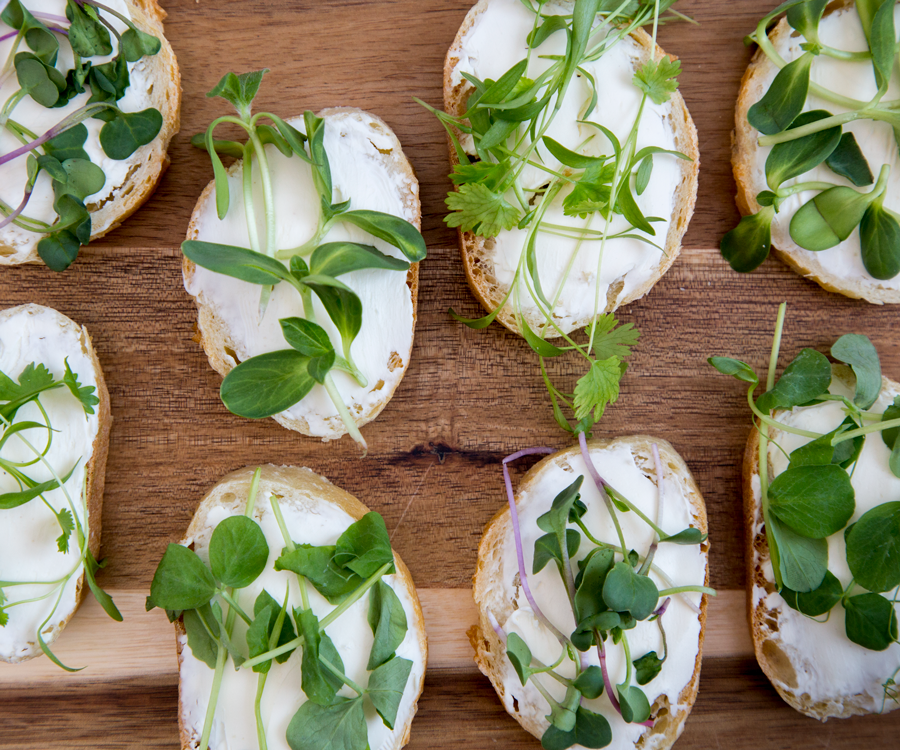 It's that pretty little garnish no one eats. Turns out, that's a huge mistake. There's possibly more nutritional value in that tiny touch of green than everything else on the plate.
Microgreens can be any vegetable or herb, though some greens, like radish, pea, sunflower and kale, are more popular. Microgreens are the starts of plants—just nine days old. "All of the nutrition a plant needs to grow is there at that point and has not been used up," says James Boosey, owner of Blue Heron Farm. Expert studies say there's between four and 40 times more nutrition in microgreens than in a mature plant.
For anyone who holds their nose before swallowing salad, microgreens are a nutritional miracle. Most of a person's daily nutritional needs—antioxidants, phytonutrients, lutein and vitamins A, C, D and K—can be fulfilled in just one ounce. And kids? They only need half an ounce! No more shoving broccoli into their tear-stained faces. "When you can slap it on a hamburger and they'll eat it, it's really wonderful," says Jessie Cox, owner of Ray's Farm to Market LLC.
Microgreens are bursting with intensified taste, too. Cox grows many varieties, including a basic mix of sunflower, daikon radish and peas. "Radish gives it a little zing," she says. "Sunflowers are sweet and crunchy, and peas have a nice taste." Microgreens are great on sandwiches and omelets or in tacos, smoothies and, obviously, salads. Cox says you can use microgreens any place you use lettuce.
Microgreens are not sprouts. "A sprout is just germinated," Boosey says. "A microgreen is grown until it develops its first true leaves." It's an important distinction. "It's similar to a sprout, but you don't eat the root, and there's much less chance of food-borne illness," Cox says.
Microgreens will keep for 12 days in an airtight container, but, like any vegetable, the longer they're in the fridge, the more nutrition they lose. It's best if they're eaten within three to four days. (Do not freeze.) Make sure microgreens are dry when storing and only wash them when it's time to eat.
Although you're getting plenty of nutritional punch, prepare to pay for these nutritional powerhouses. Microgreens typically cost $2 to $3 an ounce. Or save some green and try growing them at home. Hundreds can grow in a 10-by-20-inch garden tray. Lay seed on a special soil mix. Then, "put it under a lot of humidity to germinate for a few days," Boosey says. They need to be watered twice a day and demand attention. "You can't ignore them for a day," Cox says. "They get very mad and die."
Fortunately, 417-land has plenty of places to purchase microgreens. And many restaurants serve them as garnish. Just be sure to eat it.
---

Tasty Ways to Try Microgreens at Home
• Sprinkle a few inside an omelet or crepe.
• Put some on scrambled eggs (raw microgreens retain nutrition better).
• Throw them into a stir-fry just before serving.
• Add some to your taco or burrito.
• Toss microgreens in a light dressing (like Italian).
• Roll some in pepperoni, salami or another favorite meat.
• Add to a soup or stew at the last minute.
• Combine with other greens in a salad to supercharge the nutrition and taste.
• Substitute for lettuce on sandwiches.
• Use pungent cress on egg or tuna salad.
• Punch up your smoothie.

---

Where to Find Microgreens
Ray's Farm to Market LLC
Find these greens at C-Street City Market or have them delivered to Springfield. 13858 S. Highway 39, Mount Vernon 417-986-2007
Garnishes & Greens
1382 Carlton Road, Hollister 417-699-3304
Blue Heron Farm
Find Blue Heron's goods at MaMa Jean's Natural Markets, occasionally at Farmers Market of the Ozarks and local restaurants including Farmer's Gastropub, The Order at Hotel Vandivort and Lindberg's Tavern. 3783 State Highway J, Marshfield 417-425-4264
MaMa Jean's Natural Market
Various Springfield locations
Hy-Vee
1720 W. Battlefield Road, Springfield 417-881-1950
Harter House
Various 417-land locations
Urban Roots Farm
823 W. State St., Springfield 417-597-4858