Life
10 Ways to Beat the Heat
The school year is about to end, and your kids are going to need something to do with their newfound freedom. Explore some of our region's most fun kid-friendly activities that let your whole family enjoy the dog days of summer.
Written by Katie Pollock Estes | Photos by Chuck Travers; courtesy Springfield–Greene County Park Board, Shutterstock, Missouri Department of Conservation
May 2017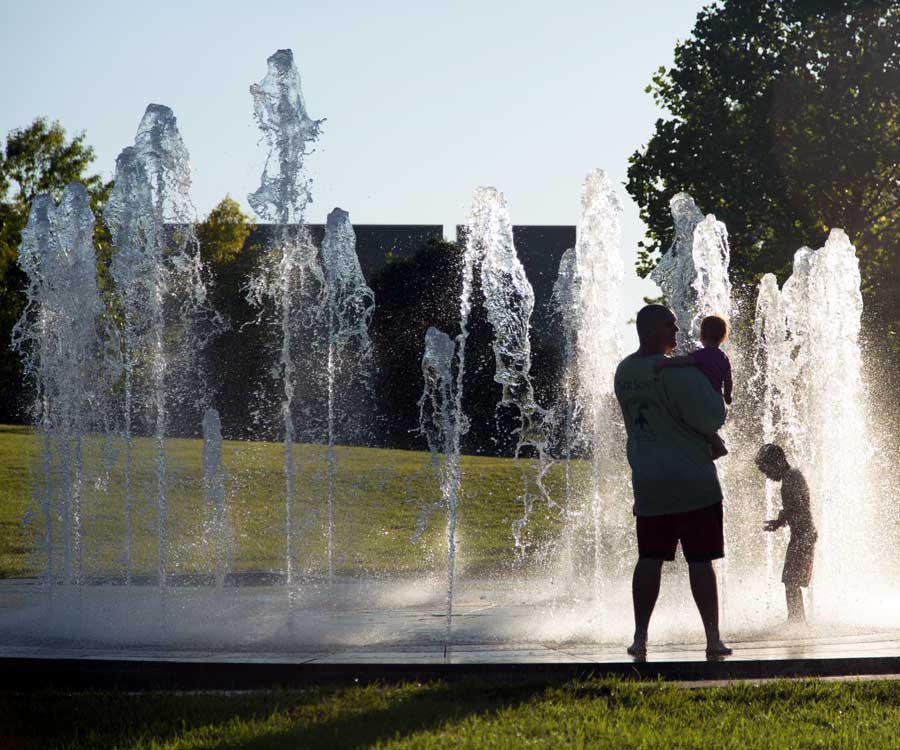 Splash in the Fountain
Farmers Market of the Ozarks, 2144 E. Republic Road, Springfield; and Jordan Valley Park, 635 E. Trafficway St., Springfield
Nothing's more mischievous than water—just ask Moana's grandma. Kids fresh from the classroom and ready for summer fun will love kicking around in the splash fountains at Jordan Valley Park and Farmers Market of the Ozarks. They're a great way to cool down on a warming summer day. Bonus parent points if letting them splash around is a surprise treat.
Admire a Chrysalis
Dr. Bill Roston Native Butterfly House, Springfield Botanical Gardens at Nathanael Greene/Close Memorial Park, 2400 S. Scenic Ave., Springfield
On May 12, Springfield's small-but-mighty butterfly house opens for the season. It's a peaceful spot where kids can hang out with some butterflies and even get an up-close look at a chrysalis—just don't call it a cocoon. Pop in when there is a docent on hand to learn all about these critters' life cycles.
Climb a Mini-Mountain
Sequiota Park, 3500 S. Lone Pine Ave., Springfield
At one of Springfield's most hoppin' parks, kids can burn off a little energy by climbing around on the tall rock formation that sits outside Sequiota Cave. (Just make sure your kids don't go into the cave. It's off-limits to protect the bat population.) When they've had their fill of the little mini-mountain at the park, you can explore the playground, take a walk on the trail or pop across the street to Sequiota Bike Shop for a snack.
Make a Furry Friend
Rutledge-Wilson Farm Park, 3825 W. Farm Road 146, Springfield
The easiest way to meet your goat soulmate is to trek to Rutledge-Wilson Farm Park in west Springfield. The adorable spot is full of friendly animals, like goats, sheep, chickens and more. Kids can explore the animal habitats before crossing the parking lot to climb around in the super-tall barn-shaped playground. (Note: Rutledge-Wilson offers kids camps during the summer. Although the park does not close down to accommodate the camps, you should be aware that it might be a little busy.)
Take your kids to Rutledge-Wilson Farm Park, where they'll have a chance to meet some furry farm animals including barn cats. 
Rediscover the Boardwalk
Dickerson Park Zoo, 3043 N. Fort St., Springfield, dickersonparkzoo.org
The boardwalk at Dickerson Park Zoo, closed due to structural problems since 2015, is finally open to visitors again. The old shady walkway that took visitors through the woods and over babbling waterways has been completely replaced, and the new version features the same scenic trek but with a wider walking space that's more accommodating to visitors in wheelchairs.
Take a Dip 
Ritter Springs Park, 3683 W. Farm Road 92, Springfield
There's a spring-fed creek at Ritter Springs Park that is perfect for dipping your toes into the cool water. Although the park has a playground, a large and shady picnic area and other fun stuff, it's the creek that makes you feel like you're farther away from the city than you really are. (Note: Take your kids to Ritter Springs on the weekend. The park is closed during the week to accommodate a SPARC summer camp. If you're interested in signing your kids up for the camp, visit parkboard.org to find more info.)
Grill a Hot Dog
Phelps Grove Park, 950 E. Bennett St., Springfield
With plenty of stone barbecue grills, picnic tables and shade trees, Phelps Grove Park is the ideal spot for a lazy lunch. In fact, lazing around is one of the most popular pastimes at this quiet little city park. It's where you see hammocks strung between trees and blankets spread over the grass. After you grill up your lunch, take a walk around the path or explore the playground before heading home.
Kids will love exploring the creek at Ritter Springs Park, and you'll love that they get their energy out while they're there.
Bum Around on the Sand
Moonshine Beach, 3778 Highway 165, Branson
Did you know there's a sandy beach on Table Rock Lake? Moonshine Beach offers a safe place for kids to pad around in the water, plus there's a covered picnic area, a playground, grills, the nearby Dewey Short Visitor Center and more. You can totally make a day of it. This summertime favorite reopens for the season on May 14.
Hop on a Horse
Dogwood Canyon Nature Center, 2038 W. State Highway 86, Lampe, dogwoodcanyon.org
If you've explored Dogwood Canyon on bicycle or ridden the tram, you might be surprised to learn that there's even more to this scenic spot. Trail rides via horse take visitors to areas they can't reach by other means, and they get a chance to see beautiful Ozarks views. Rides last an hour or two, and they are led by experienced guides.
Step into the Woods
Springfield Conservation Nature Center, 4601 S. Nature Center Way, Springfield
Sometimes the simplest experiences are the most fun. Don your walking shoes and pack some sunscreen; that's all you'll need to enjoy the Springfield Conservation Nature Center's 3 miles of wooded trails. They take you from the pavilion through prairies, creeks, glades and more. If you're lucky, you might spy a deer or other fauna. This spot offers the easiest way to connect with nature without having to travel very far.