Spaces
Peek Inside This Energy Star–Certified Home on Table Rock Lake
For decades, Barb and Joel Hirsh owned an empty Kimberling City lot with lots of potential. In 2014, the couple hired Ryan Painter of Master's Plan Construction to create their ideal energy-efficient, lakeside home.
By Adrienne Donica
Nov 2018
With four outdoor areas, a three-car garage, large windows and its lake-themed mudroom, Barb and Joel Hirsh's home is similar to many lakeside properties, granted it probably has more handmade art (that's mostly Barb's doing). The Kimberling City house is spacious and bright and feels homey. What you don't see among the tasteful decor and views of the woods and Table Rock Lake beyond are the many energy-saving mechanisms—such as the geothermal HVAC, zip, insulation and caulking systems—used to build this Energy Star–certified home.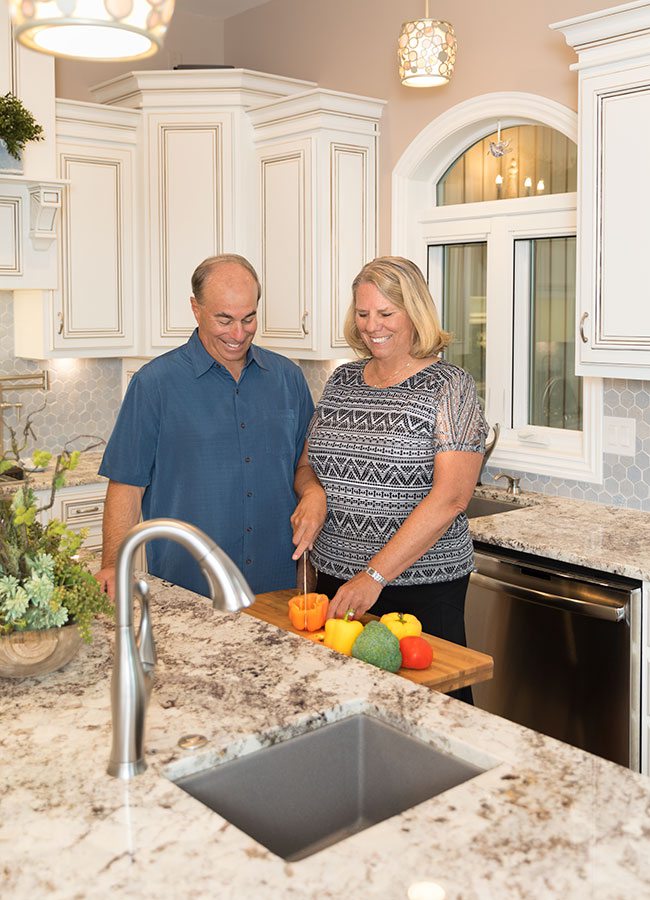 For Joel and Barbara Hirsh, green living isn't just referring to the fresh veggies stocking their kitchen. The pair have made an insanely energy efficient space of their Kimberling City home.
Purchase Photo
Many elements in the kitchen are custom, including the backsplash. Barb designed and handmade the 500 tiles that were used to create it. She spends as much time as she can in her studio with a kiln on the home's lower level, where she makes a variety of ceramic art.
Purchase Photo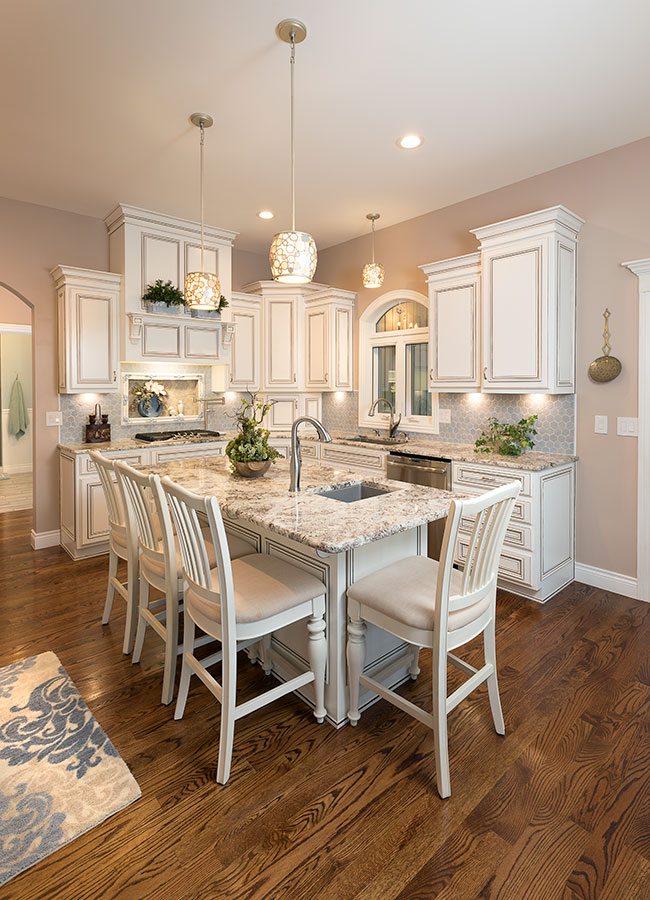 The couple wanted a bright, white kitchen that faced the lake. Large windows and lightly colored decor keep the space feeling airy.
Purchase Photo
Photos by Brandon Alms
"We started vacationing here in '77, and we bought this lot 23 years ago," Barb says. "We just wanted to be on the lake. We love the lake." For many years, the couple came down from their home in the Chicago suburbs with their two children, Becky and Brian­—Brian died of cancer in 2012. They weren't convinced they would build on the lot and, after retiring, went looking for homes on the market. They didn't find anything to meet their needs, so they decided to make use of the land.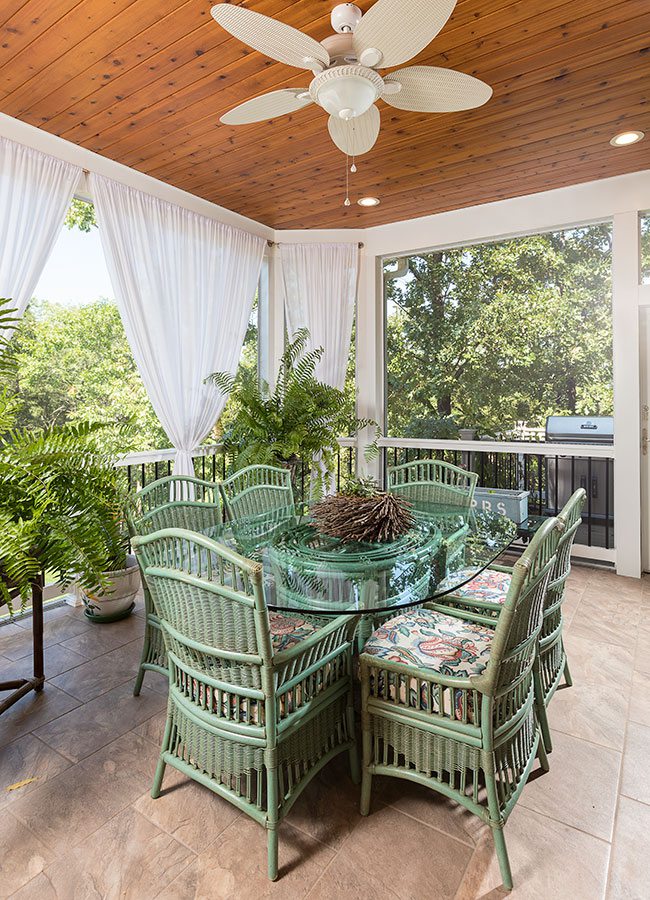 This space actually started as a deck but was later converted to a screened-in porch. The tile floor, which Barb requested and wouldn't hold up well on top of a wooden foundation, called for some creative engineering from builder Ryan Painter and his team.
Purchase Photo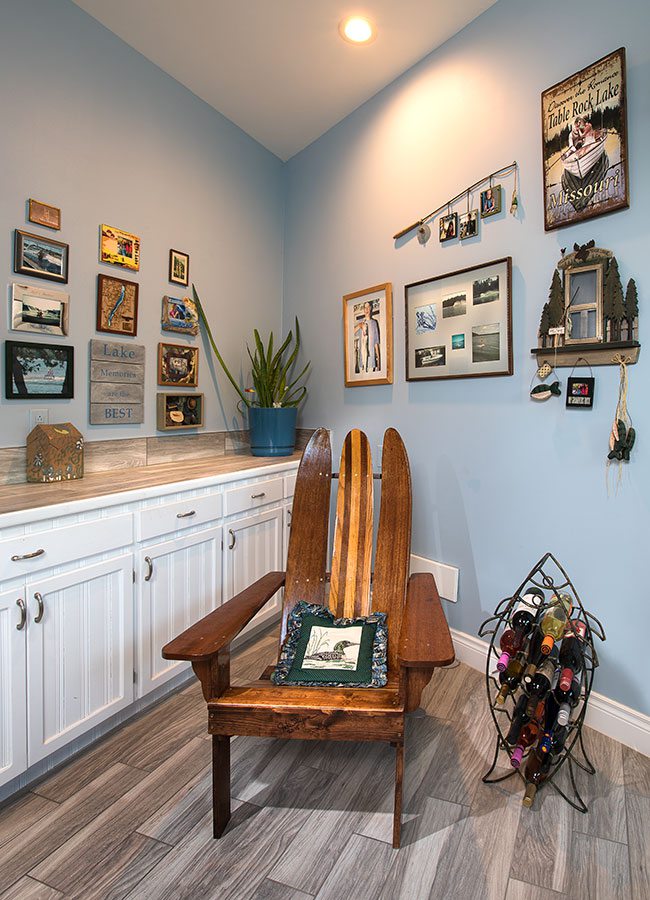 In their spacious mudroom, the Hirsches chose a lake-themed decorating plan. They like to fish, water ski, kayak, skirt across Table Rock Lake in their ski boat and dine at various marinas when they can.
Purchase Photo
Photos by Brandon Alms
There were several reasons they wanted to pursue an Energy Star–certified home. "The first reason was because of my son," Barb says. Brian loved nature and wanted his parents to build a home that would conserve energy and respect the earth and its resources. The Hirshes followed through on Brian's request to honor his passion following his death. In addition to keeping their son's wishes alive, they saw the appeal in the cost savings that would come along with living green. "We're on a fixed income, and we didn't want to worry about energy costs skyrocketing," she says.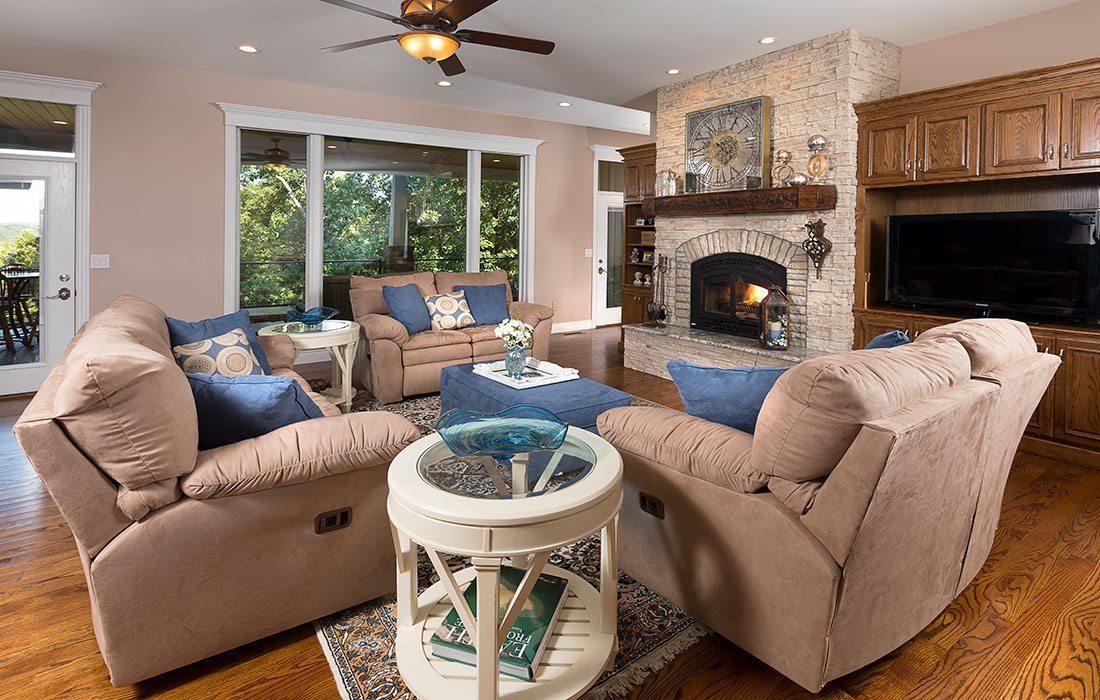 Even the wood-burning fireplace in the living room is Energy Star–certified. It can completely seal to prevent air leaks and helps heat the home's lower level. These measures keep the Hirshes' home efficient and their energy costs down, despite having lots of large windows throughout the house and a kiln on the lower level.
Purchase Photo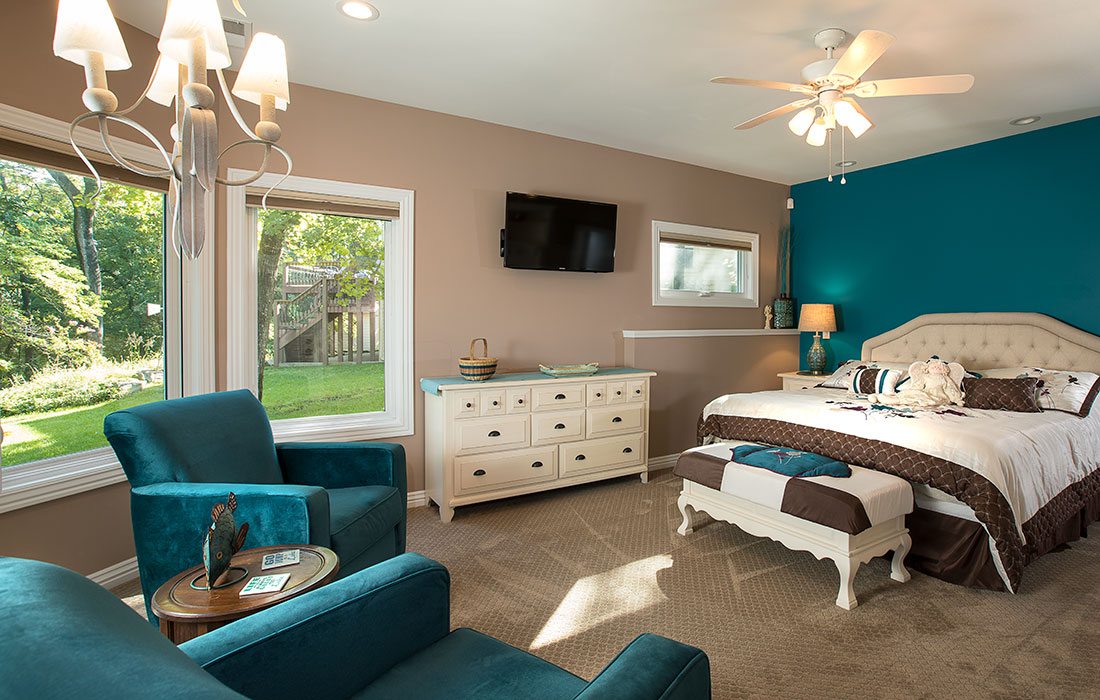 Visitors love to stay with the Hirshes, especially when they can rest their head in this lower level bedroom, which faces the woods. The room is similar in layout and slightly larger than the master bedroom upstairs.
Purchase Photo
Photos by Brandon Alms
They worked with Ryan Painter, owner of Master's Plan Construction, to create their perfect retreat: a space with lots of natural light, several outdoor areas, room to host overnight guests and a floor plan that placed their kitchen, great room and master bedroom with views of the lake. The project was Painter's first foray into Energy Star homebuilding, something he was eager to learn about. Soon, he knew all about the Home Energy Rating System (HERS) Index and the components of building an energy-efficient home. "This house actually has a HERS rating of 38, so it's 62 percent more efficient than if you built the exact same floor plan conventionally versus the way we did it with the Energy Star strategy," Painter says. In the heat of summer, the Hirshes' utility bill clocks in at around $150—a minimal amount for the 5,600-square-foot home.
Construction was mostly finished in early 2015, and Barb and Joel moved in on a part-time basis while working to sell their home back in the Chicago area. The couple officially relocated to southwest Missouri in April 2016. Since then, they have been enjoying life at the lake with warm weather, water sports and plenty of sunset views.
GO GREEN: Local resources for energy-efficiency