Spaces
The Great Escape
The always on-the-go MacArthurs transformed an outdated guest cottage into a warm, modern retreat, making it the perfect escape for their stays in Springfield.
By Savannah Waszczuk | Photographs by Jeremy mason McGraw
Oct 2013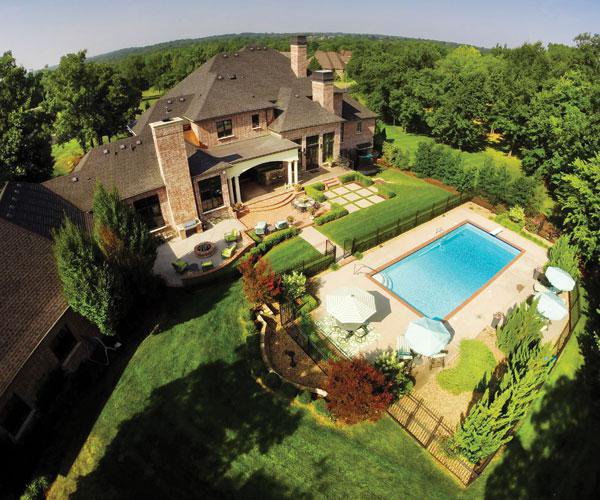 Work with a view: The desk in this great room acts as a functional place for Bruce Wirtz MacArthur, who owns this east Springfield home with his wife, Susan. "We added the desk in the great room so that when Bruce has to make a business call, he can still sit and enjoy the views," Susan says. 
Bruce Wirtz MacArthur and Susan MacArthur divide their time among three homes: one in Chicago, one in Miami and one in Springfield. "We commute often, but we especially look forward to our Springfield visits," Susan says. "We love everything about it. We love our home, we love the people, we love going downtown to Gailey's for breakfast on Saturday morning." 
Bruce was born and raised in Chicago (in fact, his family owns the Chicago Blackhawks), and Susan grew up in Miami, but the couple discovered their 417-land home with the help of Susan's sister Alison, who lives in Springfield. "Alison married Rick Manzardo in 2008," Susan says. "We would spend holidays with them, and we ended up falling in love with Rick's large and lively family, which made our visits even more fun."
The two loved everything about Springfield so much, in fact, that they purchased the guest cottage at Rick and Alison's east Springfield home. "We struck up a deal with Rick, and he carved out five acres and the cottage," Susan says. "We call it the nest." 
Located near Pearson's Creek, the cottage boasted great scenery, but the looks of the interior were a different story. "It was outdated and in need of a facelift," Susan says. Bruce and Susan hired Sam Butler of SustainaBuilt Construction to lead their remodel project, and they enlisted Butler's dad, architect Geoff Butler of Butler, Rosenbury & Partners, to help. "We took three smaller bedrooms and transformed them into two larger bedrooms with en suite bathrooms, and the master suite is roomier and now has a walk-in closet with an island," Susan says. As for the interior design, that was all Susan. "I didn't study interior design, but I have always had a love interest in colors, fabrics and furnishings and making a home aesthetically pleasing," Susan says. "I've helped my friends and family in designing their homes over the years." Her goal was to create a spot different than the couple's home in Chicago, which is traditional in design, and different than their home in Miami, which has more of a Mediterranean feel. "We wanted this house to be a little more fun, light and low-key," Susan says. By giving the space a muted backdrop, pops of color and plenty of windows, Susan transformed the spot into a cozy cottage to enjoy on their visits to Missouri.
The Great Room
In the great room (above), shag carpet was replaced with light Canadian maple floors, and the MacArthurs smoothed, sealed and painted the beams. "We even added a mirror on the ceiling and in several rooms, so everywhere you look, you see greenery," Susan says. They also added a chandelier, which Susan painted herself. "We wanted a focal point since it's such a big room," Susan says. With the help of Vesta Precast Accents, both of the home's fireplaces were refinished to resemble coral rock. "There are little touches of Florida throughout the house," Susan says. 
Kitchen 
Also a nod to Florida, the tile backsplash in the kitchen (right) is made of oyster shells. "We tried to be as green as possible in the building process," Susan says. The kitchen island features drawers rather than cabinetry doors and is topped with a Caesarstone quartz countertop. "It's a great surface and very durable—more so than marble," Susan says. LED lighting was used to highlight the custom wine rack next to the refrigerator.
Den
Just off the kitchen is a small hearth room (below) with a  gas fireplace, TV and more windows with fabulous views. "There's a cozy window bench in here where our dog loves to sit and watch squirrels," Susan says of the couple's Cavalier King Charles spaniel, Stanley (named after the Stanley Cup). "Minus the ticks, he loves Missouri," she says. 
Master bedroom
To create a soothing atmosphere in the master bedroom (above), the couple chose a pale bluish-gray wall color. They selected soft textured carpeting to add depth and warmth, and they also added more windows to bring in the outdoor scenery. 
Closet 
Sam Butler created a one-of-a-kind custom closet for the MacArthurs. The space features a large island with drawers, plenty of space for Bruce's cowboy hats and bars that display clothes from a front view rather than the side. "I love the natural light from the windows, and the chandelier adds a bit of glamour," Susan says.