Dishes
Cajun Chicken Salad at St. Michael's Sports Bar & Grill
Plus six other things that passed the test of our taste buds.
By The Editors
Oct 2016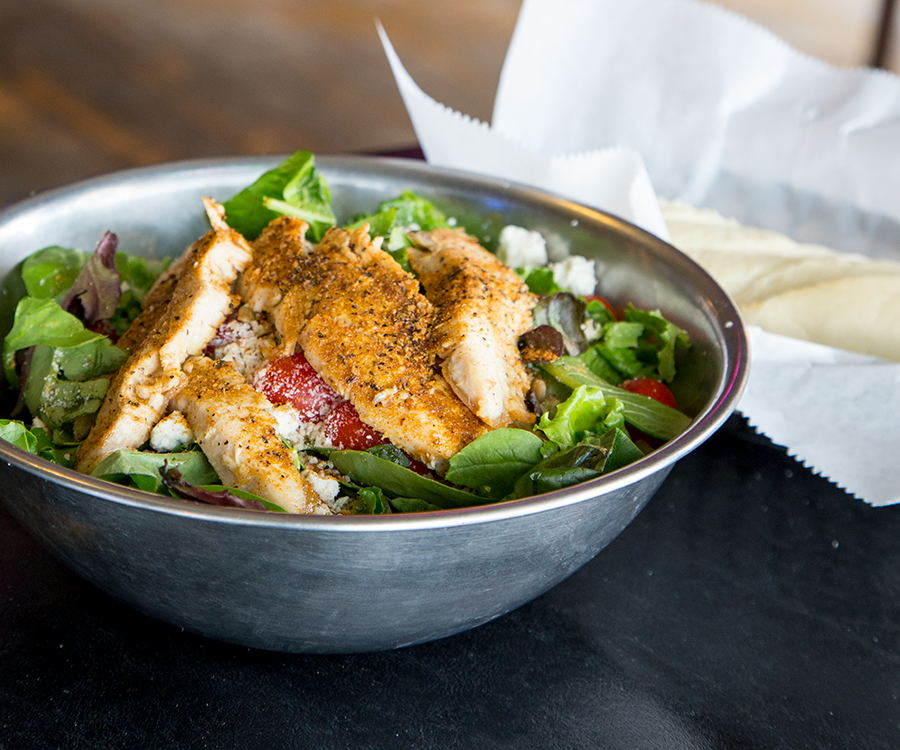 1. Fun extras set the flavorful, substantial Cajun chicken salad at St. Michael's Sports Bar & Grill (301 South Ave., Springfield, 417-865-2315) apart from the leafy-greens pack. The subtle kick from the grilled chicken is nicely offset by creamy Gorgonzola, and toasted sunflower seeds add a just-right crunch.
2. Yes, the BBQ Nachos are technically an appetizer at Harbell's Grill & Sports Bar (315 Park Central West, Springfield, 417-862-0477). But this mountainous platter of stellar house-made potato chips, pulled pork, roasted corn, queso and barbecue sauce satisfies as a meal on its own. Come hungry. 
3. The rich house vanilla bean creme brulee base of the Crème de Caramel Apples at The Order (305 E. Walnut St., 417-832-1515, theordersgf.com) is nicely balanced by fresh apples poached in Missouri Spirits bourbon, brown sugar and a touch of apple juice topped with salted caramel.
4. Irish eyes will be smiling—or anyone's eyes for that matter—after a bite of The Dubliner from Lindberg's Tavern (318 W. Commercial St., Springfield, 417-868-8900, lindbergsbar.com) featuring a beef patty plus house-made corned beef, Irish cheddar, crunchy cabbage, Russian dressing and Guinness-braised mushrooms and onions. 
5. Mediterranean and Middle Eastern flavors abound at Riad (400 South Ave., Springfield,  417-720-1018, riaddowntown.com), especially in the Dejage, a delicious, good-for-you plate with chicken breast, broccoli florets and yellow onion sautéed with a little olive oil and finished with lemon juice and garlic. Served with basmati rice, it's simple, satisfying and bursting with flavor. 
6. If you're not ready to let go of summer just yet, chill out with the pineapple shake at Billy Bob's Dairyland (1901 W. Highway 76 Country Blvd., Branson, 417-337-9291). The tropical taste is pure summertime refreshment with plenty of pineapple chunks and scoops of vanilla ice cream. 
7. A well-made omelet is a beautiful thing, especially when it's as fluffy and flavorful as the Omelet #1 at Metropolitan Farmer (2144 E. Republic Rd. Suite B101, Springfield, 417-720-1665, metropolitanfarmer.com). The savory filling of meaty mushrooms and rich, creamy Terrell Creek Farm goat cheese is the best part.