Dishes
The French Dip Sandwich from Neighbor's Mill Bakery & Cafe
Plus six other things that passed the test of our taste buds.
By The Editors
Apr 2016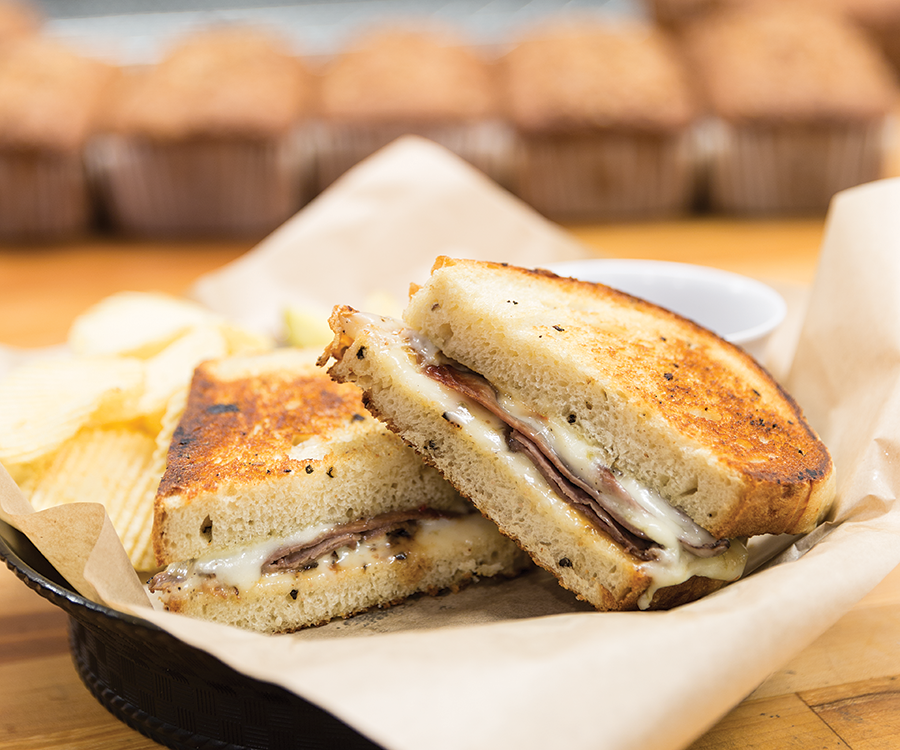 1. We are thrilled Neighbor's Mill Bakery & Cafe (1435 E. Independence St., Ste. 110, Springfield, 417-720-4162, neighborsmill.com) has opened a Springfield location. The French dip sandwich is mighty tasty. Crusty Asiago and cracked black pepper bread is topped with roast beef and pepper jack cheese and served with a side of au jus. 
2. Rosie Jo's Cafe (915 W. Jackson St., Ozark, 417-581-6047) knows how to cook a darn good fried mushroom. These babies are big, freshly breaded and full of flavor. The appetizer comes with a side of homemade ranch that puts the whole thing over the top.  
3. We love the kimchi chigae soup from Soo's Korean Restaurant (3644 S. Campbell Ave., Springfield, 417-889-2220). Filled with kimchi and tofu, the broth is bright red, spicy and served boiling hot. Rice comes on the side to round out the dish. 
4. For a quick, light lunch we recommend trying the Thai chili steak tacos from Tropical Smoothie Cafe (3811 S. Campbell Ave., Ste. A, Springfield, 417-887-6600; 3645 E. Sunshine St., Springfield, 417-719-4486; 3080 N. Kentwood Ave., Suite A, Springfield, 417-833-2108 tropicalsmoothiecafe.com). A flour tortilla is filled with steak, cucumber, sriracha aioli and a sweet chili slaw. It's a satisfying combination of sweet, savory and spicy.
5. Relic's Antique Mall Tea Room (2015 W. Battlefield Rd., Springfield, 417-885-0013, relicsantiquemall.com) never disappoints when it comes to desserts, but our current favorite is the lemon berry mascarpone cake. The batter is filled with cranberries and blueberries and then the cake is layered with mascarpone cheese icing. 
6. If you're looking for an authentic gyro look no further than Riad (400 South Ave., Springfield, 417-720-1018, riaddowntown.com). Gyro meat, homemade tzatziki sauce, tomato and lettuce are wrapped in pita bread. The result is a fresh and flavorful Mediterranean dish.  
7. The smoked Old Fashioned from The Order (305 E. Walnut St., Springfield, 417-832-1515, theordersgf.com) is a bold blend of Missouri Spirits bourbon, simple syrup and house orange bitters.