Profiles
Alton Brown on Springfield-Style Cashew Chicken
We chatted with Food Network star and cookbook author Alton Brown about his live variety show, the upcoming Good Eats reboot and why he's fascinated with Springfield-style cashew chicken.
By Stephanie Towne Benoit
Oct 2017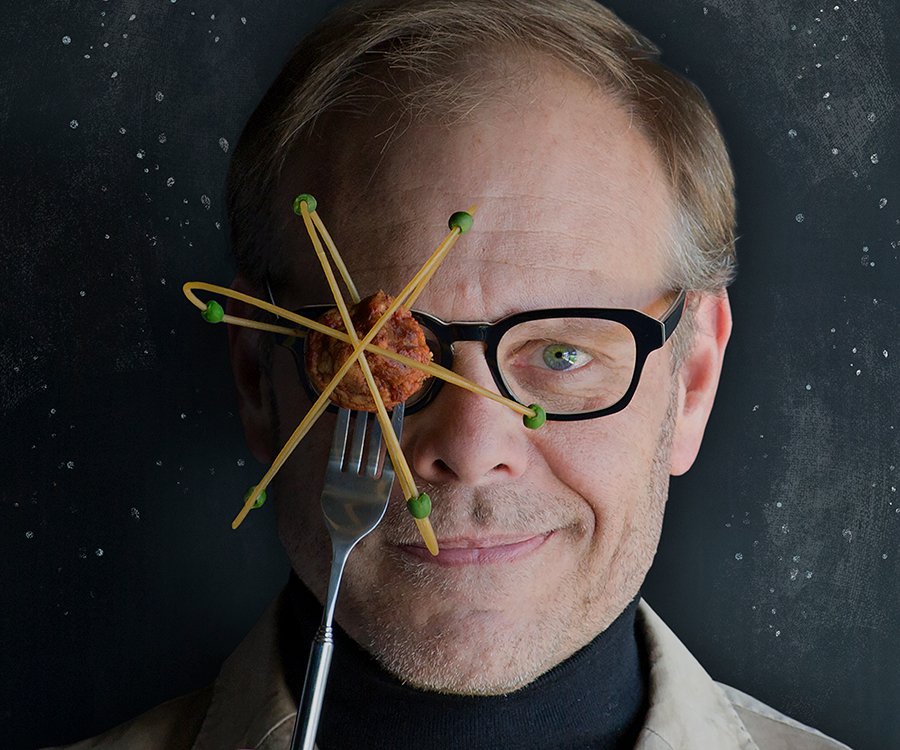 417 Magazine: You've done "Alton Brown Live: Eat Your Science" for a little while but have promised a brand-new show this time around. What can we expect? 
Alton Brown: When I finished my last tour, I said "Gee, I think we did everything in that show but an actual dance number." And so now I've added a dance number. I actually do a tango with a bottle of sriracha, which is kind of fun. But the anchors of the show are still a couple of very, very large, very, very complex culinary demonstrations that I have audience members help me with. 
417: How does the audience interaction work?
A.B.: Oh, there's a lot of work to be done! Both of the food demonstrations that I do involve a lot of actual labor onstage. There's also a game show component that we'll play at one point. So one audience member has to kind of play a game that results in setting certain culinary things into motion. And I will tell you this: In both cases, the audience member chosen will be fitted with protective gear. That's all I'm going to say.
417: With so many projects on your plate, why do you continue doing these live shows?
A.B.: Number one, it's fun. I adore performing in front of a live audience. It provides the feel of community that's really just kind of impossible to get any other way. You know, TV is fun. You can do a lot with television. But I have to tell you, at the end of the day, if you said I had to pick one over the other, I would probably pick the live stage performing.
417: You also seem to be having fun with #ABRoadEats, through which fans send you restaurant recommendations for their towns. Why did you start doing the hashtag?
A.B.: Look, you get to a town. You need coffee; you need some breakfast. Why not find out from your fans where you ought to be going? And so, we started the hashtag program really to try to ensure that we were getting decent food and coffee, which is a huge thing for me, but then it also became a way to have a deeper relationship with my fans in those towns. It lets me see what their culinary mind-set is like.
417: I imagine when you come to Springfield you'll get lots of recommendations for Springfield-style cashew chicken. Have you heard of it?
A.B.: Oh, of course. I've had it.
417: Did you like the dish, or did you think it was a culinary abomination?
A.B.: No, I like it. I don't think it's an abomination. No, not at all. And what's so interesting about it is that the words Springfield and cashew and chicken don't automatically go together. There's got to be back story. There's got to be an explanation for how this thing came into being. Can you tell me what that story is?
417: Rather than stir-fry the chicken, chef David Leong decided to try breading and deep-frying it, and the dish became off-the-charts popular. 
A.B.: The part of the story that I don't know and I haven't found a reliable source for is, why the cashews? Because cashews were, and continue to be, more expensive than other nuts. So I've had a tough time figuring out why he ended up not just completely reinventing the dish in a way that would have been more economical for him. But I'll figure it out eventually.
417: You've said that the only true common denominators across cultures are eating and laughter. How does your live show, which incorporates both, fit into that?
A.B.: The actual line is that there are only two things that every people group on earth wants to do together in a group environment, no matter how cosmopolitan or remote: People want to eat together, and people want to laugh together, and there's a great deal of anthropological research that backs that up. Because of that, I think of food being a universal connector. It's the thing that holds people together. If I can do a show about that that's also funny, then I've got the double whammy. In this day and age where we are torn apart by so many factors in our culture and so many disagreements and so much animosity, we really need both food and laughter to keep us together.
417: You've also said that laughter and learning go hand-in-hand. How so?
A.B.: Laughing brains are more absorbent. When you are laughing, your brain is more open. Your brain is more attuned to being filled at that point, which is why it is so much easier to teach people when you are entertaining them, especially when you are making them laugh. And, again, there's scientific proof to back that up.
417: Speaking of humor and teaching people, you've announced that you are working on rebooting Good Eats. Any updates?
A.B.: I am not releasing any dates of when it is going to happen. I haven't even announced where it is going to happen. But, there is going to be a digital child of Good Eats, if you will.
The reason I stopped making Good Eats after 14 years wasn't because I didn't like it anymore or it wasn't because it got canceled. It's that I believed that I saw a very big change in how people were consuming media. I wasn't even on social media when Good Eats was being made because there wasn't any. Media consumption has completely changed. I really believe my fans have always been on the cutting edge of technology and media, so I realized that if Good Eats was going to maintain any kind of relevancy, it needed to be reworked for the modern media consumption market. So, it has to be digital.
417: Where do you draw inspiration for all these projects?
A.B.: Human creativity in all of its forms inspires me most. Seeing that continue to explode in the world of food is a source of joy and keeps me going. [When] there are times when I feel like I am drying up, all I have to do is look at what other creative people are capable of doing. There's never been a time when that's more true in the world of food than now.
One of the beautiful things about food is that everybody's got a kitchen, or at least most people have a kitchen. And if you've got a kitchen, you have an art studio and a scientific laboratory and a place to preserve family memories. It's just a very potent and important space. If I could do anything, it's simply to inspire people to get into that room and spend more time in it.