Health
Get Fit with an Evening Bike Ride
Bicycle Outlet's Monday Night Ride is a great way to get out and about in the community and get your heart pumping while you're at it. We gave it a try to see what it's like.
By Evan Greenberg
Oct 2018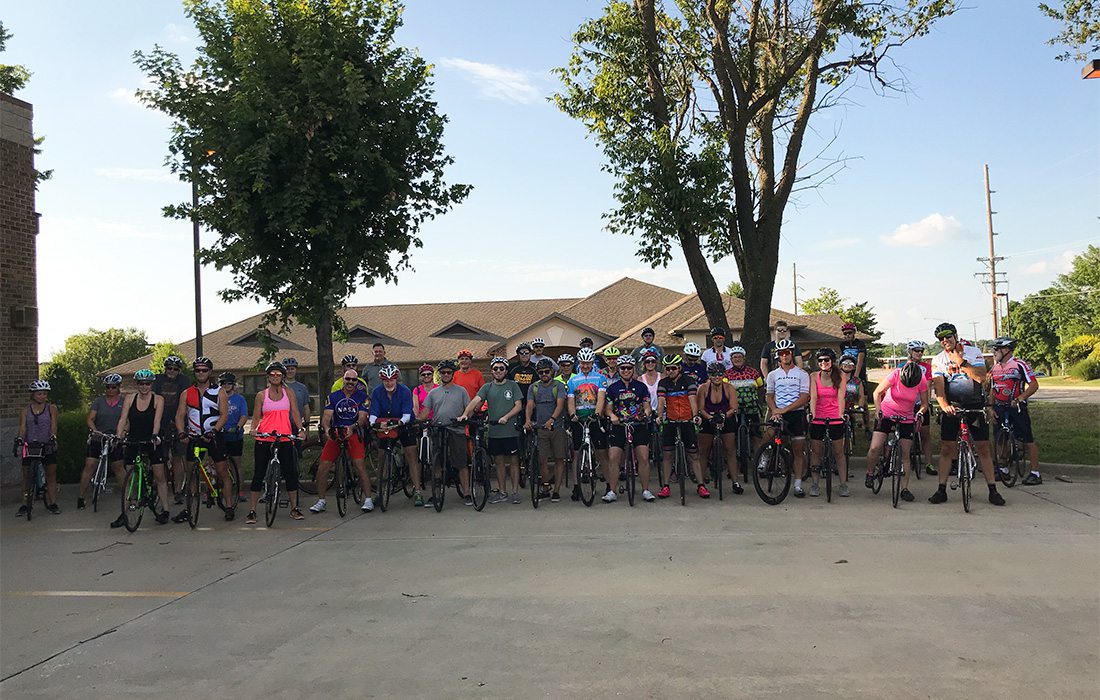 There is air of excitement that surrounds each Monday Night Ride that begins at Bicycle Outlet every Monday at 6:30. On a beautiful July night this summer, I joined our photographer Vivian Wheeler to see what the weekly ride was all about. There were some 50 people lined up outside ready to ride. On especially busy nights, the ride gets nearly 80 people.


The Venue
This is a ride designed for serious cyclists and casual riders alike. The 9½ mile jaunt sounds more daunting than it is. In fact, we were told a few times it's the most leisurely ride you can do. The weekly rides have been cruising around Springfield for almost three years, and each ride is led by workers at the bike shop. Joe Gregg led the way the night Vivian and I tagged along. He and the other workers guided us along the route, which snaked past lush evergreen trees, neighborhood swimming pools and all the other tenets of suburbia. 


The Workout
It had been a little while since I'd been on a bike, and being around so many people at Monday Night Ride who seemed to be regulars made me feel a bit intimidated. But once we got going, it was like, well, riding a bike. We passed families and couples and dogs who all waved and cheered us on. I felt like part of a pack and quickly learned the lingo and what to say if a car came by. Cars are a hazard on the Monday Night Rides, and it was our job to make sure we were hyperaware of our biggest obstacle on the road—passing cars. Luckily, when you're biking with a few dozen cyclists, it's a lot harder to get caught in a driver's blindspot. It's also hard to ignore the shouts about oncoming traffic.
"One of the best things about the ride is that it gets you outside, and for me, it gave me a chance to see parts of town I hadn't before."
— Evan Greenberg
The Effects
This is a ride anyone can do, but it is a good workout. Biking 9½ miles is not child's play, regardless of pace, and I worked up a good sweat as we returned to the shop. There was a sense of camaraderie that developed—we were all doing the same thing, and the steady pace allowed for socializing with fellow riders. The ride lasted about an hour, and I found myself perusing the selection at Bicycle Outlet when we got back.
The first half of the ride was fairly easy and included a series of straightaways and slopes to get everyone warmed up. After that, things ramped up a bit—and for me, that was in more ways than one. As I was riding through a straightaway in a neighborhood, a deer decided to make the boldest decision of its life and dart no less than 5 feet in front of me. Spooked but still on the saddle, I pedaled on. And after cruising up a few strenuous hills, I felt the burn in my legs.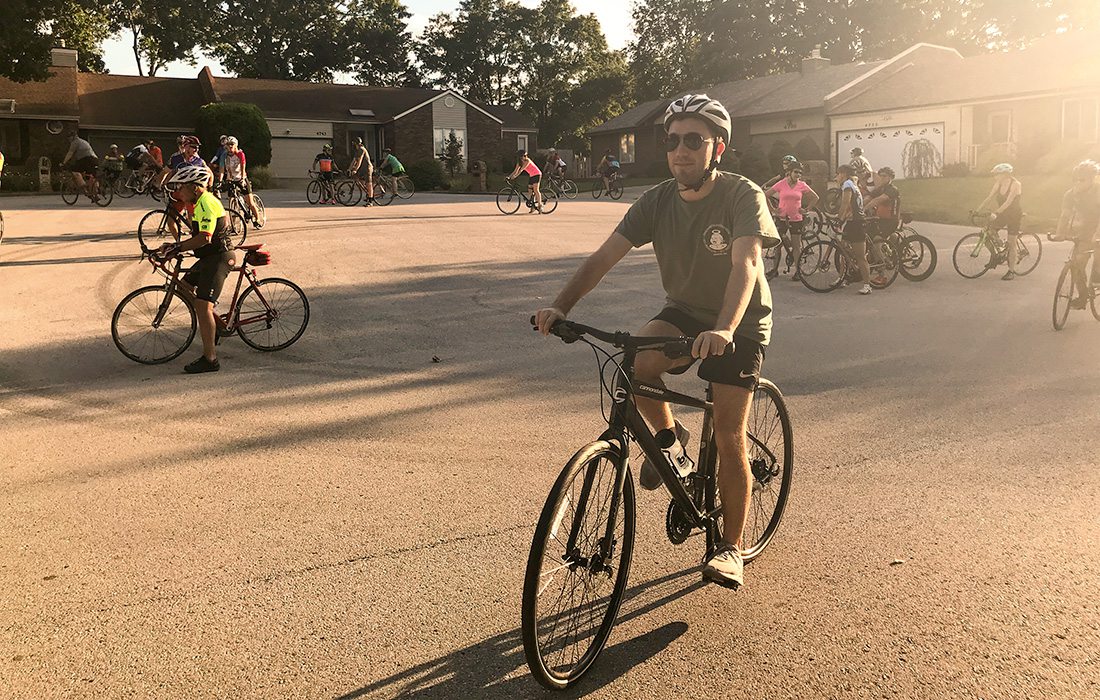 Get Out and Ride
The ride we tried isn't the only one in the area. We found three more options for fun on two wheels.

Frisco Bicycle Rental and Sales
109 Jackson St., Willard
Frisco Bicycle Rental and Sales opened in April 2018. You can rent from the myriad types of bikes they have, from hybrids and tandems to mountain bikes. They charge $10 per hour, $18 for up to four hours, and $25 for a full day. Be sure to check out the shop's Monday night rides, which take place out at the Sac River Mountain Bike Trail and where bike rentals cost $10, and there are rides for every skill level. 
Fryday Night Social Ride  
A play on the last name of its organizers from 2Frys Realty, this social ride starts at First Baptist Church in Battlefield (5010 S. State Highway FF, Battlefield) for a 10-mile jaunt. Bring your own bike and enjoy the flat route. The group stops along the way so riders can regroup. The ride averages 30 to 35 people, so whether you bring a friend or show up solo, you won't be alone. 
Shuttle Saturdays at Two Rivers Mountain Bike Park
5055 Two Rivers Road, Highlandville
On Saturdays, Two Rivers eliminates the most strenuous part of the ride—pedaling uphill! For a $10 donation on Saturdays March to October, Two Rivers transports you and your bike to the top of the hill, serving as your own personal gondola. You're then free to ride the park's varied trails, bypassing the hard part and getting straight to the fun.
4121 S. Fremont Ave., Suite 120, Springfield
Price: The ride is free, but you can rent a bike for $35 if you don't have one.
What to Bring: Bike, helmet, water, bike light for night riding
Schedule: The ride starts at 6:30 p.m. each Monday night and starts at the bike shop.