Spaces
Spaces: Andy B's
Andy B's: an entertainment complex that's home to a top-notch restaurant, a state-of-the-art game room, a themed laser tag arena and two luxe bowling spaces unlike anything else in 417-land.
Written by Savannah Waszczuk | Photos by Terry Sweeney
Sep 2016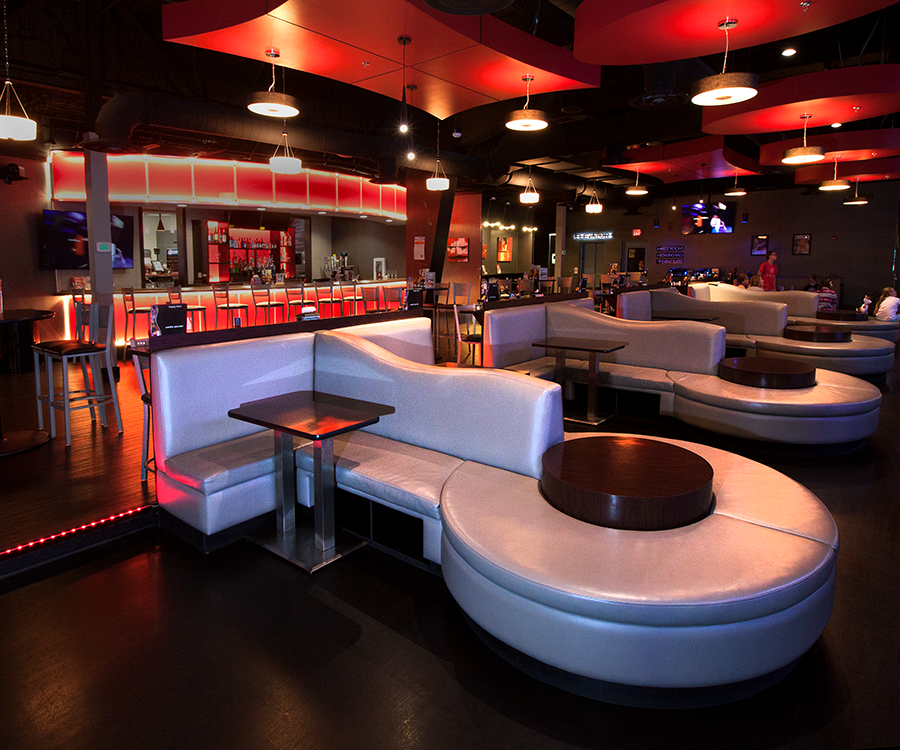 VIB Area
The Very Important Bowler area at Andy B's is tailored to all things luxe. Couch seating, custom LED lighting and plenty of TV screens create an upscale vibe, and a collection of custom bowling balls ad a little something extra to the 10-lane scene. The area can be reserved for business lunches and other group events, including watch—there are plans to host Kansas City Chiefs watch parties this year. The space can also host an array of live events with DJs of live music. The lights go down and the music goes up on Friday nights, when the area is reserved for guests 18 and older and a live DJ provides entertainment.
Andy B's doesn't feel anything like a typical bowling alley. This isn't a bad thing, though. In fact, creating such a space—one that provides a wide variety of entertainment options for all ages in an upscale atmosphere—was a goal owner Andy Bartholomy had long before even starting construction. 
Bartholomy has been a bowler since age 12, so he knew the sport during its heyday: It used to be quite the norm for people to join bowling leagues and knock down pins one night a week for 35 weeks every year. But as Bartholomy stuck with the pastime, he saw it change. "As more entertainment options came about and people had more demands on their time, we saw bowling leagues decline," Bartholomy says. This was a concern to Bartholomy, who has lived in 417-land since 1977, bought his first bowling alley in Marshfield, Missouri, in 1988 and continued to acquire additional alleys as time went on. "When we bought our first center in Oklahoma, it had 80 lanes," Bartholomy says. "We couldn't fill them. That's when we decided to remove 40 and added other forms of entertainment." 
The addition of private luxury lanes, go-karts and games made Bartholomy's Oklahoma bowling center a success, so he created a similar complex in Bartlett, Tennessee, in 2012. Then, when it came time to freshen up one of his Springfield properties—the bowling alley formerly known as Battlefield Lanes—he already had a proven concept. It was just a matter of making it work in the space.
You'll know Andy B's is unlike any other bowling alley around without even stepping inside: Missouri Neon Company created a giant B that's 36 feet tall and 22 feet wide and towers over the entry. "We wanted to create some sort of top-of-mind awareness with the building even before you stepped inside," Bartholomy says. They helped further that awareness on the exterior with graphic wrap-around signage, also by Missouri Neon. The impressive features continue inside of the massive space, which is just less than 50,000 square feet—6,000 of which were added in the remodel. Guests are greeted with a custom-made, one-of-a-kind sculpture that was created by Studio41b, a Florida-based company that is known for designing creative environments and innovative products around the globe and had a huge hand in the creation of Andy B's. "They focus on blending the design and practicality of a space, and they're really good at it," Bartholomy says. Studio41b's principal owner, Doug Wilkerson, also acted as an architect for the project with his other business, Dynamic Designs, and Springfield-based DeWitt & Associates helped make the space a reality by playing a large role as general contractor for the project.  
Both traditional bowling lanes and a VIB (Very Important Bowler) area are ready and waiting for guests to enjoy, and they're all decked out with plush couch seating, custom light fixtures and plenty of giant flat-screen TVs. A custom gaming area sits to the right of the entry, and downstairs has even more room for fun with meeting and party rooms and a themed laser tag arena where kids and adults can play both day and night. "There really is something for everyone at Andy B's," says general manager JR Huyck. "You may just think you're coming in to bowl and you didn't even know it, but you just came into a party."
Bartholomy loves gaming himself, and making sure Andy B's game room is loaded with the latest and greatest games on the market has almost become an obsession. "If we ever have something that isn't performing well, we'll move it out," Bartholomy says. "Springfield always has the best we can get, and we're always updating them. We want to make sure everything in here is a top-flight piece." So chances are, even if you visited Andy B's a couple months ago, you'll probably find a new game to play on your next visit.
Bar
A custom bar sits on the opposite side of the restaurant in the VIB area, giving the very important bowlers access to very important beverages upon request. The bar is also decked out in custom LED lighting and plenty of screens, so you're sure not to miss a moment of the latest music video or current game with a trip for a drink. 
Traditional Bowling Area
The traditional bowling area at Andy B's is traditional in the basic sense of the word—there are 21 lanes where people can enjoy a few frames—but everything else is a step above from the norm. The entire place boasts a bit of an upscale vibe thanks to its interior design, and there's couch seating to rest on when it's not your turn. To keep everyone straight on the score and provide a little extra pizazz, there's even a fun interactive scoring system that allows bowlers to do things like post selfies and message other lanes. 
Restaurant
When you think of bowling alley food, you probably imagine things like hot dogs and nachos served in little plastic trays. This isn't at all the case in Andy B's. There's a real restaurant here with booths and tables, and food is served on china and meant to be eaten with real silverware. "Food is the lifeblood of our business, so we needed to be sure and have the best food," Huyck says. The best part? You can order anything on the menu from anywhere in the facility thanks to the lane-side service. If you do have time to sit in the restaurant, though, you won't be disappointed: the space's interior design, lighting and seating were all carefully planned to continue with the venue's upscale-yet-relaxed vibe.
Exterior
A 36-foot-tall letter "B" made by Missouri Neon Company flanks the entry at Andy B's, helping the building stand out from other businesses that line Battlefield Road. Also by Missouri Neon is graphic wrap-around signage, which shows up best in the night's sky.
Laser Tag
With the help of Studio41b, the laser tag experience at Andy B's was created with a theme: the room where you play is known as The Forsaken Mine, and the host tells you the story of the mine before you even begin playing. You play the game in a space that's set up with old barrels, crates and other things that help it truly look like a mine, and fun additions including glowing rocks add to the space's visual appeal. Sound effects allow guests to hear things like crashes of thunder, and they'll even feel an occasional brush of wind. "There are some surprise triggers that really make it a one-of-a-kind experience," Huyck says.
Lower Level
Also on the lower level are meeting rooms that can be arranged to host a variety of events or parties for as many as 125 guests, and there's private parking and a canopy entrance for them to use. "We're made for Joe Public, but we're also made for businesses and groups," Huyck says. This means that you can come to Andy B's to bowl or eat dinner, but you can also bring your kid here for a custom birthday party. You can also come here with your company for a special retreat or team-building day. In fact, you can even come for a wedding. "Two weddings are booked here, as well as numerous wedding receptions, bachelor and bachelorette parties," Huyck says.