Style
June & Beyond Boutique in Lebanon
Tucked away in Lebanon, June & Beyond Boutique offers up fashionable clothing, shoes and jewelry where you least expect to find them.
By Vivian Wheeler
Sep 2017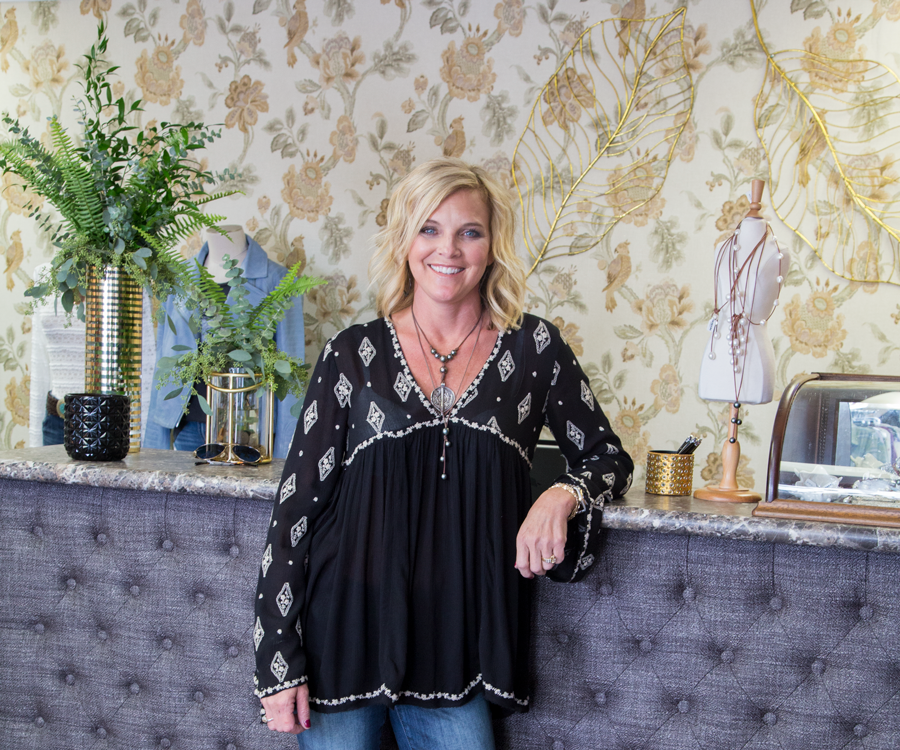 Paula Brackett always loved living in Lebanon—it's where she and her husband raised their three children and ran their family business—but Brackett also loved to shop. For years there was nowhere in Lebanon that satisfied her passion for fashion. She dreamed of a local boutique that carried trendy items and her favorite brands. When her youngest child was old enough that Brackett could go back to work, she decided to create the store she always dreamed of, and June & Beyond Boutique (242 S. Jefferson Ave., Lebanon, 417-532-7467) was born. 
That was three and a half years ago, and she's never looked back. In addition to having a brick and mortar location, Brackett has recently added online shopping, so no matter where you live, you can peruse June & Beyond's eclectic offerings from the comfort of your couch. Along with clothing, the boutique stocks a variety of shoes and accessories. The items you'll find at June & Beyond reflect Brackett's personal style, which is a little all over the place, but in a good way. She says she might dress bohemian one day and wear a pencil skirt the next. "I like a little bit of a variety," Brackett says. "I don't like being stuck in one style." And though the store's aesthetic is based off Brackett's style, there is a little something for everyone.
"We cater to different ages and different styles," Brackett says. "We're very small. We're not a big store, but we have a lot of variety." And there's something for just about every occasion, too. The store has lots of casual clothes like Z Supply sweats, which are cute enough that you can run to the grocery store in them and not feel ashamed. For jeans, Brackett swears by the fit of Kut from the Kloth.  
You can also find a plethora of date-night options, like Show Me Your MuMu dresses, which have a fun and flirty vibe. Spruce up your date-night look with one of the store's exclusively offered jewelry pieces. June & Beyond carries the only Kendra Scott collection in Lebanon and has a large selection of it. In addition, the store is the sole carrier of Wendy Mignot, a Florida-based designer who creates simple but stylish necklaces made from leather and freshwater pearls. 
When Brackett first opened June & Beyond, she mainly featured brands she already loved, but as the business has grown over the years, so has the variety of clothing that Brackett sources. Now when she goes to market, she's constantly on the search for something new and fresh. 
Although the store might be small, Brackett works hard to give her customers a great experience. "I think our strongest suit is our customer service," she says. Brackett gets to know her clientele and acts, at times, as a personal shopper for them. If a piece comes in that she knows is perfect for a customer, she doesn't hesitate to pick up the phone and let them know, and it's exactly that kind of service that keeps her customers coming back time and time again.
---
Q&A with owner Paula Brackett
417 Magazine: What inspired the store's name?
Paula Brackett: My husband and I got married in the month of June. We wanted [the name] to be something personal, and you can't pick one of the three kids' names, so we went with June. That's where it all started.
417: What three essential clothing items should every woman own?
P.B.: A "feel good" pair of jeans, the perfect basic white tee to wear alone or layer with and a leather jacket that is versatile.
417: Who's your style icon and why?
P.B.: Julianne Hough. She has a free spirit and makes it look effortless.