Spaces
Meet the Two Women Behind Nest Interiors + Design
Nest Interiors + Design is your next stop for modern farmhouse home decor in Ozark, MO.
By Jenna deJong
Oct 2019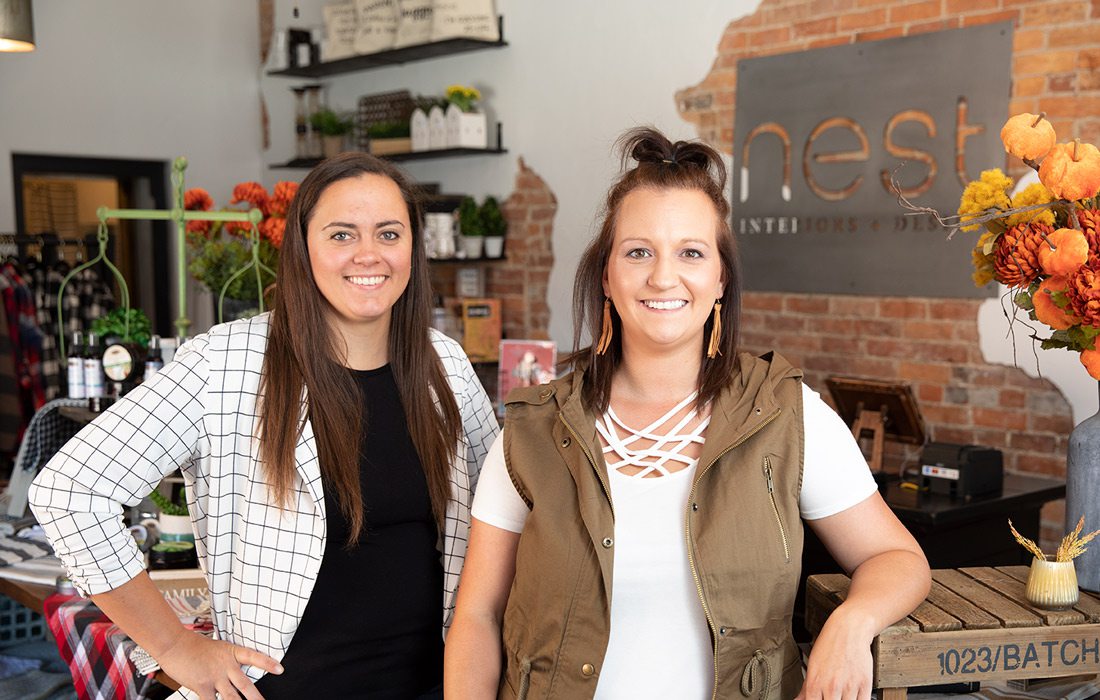 Where Chelsee Sowder's creative imagination drops off into the unrealistic abyss, Natasha Stanley's big visual mind picks up. The childhood friends are an unstoppable combination of grit and grace, and both have an eye for transforming any space into a modern farmhouse dream. Within just 18 months of opening Nest Interiors + Design, the two expanded their inventory of home decor and furniture to women's and children's clothing, providing customers with treasures for themselves and their homes.
The two women ran what Sowder calls a "shabby chic" booth at Relics Antique Mall for five years before opening their home decor boutique. Nestled in the downtown Ozark square on Church Street, the boutique stocks items fitting any budget including investment pieces like high-quality furniture or bargain treasures like wall decor items. The store also sells local products from Jordan Essentials and Reborn Candles. 
"Matte black and champagne gold are very trendy, and we anticipate they will hang around for a little while. Right now in our store you can find matte black accent tables and bar carts."
— Chelsee Sowder, co-owner of Nest Interiors + Design
"I think that's something we've always pushed toward is making things affordable," Sowder says. "Someone can come in and find something that fits their budget, whether it be a huge buffet that they are going to pass on to their kids and grandkids or a super trendy wall decor [piece] that you just want for a year or two."
And that's the perk: The store is successful because of the beautiful inventory and thoughtful staging. Stanley attributes the high inventory turnover to Sowder, who stages items in a way that illustrates how customers can adopt the items into their everyday lives. In fact, Sowder's creative placements and Stanley's ability to execute her vision have proved so successful that the women offer professional staging services using their own inventory. 
It's not to say the two's attention is solely focused on the boutique—Stanley is a clinical director at Integrity Home Health and Sowder is a stay-at-home parent—but as Sowder says, "that's probably why we work from 5 a.m. to 11 p.m. because it's so much fun, and I don't think we could ever get tired of doing it."