Style
Black Home Decor Designs
Whether it's used as a grounding foundation or as an elegant accent against a neutral base, black is certainly on the rise in home décor.
By Colin Shea Denniston
Nov 2021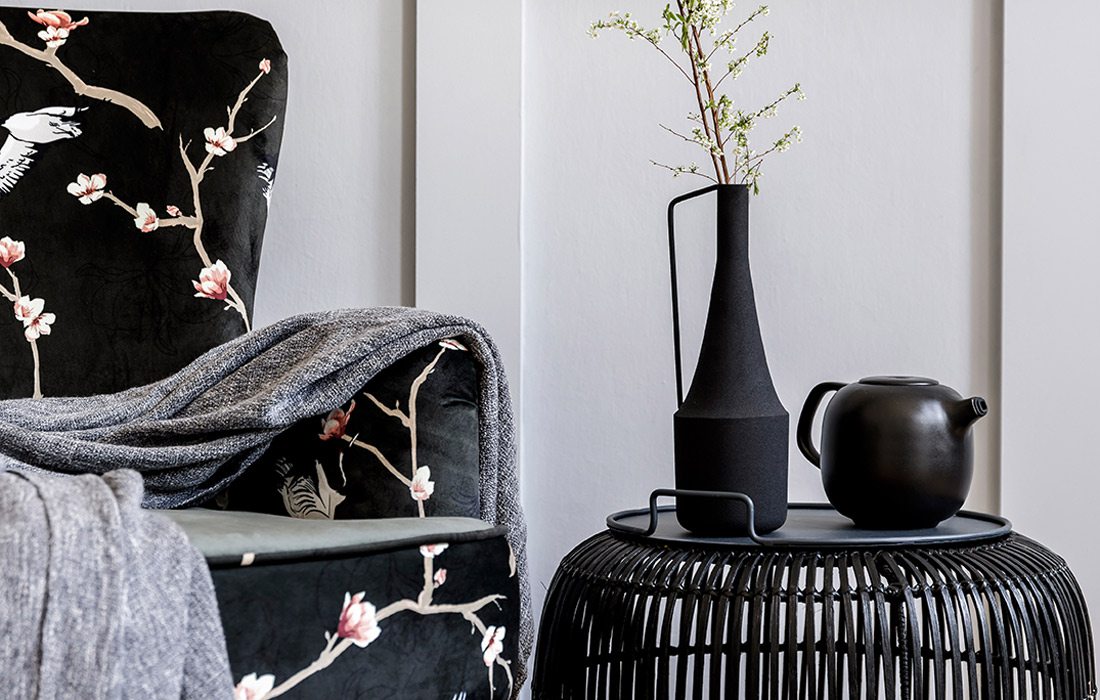 Black is having a major moment when it comes to interior design. It is showing up in bold ways from home office walls to house exteriors painted in deep, moody hues.
The Versatile Classic
If you aren't ready to overhaul your space but are interested in dipping your toe into darker trends, try adding pops of black through accents into your home décor. Black pairs perfectly with neutral, earthy tones for a stylish and sophisticated look.
Colby Kern, Associate Designer at Obelisk Home, is a fan of black in home décor personally and professionally. "I lean toward sticking with a neutral palette and using different textures and materials to keep my space from feeling one dimensional," Kern says. "Black is a big part of my design aesthetic—using accents like art and pillows helps move the eye around my neutral space."
While black is often associated with modern designs, Kern says black fits into virtually any design aesthetic from traditional to contemporary. "I think designers have always been fond of using it because black works with every color scheme and every style," he says.
The Little Details
One of Kern's favorite ways to incorporate black into his designs is through picture frames. "You can never go wrong with using a simple black frame for art," he says. "It will instantly make whatever art it is look more sophisticated." A variety of frames in different colors and textures can feel cluttered and disjointed, so using all crisp black frames creates continuity with one's art and eliminates the difficulty of trying to match gold or brass frames with existing furniture pieces.
Black can also serve as an unexpected pop in a neutral space. "I like using it to add a purposeful contrast in a space, or as an unexpected element that feels luxurious," Kern says. "Think of a traditional entryway, then add a black console styled with an interesting lamp and stack of coffee table books. The black adds instant sophistication."
Start Small
If you are just starting out incorporating black into your home's interior, Jamie Stauffer, owner and designer of Stauffer Design Co., recommends starting small. "Change out your kitchen knobs and pulls for a crisp black, then make upgrades to your lighting fixtures," she says.
Stauffer also recommends keeping textures in mind when adding black. "I love to accessorize with found pieces like Chinese water pots that come in a dusty, chippy, aged black," she says.
When incorporating new trends into your home, both Kern and Stauffer recommend starting with accent items, but if you're feeling ready, move in more permanent directions like dark window frames or lighting. "I love a bold black chandelier or a dainty black sconce," Stauffer says. While some trends can quickly feel dated, black is a classic and always finds ways of reinventing itself. "Think of black like your favorite little black dress," Stauffer says. "The beauty is it's always a classic. It's easy to mix with any other color."