Style
Sustainable Style from Mabel Johnson
Parkview High School senior Mabel Johnson designs, makes and sells her own clothing line in an effort toward sustainability—with the aspiration to one day change the fashion industry.
by Jo Everhart
Jun 2021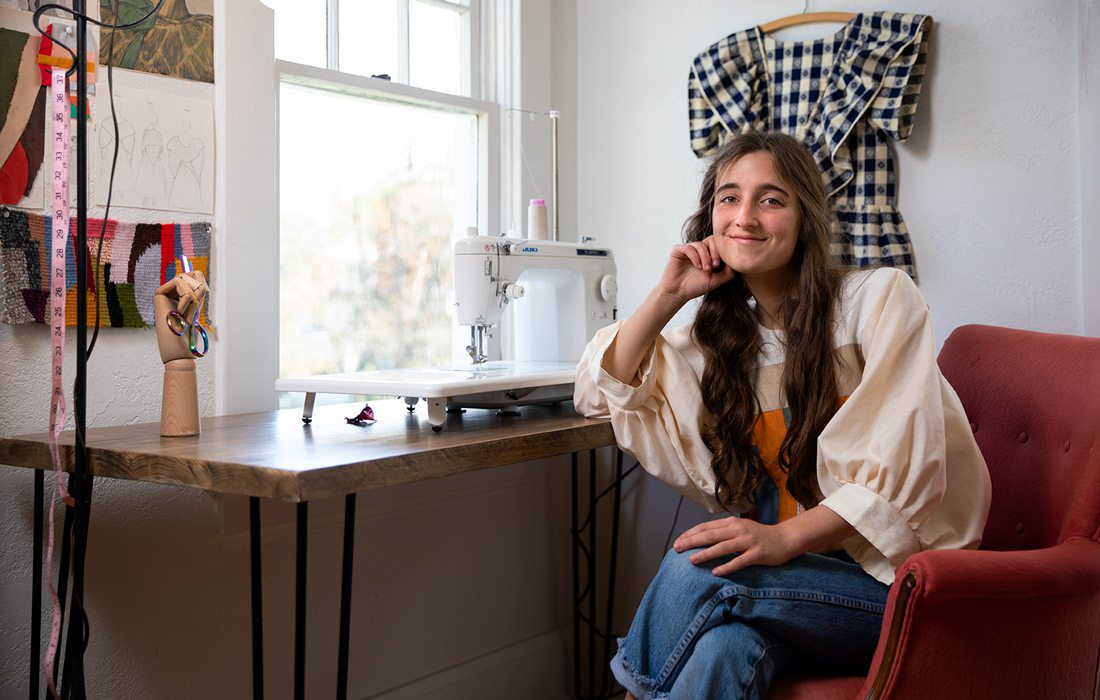 When she was 6 years old, Mabel Johnson (now a Parkview High School Senior) learned how to sew with her mom. They would use bits and pieces of their old clothing to make new purses, pillows and blankets for her dolls. That 6-year-old never could have imagined how far her sewing skills would take her. "The idea of creating something out of nothing, and taking things that might have lost purpose and making them into something new is what inspired me to design," Johnson says. She has continued to develop her skills and eventually learned how to make clothing. She even started her own clothing line, Mabel Made, and was awarded the 2021 Design Arts Finalist for the National YoungArts Foundation.
The National YoungArts Foundation recognizes the most proficient young artists and provides them with opportunities for creative and professional development. She is one of four students from Missouri to receive an award and the only regional student to do so. Johnson attended YoungArts Week master classes, workshops and interviews with working artists around the country. "It helped me have confidence in my work and encouraged me," Johnson says. "I didn't expect to win. I just thought I'd give it a shot. It was motivating to hear from experienced artists and fashion designers, and it's really pushed me further into design."
Johnson draws inspiration from other fashion role models including Molly Goddard, pieces like the Basiaga baby doll dress and clothing in movies such as The Sound of Music. Moving forward, Johnson hopes to attend art school and become a fashion designer. "I want to continue what I'm doing now but on a bigger scale and show others the importance of sustainability in the fashion industry," she says. Follow Mabel Made on Instagram to see Johnson's designs.