Style
Where to Buy Lockets and Lock-Inspired Jewelry
With a wide variety of shapes and styles, locks and lockets have made a refreshing return.
By Colin Shea Denniston
Apr 2021
Lockets and locks are making a comeback. For an eclectic look, try layering multiple pieces together in varying shapes and weights. If you prefer a more classic approach, go sleek and strong with a single statement piece. No matter your style or budget, these neckline stunners are sure to be your new jewelry box must-haves.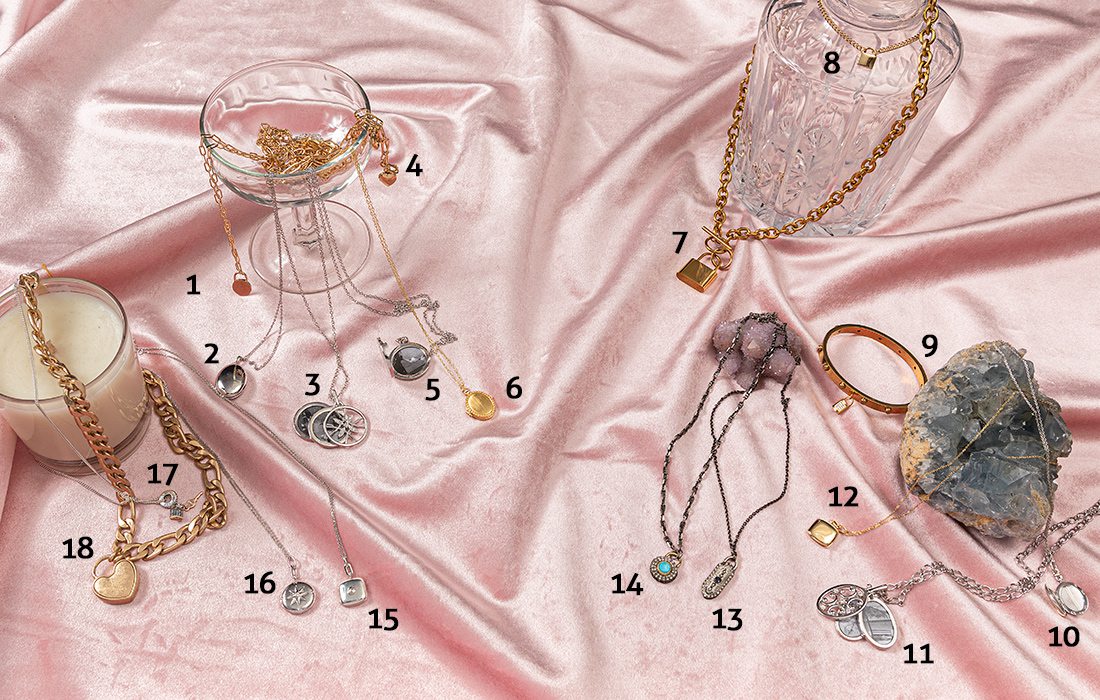 1. Letter M pendant, $22 at Modern Society 2. Monica Rich Kosann The Midi four image locket, $485 at Maxon's Jewelers 3. Monica Rich Kosann round gate locket, $845 at Maxon's Jewelers 4. Layered heart pendant, $16 at Uptown Boutique 5. Monica Rich Kosann floral pattern locket, $485 at Maxon's Jewelers 6. Gorga Bali antique locket, $64 at STAXX 7. Sahira Jane lock necklace, $58 at STAXX 8. The Giving Key padlock bracelet, $32 at 5# Apparel 9. Bracha lock bracelet, $54 at STAXX 10. Monica Rich Kosann Tess two tone locket, $350 at Maxon's Jewelers 11. Monica Rich Kosann oval gate locket, $835 at Maxon's Jewelers 12. Monica Rich Kosann slim cushion Viv locket in 18 karat yellow gold, $1,285 at Maxon's Jewelers 13. Armenata New World necklace, $890 at Mitchum Jewelers 14. Armenata Old World Necklace, $1490 at Mitchum Jewelers 15. Monica Rich Kosann slim cushion Viv locket in sterling silver, $265 at Maxon's Jewelers 16. Monica Rich Kosann Adventure Compass locket, $295 at Maxon's Jewelers 17. Pandora sterling silver chain, $55 and Pandora Padlock and Key charm, $65 both at Justice Jewelers 18. Heart padlock chain necklace, $25 from Clothe Boutique