Things to Do
A Winter Wonderland in Springfield, Missouri
Less is in bloom once frigid temperatures arrive in the Ozarks, but these Springfield city parks feature the mystical foliage and hushed atmosphere only wintertime can bring.
by Katie McWilliams
Jan 2022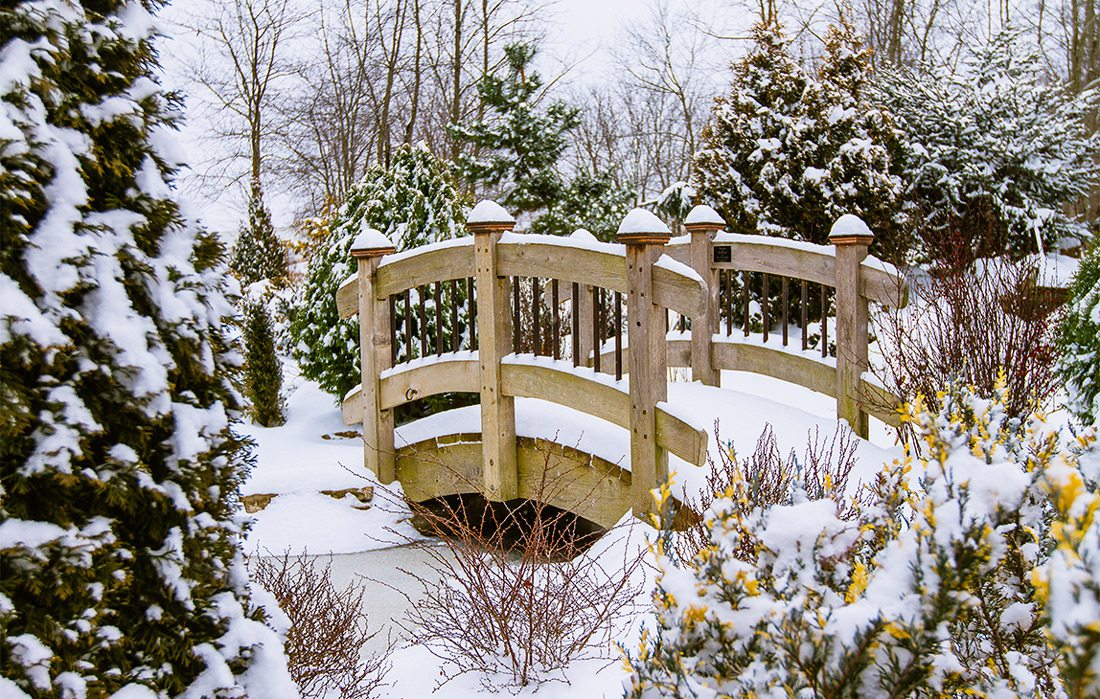 Springfield Botanical Gardens
Although winter brings gray skies and bare trees for days on end, the Winter Garden at Springfield Botanical Gardens (2400 S. Scenic Ave., Springfield) keeps its rich-toned berries and brilliantly colored stems flourishing from chilly December through the first blossoms of April. The garden is open to visitors after recent snowfalls as well, which is a great time to bundle up and take pictures of your favorite evergreen trees, dogwoods and conifers. Keep an eye out for flowers like fragrant winter honeysuckles and spidery witch hazels poking their way out of the ground with their light shades and lively blooms.
Lake Springfield Park
The boats at Lake Springfield Park and Boathouse (5324 S. Kissick Ave., Springfield) will be docked for a few months, but the diverse trails and breathtaking views are always in season. Visitors wanting a more casual walk can immerse themselves in the woodsy canopies of the paved James River Greenway Trail and connecting Lake Springfield Park Trail while avid hikers can embark on the rougher bluffs of the Greater Ozarks Audubon Trail and look for majestic eagles at the panoramic Eagle Point. You can even test (or laugh at) your aiming skills at the park's 18-hole disc golf course while surrounded by the tranquil lakeside scenery.
Rutledge-Wilson 
Farm Park
Relieve your kids of cabin fever by visiting Rutledge-Wilson Farm Park (3825 W. Farm Rd. 146, Springfield, 417-837-5949), which features classic activities and hands-on resources. Kids and adults alike will enjoy experiencing this agricultural gem while gazing across the wintry native prairies, playing on pedal tractors and other farm-themed playground equipment, or taking a two-mile loop around the endless acres of pasture land on the paved Wilson's Creek Greenway trail. When you're ready to escape the freezing temperatures, say hello to the animals in the "big red barn" and peruse the visitor's center to learn more about this popular park's rich heritage.
Doling Park
As the former home of an amusement park and other unique attractions, Doling Park (301 E. Talmage St., Springfield) maintains its historic charm while offering adventurous pastimes throughout the winter months. Take in the steep hills and clustered trees during an easy bike ride through the park's access point to The Link, or stroll around the courtyards of Doling Museum and admire the original stone wall of the former skating rink. Private tours through Gibbony Cave are also offered periodically, and its year-round springs and rich greenery offer a perfect respite from the winter elements (just be prepared to get your feet muddy!).