Trails
Updates Being Made to Improve 417-Land Trails
Ozark Greenways is working with local organizations on adding and improving local trails to enhance your summer cycling and sightseeing.
By Jamie Thomas
Jul 2021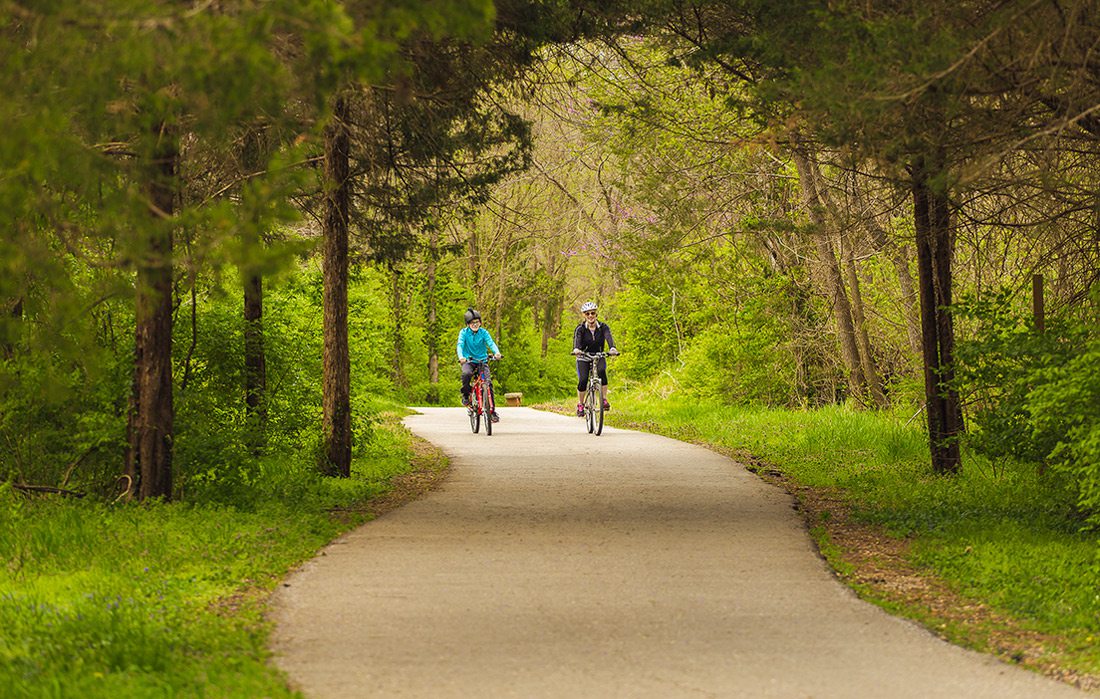 Dirt 66 and Fellows Lake
TrailSpring, along with City Utilities, Ozark Greenways, the City of Springfield and a few others, are developing 66 miles of new trails to add to our outdoors. "Save the date for Saturday, July 24," says Mary Kromrey, executive director of Ozark Greenways. "The Fellows Lake partners will be showcasing the new fabulous amenities at Fellows Lake." These amenities will include water and bottle fill stations, bike fix-it stops, shared-use connectivity stations and more. Other parks that will be benefiting from the work of Dirt 66 include Ritter Springs, Fulbright Park, Lost Hill Park and more.
Galloway Trail
The Galloway Creek Greenway was the first trail to be designated a National Recreation Trail way back in 2003, the first in Missouri on a list that has grown to 24 trails in 2021. Taking walkers and riders through Sequiota Park, the Springfield Conservation Nature, and connecting to the James River Greenway (among many other scenic stops), this trail is a perfect way to take in the beauty of our natural surroundings. The City of Springfield begins renovations to the Galloway Trail from Barton Street to Republic Road this summer.
Fassnight Creek Trail
The Fassnight Creek Greenway cuts through Fassnight Park and Phelps Grove Park. This familiar trail is getting a boost from the City of Springfield and Ozark Greenways development initiatives, too. According to Kromrey, an extension from Bennett to Clay Street will be added, and construction begins this summer, and another extension from Clay Street to the Springfield Art Museum begins in the fall.

The Chadwick Flyer Trail
The Chadwick Flyer Trail will connect Ozark to Springfield. Named after a train that once carried cargo and passengers between Springfield and Chadwick at a breakneck speed of 10 miles per hour, the trail is currently under construction. "Trails systems help create happy and healthy people, improve property values, spur economic development and redevelopment and provide transportation choices," Kromrey says. "We also know that people are using trails more than ever as they strive to maintain their mental and physical health."
For all the latest information on our local trails and to find out how you can help, visit ozarkgreenways.org. To find out more about the Dirt 66 initiative, head to dirt66.trailspring.org for info, updates and volunteer opportunities.