Weddings
Talia Pilkenton & Kris Stone
These kindergarten sweethearts brought plenty of glitz and glam to their big day.
BY Vivian Wheeler | Photos by Regina Richards Photography
Jun 2017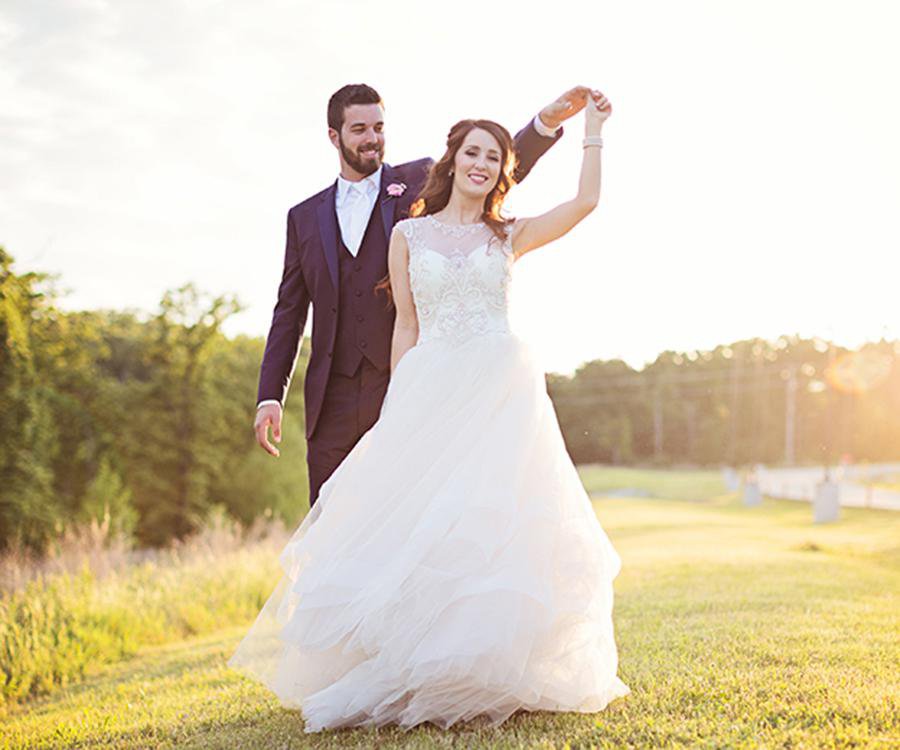 Not everyone meets their future spouse in kindergarten, but that's exactly what happened to Talia Pilkenton and Kris Stone, who grew up together in Aurora.

They remained classmates and friends until their junior year of high school when they took their relationship to the next level. Talia asked Kris if she could wear his football jersey during Friday night games. He said yes, and things blossomed from there.
They continued to date throughout the rest of high school, and as they pursued their respective careers. Talia went to study cosmetology at Paul Mitchell The School Springfield, and Kris became an insurance agent. Over the next few years, their careers and their relationship grew. Kris went on to own his own insurance agency with Shelter Insurance, and Talia became a stylist at Honey & Hive salon.
It wasn't until seven years after they first began dating that Kris popped the question. In March 2015, Talia traveled to New York City to further enhance her hair-coloring skills with a seminar at Wella Studio. Kris tagged along for the trip, planning a big surprise.
On the second night of their trip, the couple went ice skating at Rockefeller Center. After about 45 minutes of skating, everyone started to get off of the ice, but Talia and Kris were told to keep skating. Then the Bruno Mars song "Marry Me" came on over the loud speakers, and they were led to the center of the rink. That's when Kris got down on one knee and proposed.
"I was really surprised, but I was also hoping it was going to happen," Talia says. "We had been together so long. I never thought it was going to happen." To make sure the couple never forgot the moment, Kris had a photographer there to capture the whole thing.
Fourteen months later at the Downstream Casino, Talia and Kris took the biggest step yet in their relationship by saying "I do" in front of friends and family.
Before walking down the aisle to meet her groom, Talia got a letter from Kris. The letter came with a wedding day gift: a rose-gold bar necklace from Mitchum Jewelers.

To match her sparkling dress, Talia wore this wraparound layered bracelet and earrings they purchased from Norma's Inline Fashions in Aurora.


Talia also found her dress at Norma's. She wanted a gown with lots of intricate details that would shimmer in photos.

Guests of all ages came to Kris and Talia's big day, so the couple made sure to have glow sticks on hand for any kids who came to the reception.

All night, guests could visit the photo booth to snap a quick picture to take home or leave with the happy couple.

The couple's ride for the evening was a 1946 Ford, which belonged to Kris's grandfather. The car was equipped with a "Just Married" sign on the back.


After years of dating, Talia and Kris finally had their dream wedding at Downstream Casino Resort.
---
Resources:
Caterer: Downstream Casino Resort 
Cake: Charity Fent Cake Design 
Music: Elevate Entertainment by Broc Barton 
Bouquet: Artistry In Bloom
Table Arrangements: Toni Brown 
Wedding Planner: Rachel Dobbs and Monica Chandler 
Dress: Norma's Inline Fashions 
Tuxedo: Karl's Tuxedos
Rings: Mitchum Jewelers 
Photographer: Regina Richards Photography 
Hair: Honey & Hive Salon 
Rentals: Shannon's Custom Florals, The Guesthouse Event Design and Rentals 
Car: Kris's grandfather's 1946 Ford