Trends
Make Your Bedroom Feel Like a French Bed-and-Breakfast
Although interior designer Crystal Spriggs curated this space as a master bedroom, it has all the makings of a luxurious French bed-and-breakfast. Learn how to hone the same je ne sais quoi in your own space.
By Tessa Cooper
Sep 2020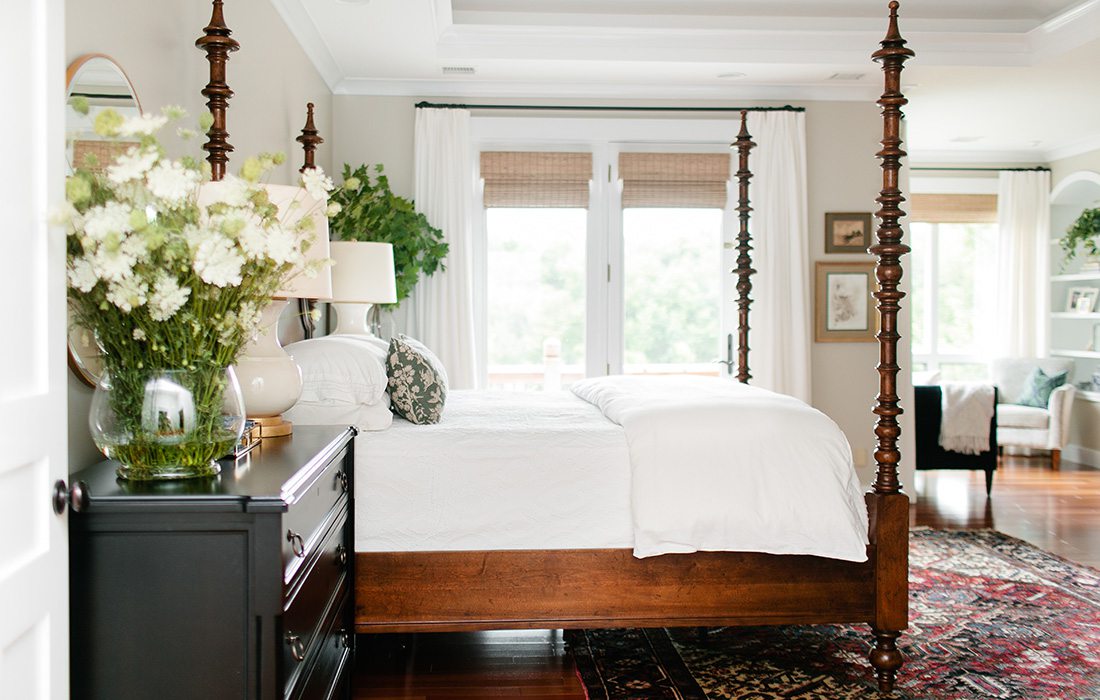 In light of recent travel restrictions, whisking away to Paris or Provence might still be out of the question. But that shouldn't stop you from living out the European bed-and-breakfast experience of your dreams. Even at home, you still can unwind in a stately bed in a sophisticated setting.
When interior designer Crystal Spriggs began working on the master bedroom design project pictured above, she wanted to create a space where her clients could feel at ease, like they would while on a European vacation. One way she achieved this was by opting for a classic white duvet and sheet set.
"I personally love neutral bedding, especially white," she says. "You can throw them in the wash and you can bleach them like hotels do. White bedding is always clean and goes with any aesthetic."
She also advocated for serene, airy custom drapes that clients can order from her business. "One of the main things that we did was use lined, sheer drapery," she says. "They give a very light feeling in the room. It kind of feels like you could just open up the windows and let the breeze in."
According to Spriggs, the French love to mix traditional and antique furniture styles with transitional and modern pieces. You can apply this same look to your bedroom, but she says to do it with balance and intention. "I didn't want the space to feel too stuffy, so I used a very careful mixing of styles in this room," she says. "Some things in here are very simple and could be considered modern, some things are more formal and others are light and airy. The whole idea is to really strike a great balance between all those things."
Spriggs encourages her clients to borrow another European tradition and fill their bedrooms with blooms and greenery. "Flowers don't have to be expensive," Spriggs says. "You can even just go out and pick them from your yard."
Get the Amenities