Trends
Homemade Art for Your Table
Style guru Shailey Murphy opts out of fancy china, and instead commissions locally made ceramics from Turntable Pottery for her family's dinnerware.
by Heather Kane Kohler
Jan 29 2021 at 8 a.m.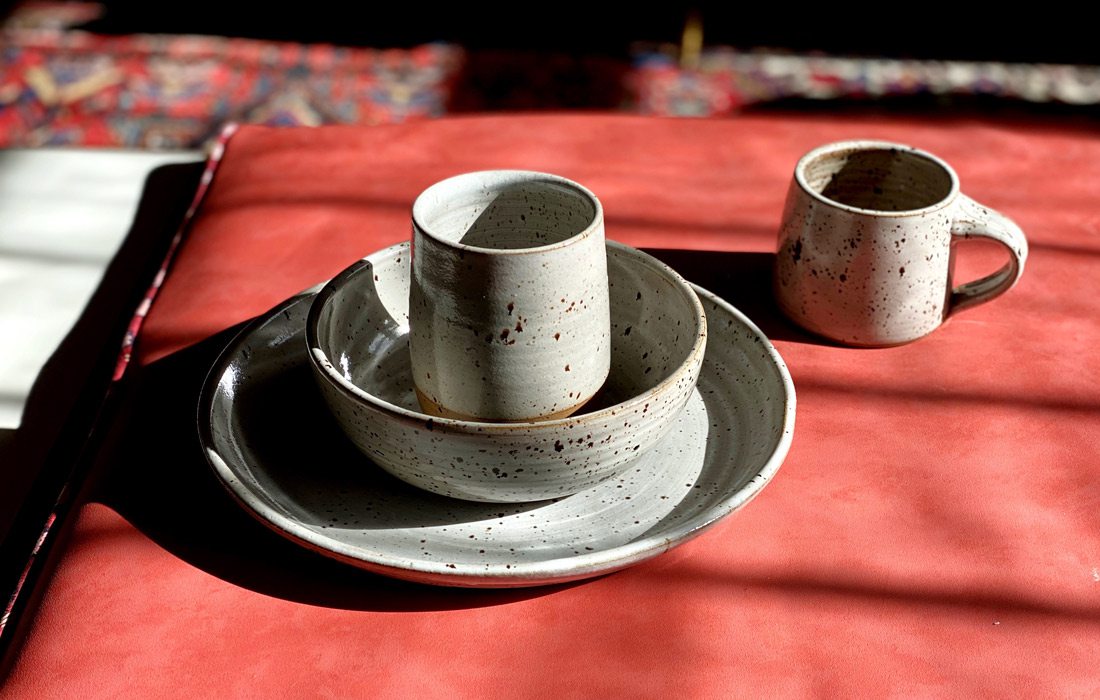 Shailey Murphy is no stranger to good design. As an interior designer by trade, she has done her fair share of renovation and redecorating projects, but there's been something missing from her collection of beautiful home goods, and that's a set of "grown-up" matching dishes. "For our wedding in 2008, we sat down to register for fine china and, as a 21 year old, I had no idea how expensive quality dishware actually was. Most of my friends were still in college and I didn't feel like I wanted to add something that pricey on my registry."
Murphy ended up settling for a simple set of plain white dishes and some floral plates from Target. Fast forward to today, where she began to admire the look of handmade pottery, especially the work of her friend Logan Williams from Turntable Pottery. "I never thought of ordering more than a single coffee cup or plant holder until I actually went to Logan's studio for a video shoot we commissioned her to be on camera talent for. While I was there, I saw some of the beautiful sets she had on her shelves and I started inquiring!"
The process of commissioning a complete set of dishes was very simple, and after explaining what colors and shapes she was looking for, along with some inspiration from Pinterest, they settled on eight plates, eight bowls, eight cups, and six coffee cups. Williams made recommendations on sizing, glazing and even the shape of the coffee mug handles. "The way it feels to hold the coffee cup was a big deal for my husband, who is a coffee cup connoisseur." Murphy says. "I know it sounds like it isn't a big deal, but if these are going to be lifelong cups, it was important to us."
Williams then got to work creating her little works of art. "When she delivered the completed set, she had inspected each dish so well, making sure any issues were swapped out with another piece." Murphy says. "Her attention to detail is amazing!  I feel like we have one of a kind artwork to eat eggs off of each morning. We are so happy with our dishes, I've actually just ordered smaller salad plates to add to our set!"
When purchasing a new set of dishes, especially ones we plan on using for a lifetime, most of us look at the care instructions. Is it dishwasher safe? What about microwavable? "I was so happy to hear that all her pottery is dishwasher and microwave safe," says Murphy. "Of course, handwashing is always ideal if you want to preserve something the longest, but dishwasher safe is a must." For those of you who are interested in ordering your own complete set of handmade ceramic dishes, just send an email to Turntable Pottery: turntablepottery@gmail.com or her send Williams a message on Instagram. Check out photos of Murphy's pottery collection below.