Food
7 Creative Ways to Use Your Pumpkin Carving Leftovers
It's jack-o'-lantern season, which means it's time to put all of the leftovers pieces of your pumpkin to good use. Try one of these healthy recipes or lather up with a homemade body scrub.
By Corin Cesaric
Oct 08 2018 at 1 p.m.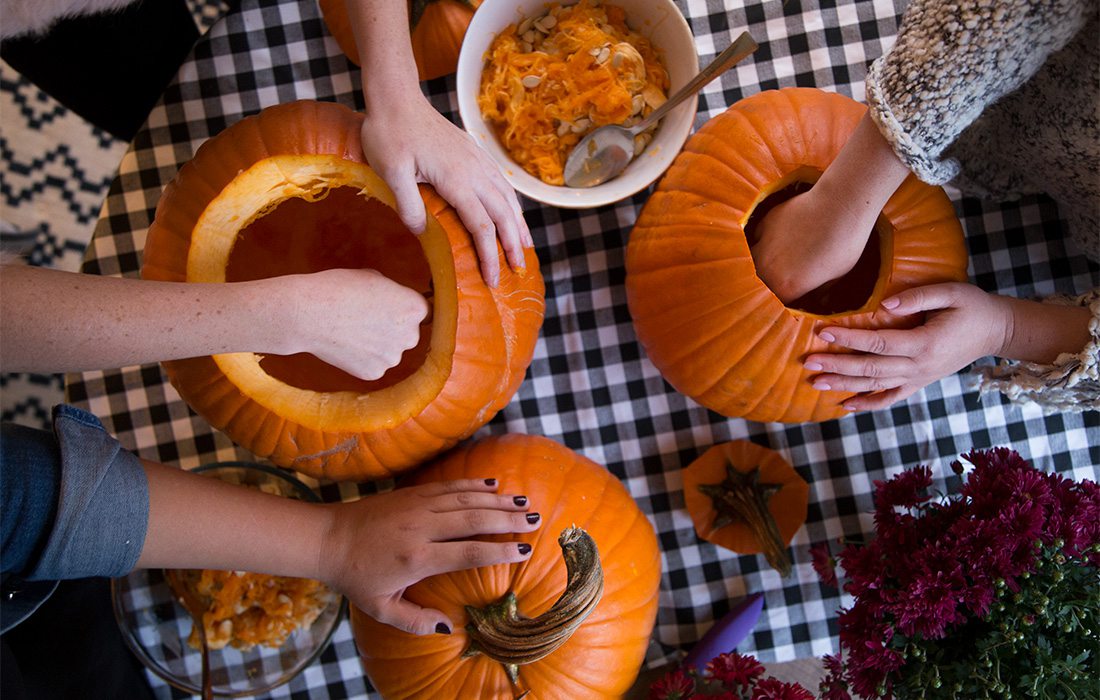 If you've ever carved a pumpkin into a magnificent jack-o'-lantern, you know just how messy the process can be. Typically people just toss out the stringy, slimy insides and get straight to carving. But, if you want to be resourceful and use every last bit of the pumpkin, we've rounded up a few ideas!
Pumpkin Puree
Pumpkin puree is used in almost every pumpkin recipe out there, but you don't have to buy the canned stuff or use all of the pumpkin rind. Instead, separate the seeds from the guts and carve as much of the flesh you can off of the inside of the pumpkin. Then, toss those chunks and the guts into a blender or food processor. Now you have homemade pumpkin puree to use for any recipe! Keep in mind that pie pumpkins (yes, these are a thing) tend to be on the sweeter side, but any pumpkin will work.
Pumpkin Juice
After you scrape your pumpkin clean, transfer the guts and seeds into a glass bowl. Pour boiling water over them and use a fork to mash up the mixture, then strain. Fun fact: Pumpkin can actually work wonders for your health according to Dr. Sharon Bergquist, Emory University's Healthy Aging Study Researcher and Primary Care Physician. The substances in pumpkins can protect the heart, help your vision and even lower blood sugar. You can add the mixture to smoothies and sauces, or mix it with apple cider and cinnamon for the perfect fall drink.
Pumpkin Face Mask
Turns out, pumpkin guts make a great face mask! All you have to do is separate the seeds and mash or blend the guts together with some honey until you find your desired consistency. Have no fear, this face mask gets the thumbs up from professionals! "Pumpkin contains enzymes and Vitamin A, and honey is a humectant that draws moisture into the skin," Elle Feldman, co-owner and lead esthetician at Good Skin Day says. "You could also mix pumpkin with full-fat Greek yogurt, which would be less sticky [than honey]."  If you're not feeling the DIY mask, Good Skin Day offers a pumpkin enzyme facial, pumpkin glycolic mask and pumpkin seed face oil that are great alternatives.
Body Scrub
This one is similar to the face mask, but it's for all-over body use. Blend raw pumpkin or the homemade puree mentioned above with coarse sugar, honey and almond or coconut oil. Then, start exfoliating!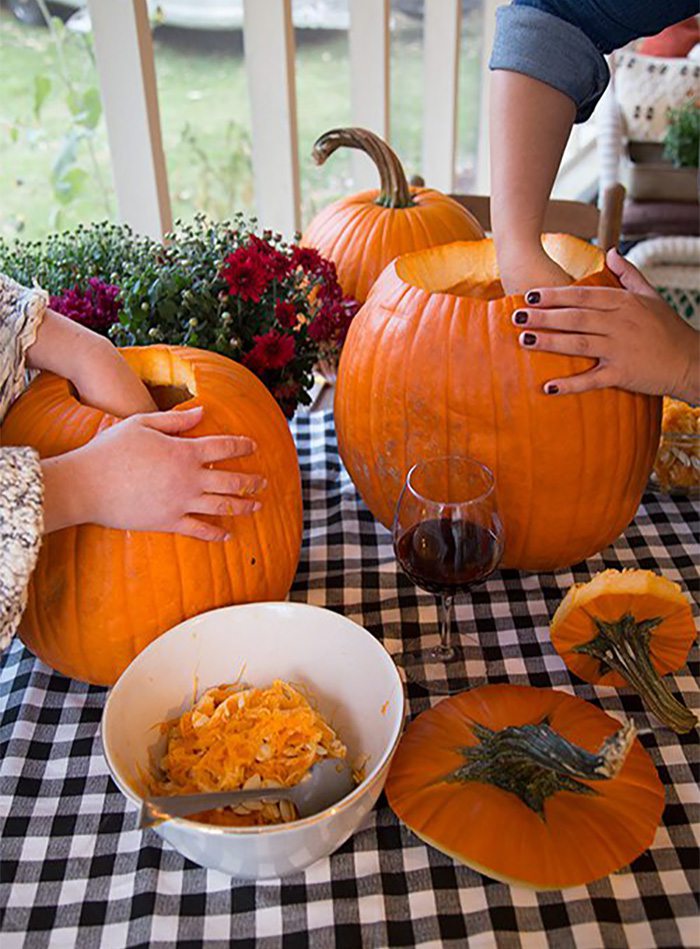 Photo by Heather Kane
After you've finished carving your pumpkins, put the guts to the side for use in face masks, body scrubs, dessert and more.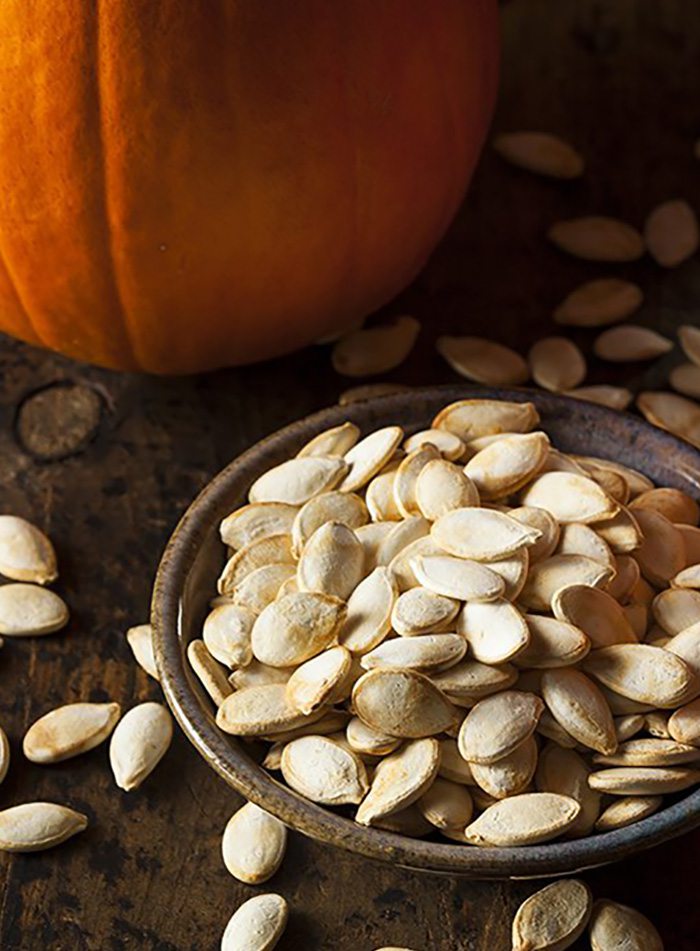 Photo courtesy Shutterstock
Pumpkin seeds are delicious and packed with nutrients, which make them a great snack.
Sweet Roasted Pumpkin Seeds
This super-simple recipe only contains four ingredients. Separate the seeds from the pulp, rinse, and let them dry. Toss the seeds with olive oil, cinnamon and sugar. Then, spread the seeds evenly on a baking sheet and pop them in the oven for about 10 minutes or until golden brown.
Pumpkin Seed Smoothie
Making a smoothie? Why not add some pumpkin seeds?! Toss raw pumpkin seeds (after you remove the shells) into any smoothie for a boost of iron and protein. Our preferred pumpkin smoothie features pumpkin puree, pumpkin pie spice, pumpkin seeds, a banana, milk, and your preferred sweetener like stevia, honey or syrup.
Pumpkin Keg
Throwing a Halloween party? Scoop out the insides of your pumpkin, pop in a keg tap, and fill the fall fruit with beer to create a DIY keg. For added flair, leave some of the guts intact. Or, keep it classy and torch out the inside.