We Are #417Strong
Look for the Helpers: Volume 2
Right now, one of our biggest sources of inspiration is you! And all the ways you're coming together to help one another. We're collecting stories as we find them to share with you here. Maybe it will inspire you to help (or help the helpers!) too.
By Katie Pollock Estes
Apr 05 2020 at 8 a.m.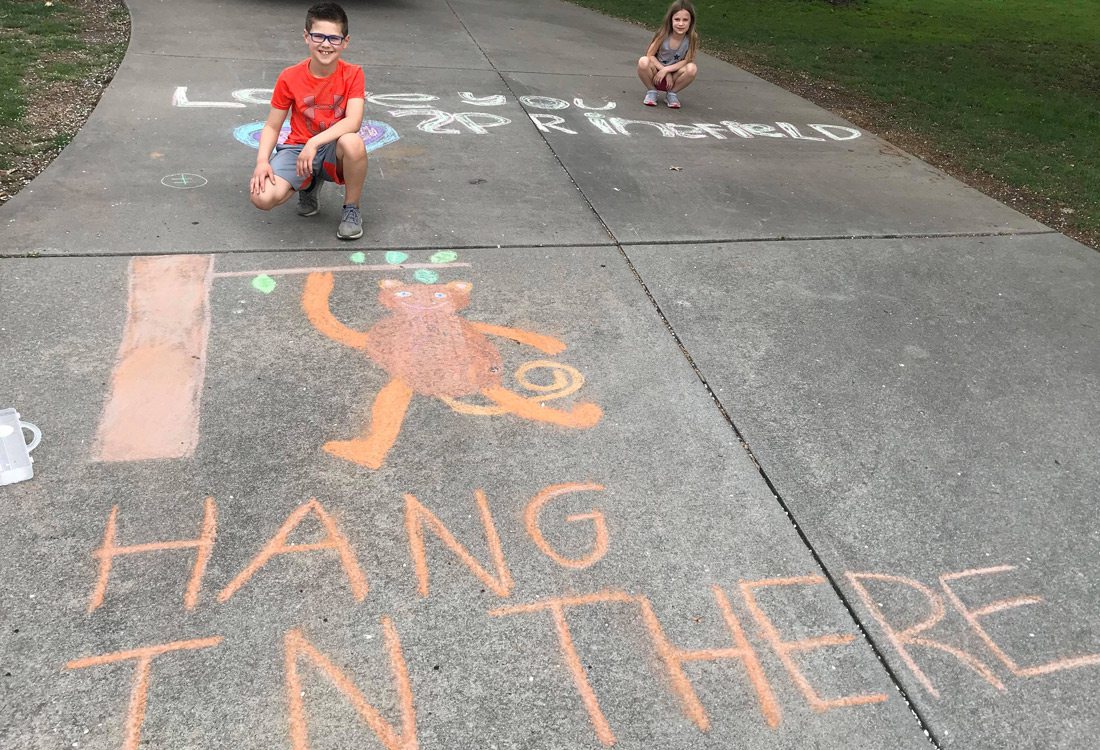 In times of uncertainty or disaster, there's one Mr. Rogers quote that always surfaces as a source of inspiration or hope: "When I was a boy and would see scary things in the news, my mother would say to me, 'Look for the helpers. You will always find people who are helping." One of our favorite things right now is watching all the ways people and organizations in our community are coming together to help one another. There are far too many examples to list here, but here are a few favorites. Email me and let me know other examples you've seen, and we'll try to include them in future roundups of our favorite helpers.
The Book Fairies
Have you ever seen those cute little structures (usually they look like tiny houses on a pole) that are filled with books around local neighborhoods? Those are Little Free Libraries, and they're places where people can take and leave books to share with their neighbors. Last week, Springfield–Greene County Library District posted on their Facebook page that the Friends of the Library have been rounding up donated books and delivering them Springfield's Little Free Libraries—giving people a little something to read to brighten their days while they're stuck at home.
A Library Turned Pantry
Not all of those libraries are holding books these days, though. Kit Creemer of University Heights has turned her Little Free Library into a pantry and added non-perishable food alongside the books. As other neighbors contribute food, it has become a community effort to help people who might really need that can of veggies.
Angels Doing Good Around Town
Speaking of Creemer, she is also a client of The Studio, a local fitness studio that also offers virtual classes—and she started a group of fellow clients called The Addict Angels. (So named because they're addicted to those workouts… but also to doing good in the community.) Through the group, Creemer is connected members with others who might be able to financially help them with a specific need—from keeping their studio membership going during a time of financial strain, to helping pay other unrelated bills as well. 

The T-Shirt Heroes
To help local businesses and show a little local support, 5 Pound Apparel created "Support SGF" T-shirts (complete with the new proposed Springfield flag at the center) that are available for purchase. When you buy a shirt, 5 Pound donates $15 to the local business that you choose, meaning you can get a new shirt and show love to your favorite biz all at once. Local business Illumine Collect is doing something similar, with a focus on helping our local breweries. Their Local Strong shirts were designed by Fried Design Co. Forty percent from each shirt purchase is donated to the Springfield Craft Beer Collective to help employees at the breweries.

Chalk Cheer-Ups and Bear Hunts
Several local neighborhoods (and individuals!) have taken to the sidewalks armed with chalk that they use to draw pictures and share inspirational messages to neighbors as they pass during walks. We've passed sweet messages on the roads in Rountree, Emerald Park and many more places. In fact, the organized Chalk Walk is one of several "events" Emerald Park has planned to help people connect when they can't really get together because of social distancing. Another was a bear hunt, in which neighbors put stuffed bears in their front windows, so families can look for them as they walk around. The friendly, bear-y scavenger hunt is going on in other local neighborhoods as well, including Olde Ivy.
A Little Lunch Help
In Republic, Invictus Salon, The Black Lab Coffee Company, Republic Elementary and Middle School PTOs and other locals teamed up to pool their money and pay off the $2,700 worth of lunch debt for every kid in the Republic School District so families won't have to sweat that bill during an uncertain time.