Recipes
Make a Galette This Holiday Season
This potato, leek and goat cheese galette is sure to wow your guests this holiday season.
By Megan Dollar
Dec 14 2020 at 2:12 p.m.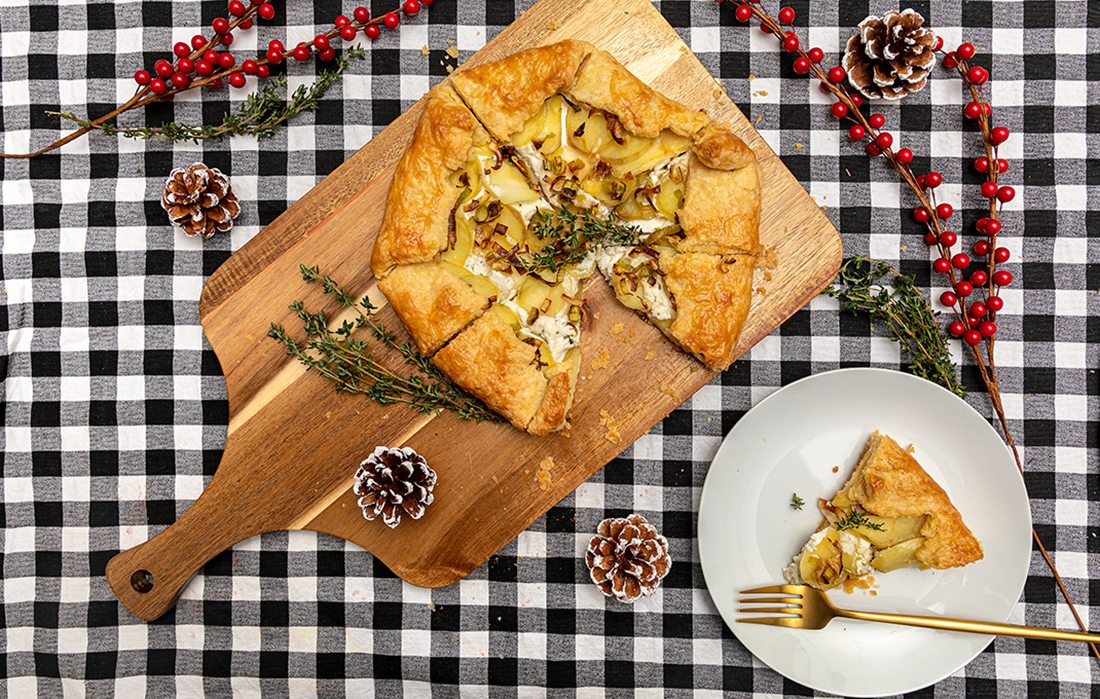 What the heck is a galette? You've come to the right place. 
My first introduction to the word "galette" was in France, where it's often preceded by the word "Breton." A Breton galette is a buckwheat-based savory crepe, rather than the sweet wheat-flour ones that usually come to mind. But, it turns out the definition of "galette" on its own is much broader: "A flat round cake of pastry often topped with fruit," is how Merriam Webster describes it. I think that definition is accurate, but sorely lacking in adjectives.
A galette is a beautiful, buttery, flaky blanket of pastry wrapped around a luxurious and indulgent collection of fruits, vegetables and, hopefully, some type of dairy component. It can be made sweet or savory and served as a hors d'oeuvres, main dish or dessert for any meal. It is quite limitless and always delicious. It should be the star of your holiday cooking and baking this year since it is, truthfully, the two in one.
In the midst of all the quarantine baking earlier this year, the galette somehow managed to rise to the (near) top, only really competing with sourdough. It's been featured by NYT Cooking, Bon Appétit and more. 
The galette in all its glory was called to my attention when first featured by my favorite food influencer Dan Pelosi, aka @grossypelosi on Instagram. Pelosi is an Italian-American Brooklynite who loves to share his family's classic recipes while also inventing his own. Sometime late this summer he posted about an heirloom tomato and feta galette he threw together using former Bon Appétit test kitchen connoisseur Carla Lalli Music's dough. When I saw that beautiful half-pie, half-pizza he had created, I had to try it for myself.
So, I made my way to Culture Counter in hopes of tracking down some heirloom tomatoes. I wound up with a package of Terrell Creek Farm's goat cheese, some fresh rosemary, one bulb of garlic and the last three tomatoes on the shelf. Even with the end-of-season tomatoes I took home, these ingredients came together on top of my dough to create the freshest, most delicious, most gorgeous thing I think I've ever made. Unfortunately, tomato season is long gone, so for a holiday treat I riffed off the French classics and made this goat cheese, potato and leek galette.
The beauty of this dish is that it is imperfect. It is supposed to look rough and rustic, so let it! The most important thing is flavor, and this galette brings it.
For the dough (adapted from Where Cooking Begins by Carla Lalli Music):
1 ¾ all purpose flour
1 teaspoon Kosher salt
1 teaspoon sugar
2 sticks of cold butter, largely cubed/chunked
¼ cup cold water
For the filling:
4 ounces Terrell Creek Farm's Chevre
5 tablespoons heavy cream
3 medium Yukon Gold potatoes
1 medium leek
A few sprigs of fresh thyme
Salt
Pepper
To make the dough:
1. I usually start this process by prepping my water. Fill a glass measuring cup with about ½ cup of water and put it in the freezer to get it nice and icy-cold. 
2. On a clean work surface (a counter top) measure out flour, salt and sugar. Use your hands to roughly combine. 
3. Add large cubes/chunks of butter to your dry ingredients and begin rolling. Work until the butter is in thin sheets.  
4. Using your hands or a bench scraper, bring the mixture together into a small pile. Your dry ingredients and butter should still be distinct at this point—you haven't made a homogenous dough yet! 
5. Pour ¼ cup of icy-cold water onto your mixture and combine with your hands. This should still be a loose, shaggy dough—it's how you get flaky crust.  
6. Roll into a large, rough rectangle. Fold the top of the rectangle onto itself and then the bottom, too (like a trifold letter). Rotate the rectangle 90 degrees. Repeat the fold/roll process two more times. This is when your dough will start to hydrate and come together.  
7. Shape dough into 1-inch-thick disc. Wrap with plastic and refrigerate for at least 30 minutes.
To make the galette:
1. Preheat the oven to 400°F.
2. Trim the bottom and leafy tops of the leek. Cut only the white and light green section lengthwise, then into fine slices. Sauté in one tablespoon olive oil over medium-low heat until soft (try not to add any color).
3. Combine goat cheese, cream, salt, pepper and thyme leaves (removed from tough stem). Season with salt and pepper. Peel and slice potatoes into think coins.
4. Roll dough into a rough circle, about 12-14 inches across.
5. Spread goat cheese mixture onto dough, leaving at least one inch of dough to fold over top. Arrange potato slices in a thin layer. Sprinkle pre-cooked leek slices over top.
6. Fold the edges of dough over, tucking and folding as needed.
7. Brush exposed dough with egg wash. Bake for 40-50 minutes or until golden brown.