Table Talk
Table Talk: June 29–July 5
This week: An Argentinian cook brings fresh empanadas to Springfield and The Coffee Ethic's renovations reach completion.
By Megan Dollar
Jun 29 2021 at 8 a.m.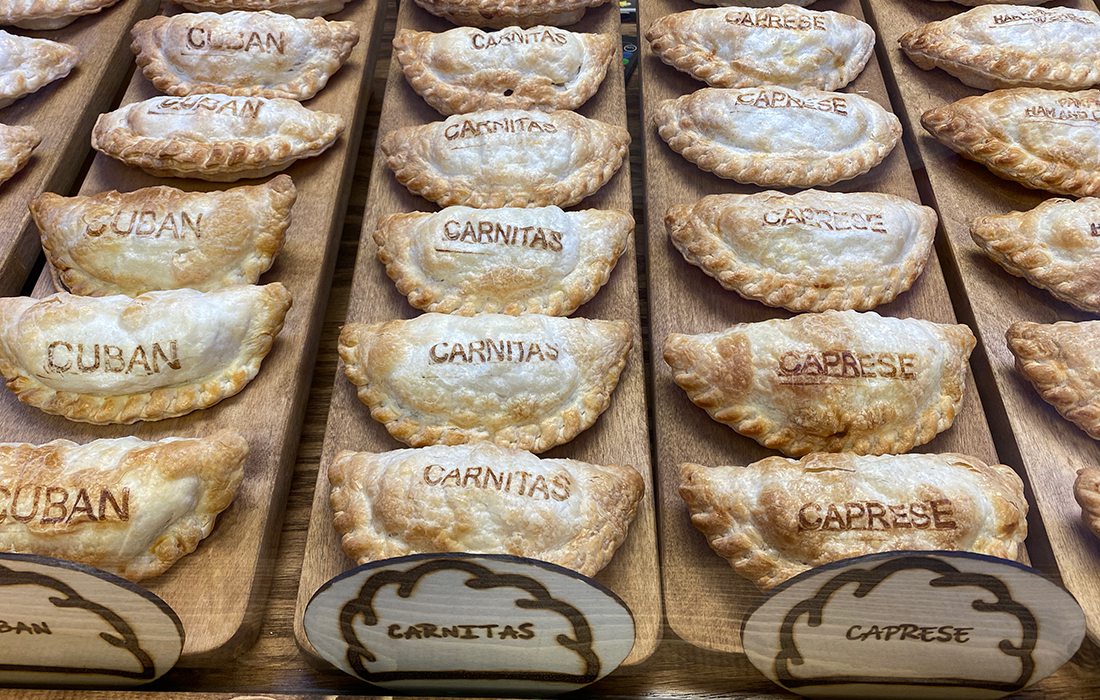 Empanadas to Write Home About
If you've never had an empanada, now is your time. 417-land wasn't void of empanadas before the arrival of this new spot, but it's safe to say they weren't the easiest thing to come by. Pampa Empanadas has brought a wealth of Argentinian empanadas to Springfield with their new storefront at 4268 S Hillcrest Ave. in Springfield, which opened earlier this month. Whether your Team Savory or Team Sweet, Pampa Empanadas is doing all the Latin hand pies well. The creamy dulce de leche empanada will melt in your mouth, while the Cuban empanada, filled with pork, ham, pickles, mustard, mozzarella and ranch dressing will spice up your day. In addition to the more than 15 empanada flavors, Pampa also makes a variety of sauces to go along with them. (my favorite is the chimichurri. I went back to buy a whole jar.) One of the best things about the shop is that you can get your empanadas hot and ready to eat or frozen to take home and heat yourself, which you'll definitely want to do. 
The Coffee Ethic Reveal
The time has finally come: After nearly a year of serving guests to-go and outdoors only, The Coffee Ethic is ready to unveil their new, renovated space. You may remember the small kitchen fire that lightly damaged the space last November. The interior of The Coffee Ethic has been closed since, and we've been missing it dearly. What started as repairs after that fire turned into a full remodel of the space: new floors, new cabinets, new countertops and appliances. The team says that while there are many new updates, there will still be things about the shop that feel very familiar. In addition to the cosmetic changes, all drinks will be served out of new glassware and, yes, that includes drinks on the new seasonal menu that will be out soon. We're thrilled to see this Springfield stable grow and evolve with our community. The shop is set to re-open next Monday, July 5, but there might be a sneak-preview pop-up later this week. You can keep up with The Coffee Ethic on social media to find out.
Team...Burger?

One of our very favorite things about Team Taco has always been their quirky spirit. They're not just here to make ridiculously good food—they're here to have fun, too! This Sunday, July 4 the Team Taco team will present Brent's Burgers—a fun (and funny) riff on the FOX comedy Bob's Burgers. While the quality of Bob's burgers is questionable at best, there's no question that Brent's burgers will be delicious. The limited-edition pop-up has been an idea years in the making for the Team Taco guys. Originally, the concept was planned as an April Fool's joke for 2020, but we all know how April of 2020 went. Luckily, they held onto their costumes, signs, custom logo and custom T-shirts and have finally found the time to share them with the world. From 11 a.m. to sell out, stop by the little red shack on Cherry Street for smash burgers, cheese fries and Jake's Vegan Burgers, too.
BigShots Golf is Open
You're probably wondering why we're talking about sports in a food newsletter. We're not. Sure, BigShots Golf is a cool new place to practice your long-shot, but it's a whole lot more than that. BigShots Golf has a full restaurant and bar packed inside so, even if you're the only one of your friends who doesn't like to golf, you can still hang out with them while they swing and enjoy some delicious munchies. BigShots has a menu sure to please everyone, from pizza to salads to fried chicken sandwiches, Carolina barbecue, fish tacos and tons of sharable items. Not to mention the cocktail selection which ranges from pineapple margaritas to smoked old fashioneds, this menu will seriously please everyone. Oh, and there's dessert and mini golf, too. Go enjoy!