Dishes
Best Spicy Food in Springfield
Dive into one or all of these dishes—arranged in order of increasing spiciness—for a night that goes from mild to hot, hot, hot. Add a little extra spice to your life with salsa lessons.
By Claire Porter
Apr 2020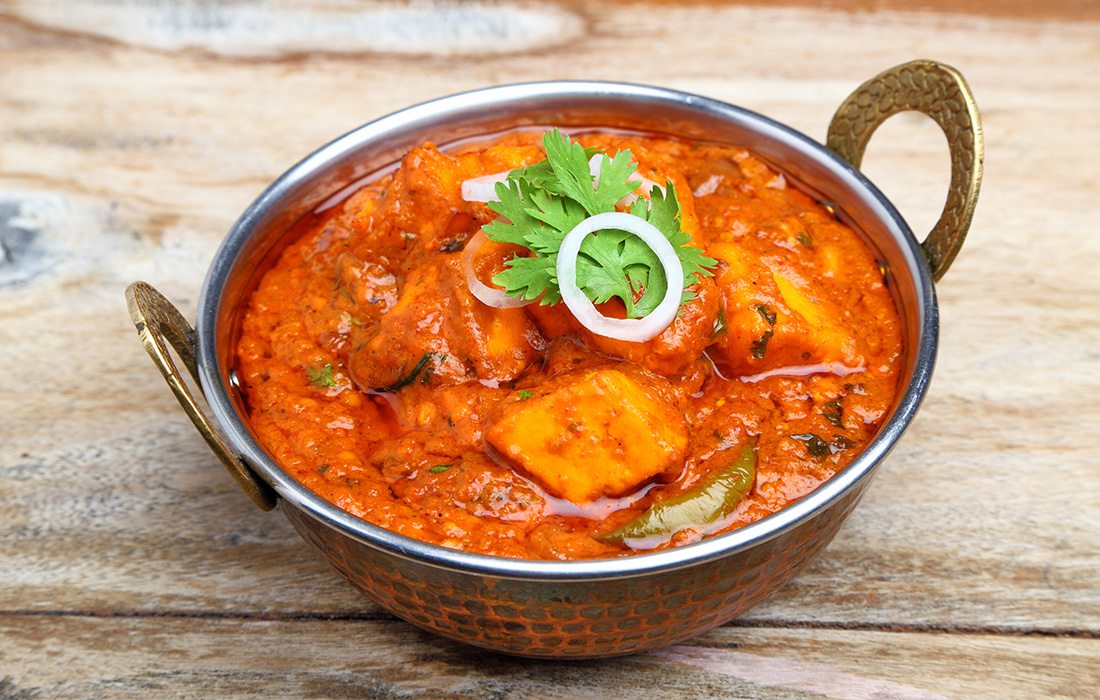 They say variety is the spice of life, but, to me, spice is the spice of life. Testing your limits by reacting viscerally to a hot meal is an addicting thrill. Plus there's a devil-may-care recklessness that comes from crushing a five-star curry dish without batting an eye. And although you can just order takeout, eating alone means missing out on a whole other flavor: social spice. 
To illustrate social spice, I headed to Grad School (434 S. Jefferson Ave., Springfield, 417-866-8163) with the only person I knew who could handle the heat. Grad School has chicken wings ("wangs" on the menu) with a one- to five-star heat rating so we could test our tolerance together. We had five wings each: four dressed in the house Hot Toddies flavor, each one star hotter than the last with the addition of sriracha or sambal oelek; and one wing in the smoky habanero-laden Deathstar sauce. When we reached the Deathstar, the main component of social spice came into play: vulnerability. You get really comfortable with your spicer-in-crime when you're sweating, potentially crying, or even sporting that embarrassing ring of red around your lips. And as our wings heated up, so did our conversation.
You can also do this with the spicy dishes in this sidebar or, for the less indulgent types, by trying a saucy activity, like salsa dancing at Dance With Me (224 E. Commercial St., Springfield, 417-869-6789), where you can let your walls down by working up a sweat and showing off your two left feet.
Starting to Sweat
Dive into one or all of these dishes—arranged in order of increasing spiciness—for a night that goes from mild to hot, hot, hot. 
Spice Weenie
Afraid to feel the heat but still want to feel daring? The Firebird from MaMa Jean's Market & Deli (multiple locations in Springfield, MO) has pepper jack cheese, roasted tomato spread, Peppadews and sriracha, which give this panini wings. 
Feel the Tingle
The Wheelhouse's (1845 E. Sunshine St., Springfield; 417-430-0400) falafel is formed from whole garbanzo beans, but when it's slathered in the spicy housemade kimchi and jammed in a taco shell, the heat starts to rise, maybe prompting an exasperated exhale or two. 
Start to Sweat
As the name suggests, aguachiles is essentially chile water, so you know this dish will have a kick. At Tortilleria Perches (1601 W. Sunshine St., Springfield, MO; 417-864-8195), the weekend special, served with shrimp, is made of serrano peppers, lime, cilantro and cucumbers. 
Where's the Water?
We're getting into the serious fire zone now. The chile colorado at Cesar's Old Mexico (2627 E. Sunshine St., Springfield, MO; 417-881-8252) consists of beef tips slowly simmered in a sauce of guajillo chiles to soak up all that spice.
Are You Crying? 
For some mind-melting heat, look no further than the som tam at Everyday Thai (2926 S. Campbell Ave., Springfield; 417-770-0147). This traditional Thai green papaya salad is dressed in a sweet-hot-sour-salty dressing made of fiery chiles and fish sauce. 
Five-Alarm Fire
The lamb vindaloo curry at Taj Mahal Indian Restaurant (1250 E. Republic Rd., Springfield; 417-719-4573) is so tender and delicious you'll want to finish the whole dish—but so hot you're not sure if you can make it past a few bites. Good luck!
Build Your Best Night Out
From date nights and girls nights out to family weekends and dinner excursions, there are a lot of things to do in Springfield and beyond. Try these itineraries that make the most of your nights out.