Recipes
Cook with Polenta for a Gluten-Free Alternative
What's the first thing you think of when you hear "southwest Missouri ingredients"? If you said "polenta" (you didn't), you're in good company. Katie Baker of The Gracious Plate explains her passion for polenta.
By Jamie Thomas
Nov 2019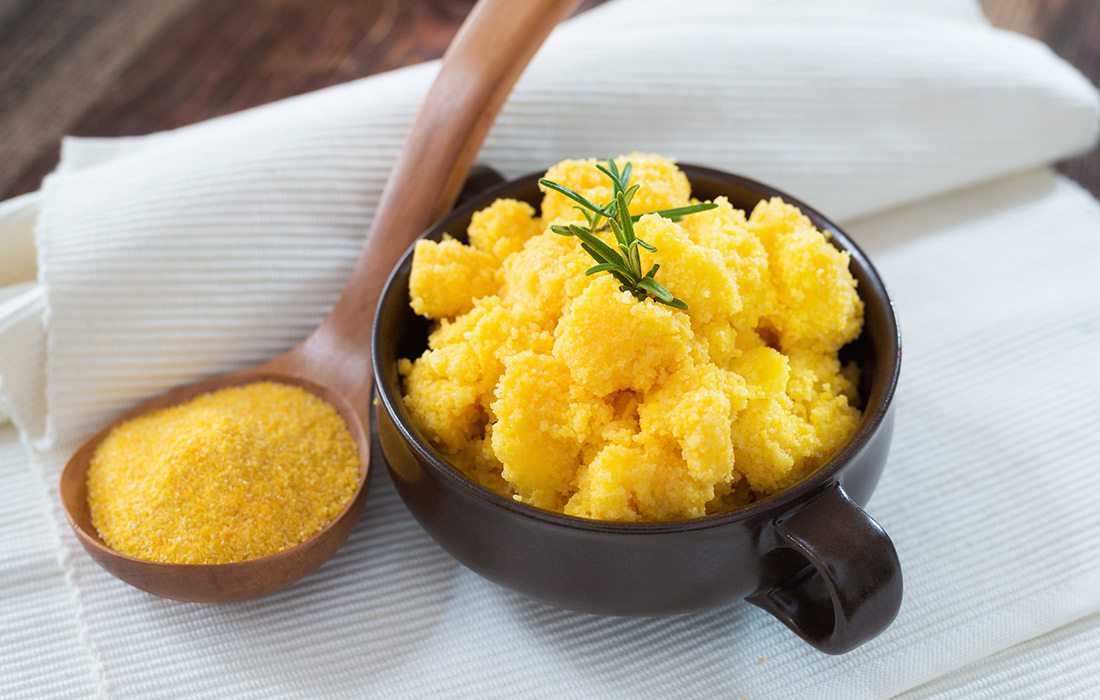 If someone asked you to name an ingredient that's local to southwest Missouri, what would you say? Polenta probably wouldn't be the first thing that came to mind but, when we asked Katie Baker of The Gracious Plate about favorite local ingredients to use at Thanksgiving, that was the answer she gave us. "I love using it as a gluten-free option," Baker says. "[It's] all grown organically and locally." Baker uses cornmeal or polenta, a cooked version similar to grits, as a wheat substitute.
Having a local source of organic, gluten-free produce is a major plus for Baker, who started her meal prepping business after watching friends and her own husband struggle with gluten allergies.
Thanksgiving can be especially difficult for anyone unable to handle gluten, a protein found in wheat and a few types of grain. Arriving at a family gathering where almost everything has some kind of gluten cooked into it can mean someone dealing with a gluten allergy is looking at a pretty sparse holiday meal, especially if you can't even add the flour-thickened gravy to the dry, lonely turkey on your plate. Now there's hope. The key, according to Baker, is side dishes, like her pork and savory herb polenta stuffing.
What is Polenta?
If you're wondering what the difference between cornmeal and polenta is, it's pretty simple. Cornmeal is the raw ingredient—dried, ground corn that you can find in fine, medium or coarse varieties at supermarkets like Harter House or Mama Jean's. Polenta is an actual dish in which cornmeal is the primary ingredient, similar to grits. In order to be used in certain types of baking, polenta is prepared then cooled so it becomes more solid but still moldable.

"I've made croutons for salad, I've done polenta cakes. It also works really well for kids as a chicken nugget coating." The benefit, Baker says, of using cornmeal in these recipes is that it's just as filling as bread or other wheat-derived ingredients and is highly versatile. "I could even make it sweet," she says, naming a few cornmeal-based dessert options including corn cake and ice cream with baked polenta sprinkles.
Baker even says that, if she wanted to get seasonally creative, it's pliable enough to mold and bake into different shapes. "I could get leaf cookie cutters and put the polenta in there to make leaf-shaped polenta for the fall... I'm thinking about polenta right now, and I'm just realizing I didn't know there were so many uses. Or how passionate I was about polenta."
If you've never cooked with cornmeal or polenta before, Baker advises treating it the same way you would treat pasta. "If you can teach a 5-year-old how to make ramen, then you can teach an adult how to use polenta. In the culinary world, you see all these French classical recipes that make polenta seem like this magical ingredient that's going to turn out horribly if you don't follow the exact steps. But what I've found with cornmeal is that it's very forgiving." According to Baker, anyone new to cooking with polenta or cornmeal—especially as a wheat or bread substitute—shouldn't be intimidated. "My family thinks it's this gourmet thing when I bring it to Thanksgiving, but it's not. It's just an awesome ingredient."


Take a Break this Thanksgiving and let Someone Else do the Cooking
Regardless of whether you're using traditional wheat-based ingredients or gluten-free alternatives, Thanksgiving and the holiday season that follows can still be stressful thanks to the sheer amount of food prep and cooking that needs to be done. Even an experienced cook can get sick of Thanksgiving fare after hours of putting it all together.
If you'd rather take this year off, there's help out there for you. Katie Baker provides ready-made meals and meal plans through The Gracious Plate. This year she is offering seasonal sides for the first time, too. "The past couple of years it's been by request," she says. "This fall we'll be offering gluten-free sides as an option. Polenta will probably be one of those filler items."
The Gracious Plate is one of a number of local meal prep and delivery businesses in southwest Missouri. Meals By Monica and Homemade.Delivered. also offer similar services with their own meal options, including specific dietary requirements. If you would prefer to skip the stress of cooking for a houseful of relatives this year, you have p(o)lenty of local options.


Recipe courtesy Katie Baker of The Gracious Plate
Serves 6
Ingredients
4 tablespoons unsalted butter
4¼ cups vegetable stock
4¼ cups uncooked polenta
1 cup celery, diced
1 cup white onion, diced
1 clove garlic, minced
¾ cup leek, diced
1¾ cup Granny Smith apple, diced
2 teaspoon fresh thyme
1 teaspoon fresh sage
Salt to taste
To Prepare
1. To make the polenta: Bring vegetable stock to boil and season with salt. Slowly add the polenta and stir constantly for about 25 minutes. When the polenta begins to pull away from the sides of the pan, it's done.
2. Grease a baking dish with butter and pour the polenta into the dish. Make sure the polenta is about an inch deep, then put it into the refrigerator to cool for two hours. The polenta can be made a day in advance.
3. Preheat the oven to 350 degrees (Fahrenheit). Once the polenta is firm, turn it out onto a cutting board and cut into 1 inch cubes. Brush the polenta with melted butter and put in the oven until the polenta browns and begins to dry out. This should take about 30 minutes.
4. While the polenta is browning, melt two tablespoons of butter in a sauté pan. Add the onion, celery, garlic and leeks. Stir occasionally and season with salt.
5. When all of the vegetables have been sautéed, add the apple, thyme and sage. Sauté for five more minutes, stirring to incorporate all of the ingredients.
6. Combine the vegetable mixture and toasted polenta in a bowl. This can be done hours before serving.
7. Put stuffing either inside the turkey or in a baking dish, then put it back into the oven for about 20 minutes or until the polenta begins to brown.