Dishes
The Local Goat at Derby Deli and Six More Good Things
These seven dishes or drinks have passed our taste buds this month and made us rave. They are ranked by level of yumminess.
By the Editors
Nov 2020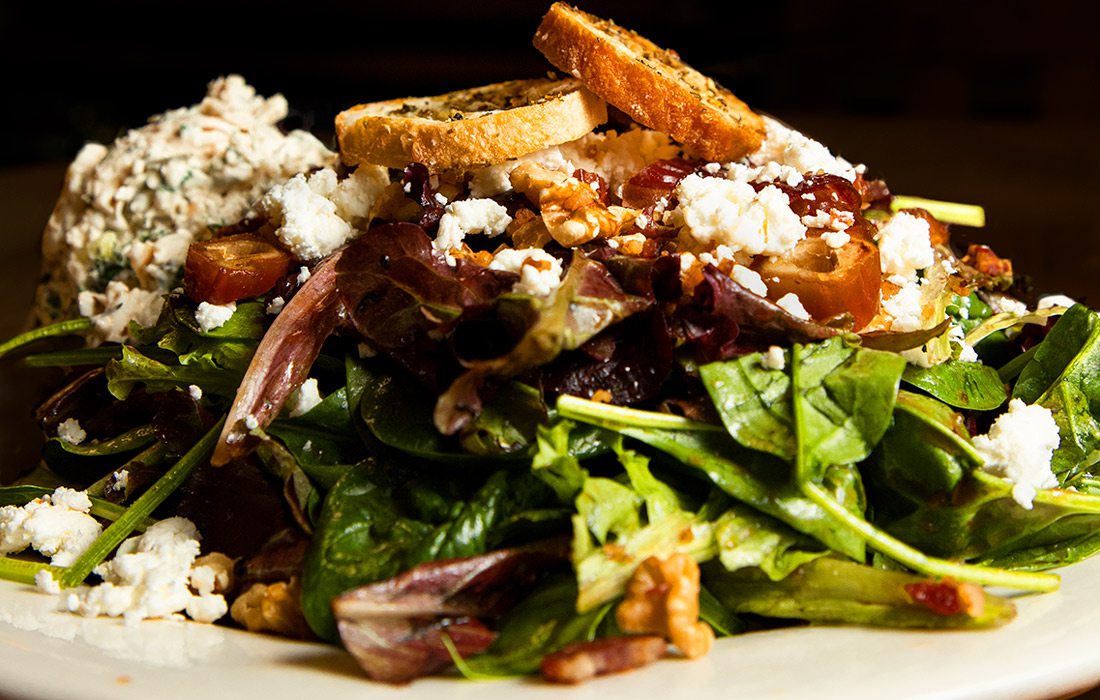 1. We love to warm up with a bowl of tomato soup from Neighbor's Mill Bakery & Café (multiple locations, neighborsmill.com). It's not too sweet, not too creamy and full of summery tomato flavor and lots of warm black pepper. Plus it comes with a little piece of salty, herbaceous focaccia for dunking.

2. True love is the Local Goat salad over at Derby Deli (2023 S. Glenstone Ave., Springfield, derbydeli.com) with all the best flavors and textures: tender greens, spicy arugula, sweet dates, crunchy walnuts, savory bacon and creamy Terrell Creek goat cheese. Hot tip: Order it with a scoop of tarragon chicken salad.
3. Lindberg's Tavern (318 W. Commercial St., Springfield, lindbergsbar.com) recently had a Bloody Mary Grilled Cheese sandwich on special for brunch, and holy moly it was loaded. It had pickles, bacon, tomato, two kinds of cheese, a skewer of pickled okra and olives and bloody mary seasonings.
4. Our most recent pizza addiction is the entire menu at Luco's Pizza (2925 W. Republic Road, Springfield, lucospizza.com), but especially the Luco's Legacy, a sweet-and-savory pie with fig jam, boursin and gorgonzola cheeses, prosciutto and red onion.
5. We strayed from our usual green curry order and tried the McQueary Chicken from Thai Express (948 S. Glenstone Ave., Springfield, 417thaiexpress.com), and whoa! It was delicious. The sauce is a combination of red curry and Thai peanut sauce, and we loved it.
6. The strawberry slush from SocieTea (1635 E. Sunshine St., Springfield, societeaus.com) has been a favorite indulgence lately, with its bright combo of creamy milk and fresh strawberries. We order it with crystal boba, and it's perfect.
7. The Shady Taco & Grill food truck at Still Waters Resort (21 Still Waters Trail, Branson, stillwatersresort.com) slings some pretty delicious fish tacos, and they're a steal. You get three of them for $9.99 with a side of chips and salsa.