Food
Spice Up Your Skincare Routine and Afternoon Snack with Turmeric
The secret has been out for a while: Turmeric is a versatile spice. We turned to Alice Oh, owner of The Press Coffee & Juice Bar to learn about how she unlocks turmeric's benefits in her skincare routine and in her diet.
By Tessa Cooper
Sep 2019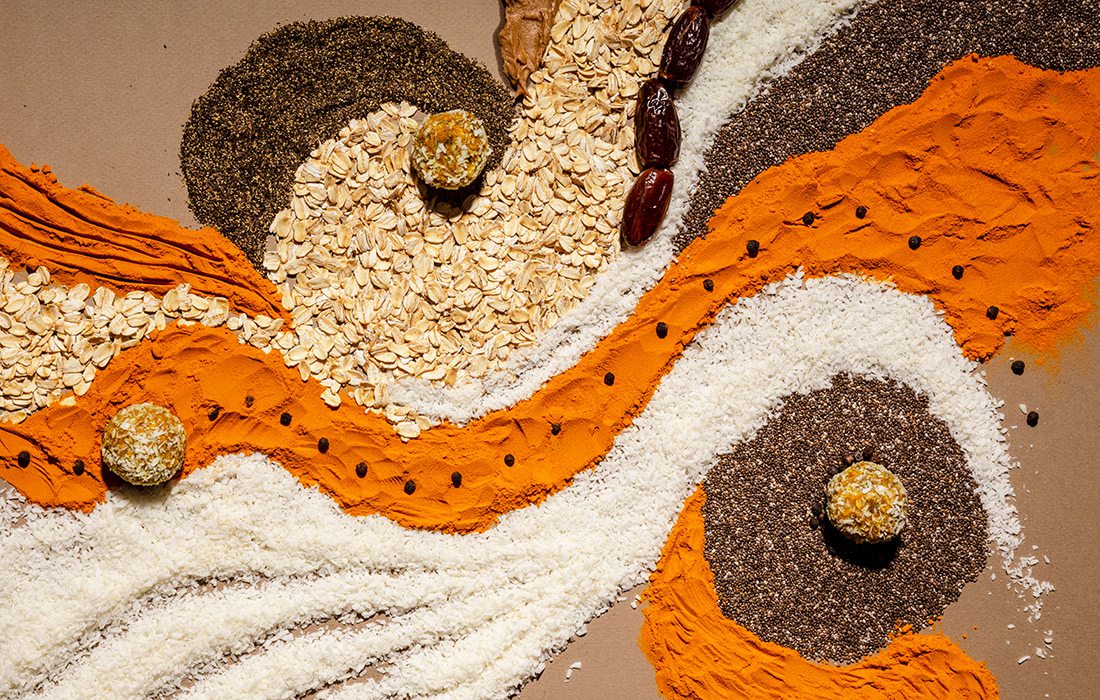 It's time to pull the turmeric out from the back of your spice cabinet. As it turns out, this spice is for more than just curry. Over the past year, we've watched this cheery-hued spice pop up in more recipes and skincare products than ever. The rise in its popularity can be partially attributed to its curcumin component, which has antioxidant and anti-inflammatory properties. But don't be fooled. The present generation certainly isn't the first to discover the benefits of turmeric. Analyses of pots found near New Delhi revealed our ancestors were using turmeric long before us. The pots held residue from turmeric, ginger and garlic that dates back as early as 2500 B.C.
Even if you're a little late to the trend, it's never too late to start playing with turmeric. Alice Oh, owner of The Press Coffee & Juice Bar, attributes her radiant skin and internal health partially to turmeric. "If you get turmeric in its powder form, you can sprinkle it on everything and anything," Oh says. "If you use one tablespoon, you can hardly taste it, and it's so good for you." However, if you love turmeric's earthy taste, you can add it in larger quantities in savory dishes like chili or lattes.
One piece of advice: be careful when working with turmeric. Its beautiful orange-yellow hue can stain fabric, so wear old clothes and use old washcloths when cleaning up.


---
Alice Oh keeps turmeric energy balls on hand for when she needs a quick boost. Here, she reveals her classic recipe that she formerly sold at The Press Coffee & Juice Bar for easy and delicious energy balls.
Makes 12
Ingredients
6 Medjool dates
½ cup gluten-free rolled oats
½ tablespoon chia seeds
¼ cup sunflower butter
2 tablespoons lemon juice 
½ teaspoon vanilla extract
1 teaspoon turmeric powder
⅛ teaspoon black pepper 
½ cup shredded coconut flakes 
To Prepare
Remove the pits and soak the dates in hot water for several minutes until softened. Drain the dates, reserving the water. Put dates in food processor. Add other ingredients, excluding coconut flakes, and pulse until it becomes like dough. You can add in the date water if the mix is too dry. (If you like more sweetness you can add ¼ cup raw honey instead of water. However, this will make the recipe vegetarian and not vegan.) Add a little at a time until slightly sticky but dry. Using a spoon, scoop the amount you want and roll into a ball. Roll the ball in the coconut flakes. Serve.


---

Turmeric Greek Yogurt Face Mask
Ingredients
2 tablespoons full-fat plain Greek yogurt
½ tablespoon of local raw honey 
¼ teaspoon fresh organic lemon juice
¼ teaspoon organic turmeric 
Pinch of black pepper 
To Prepare and Use
Mix all together until the mixture becomes a light yellowish color. Put all over face including neck. Wait 20 minutes then wash off.