Reviews
The Skeleton Crew Brings Team Taco to Rountree
After a long wait—and a red-tinged building remodel—Team Taco arrives in the Rountree neighborhood near the corner of Cherry and Pickwick.
By Claire Porter
Oct 2019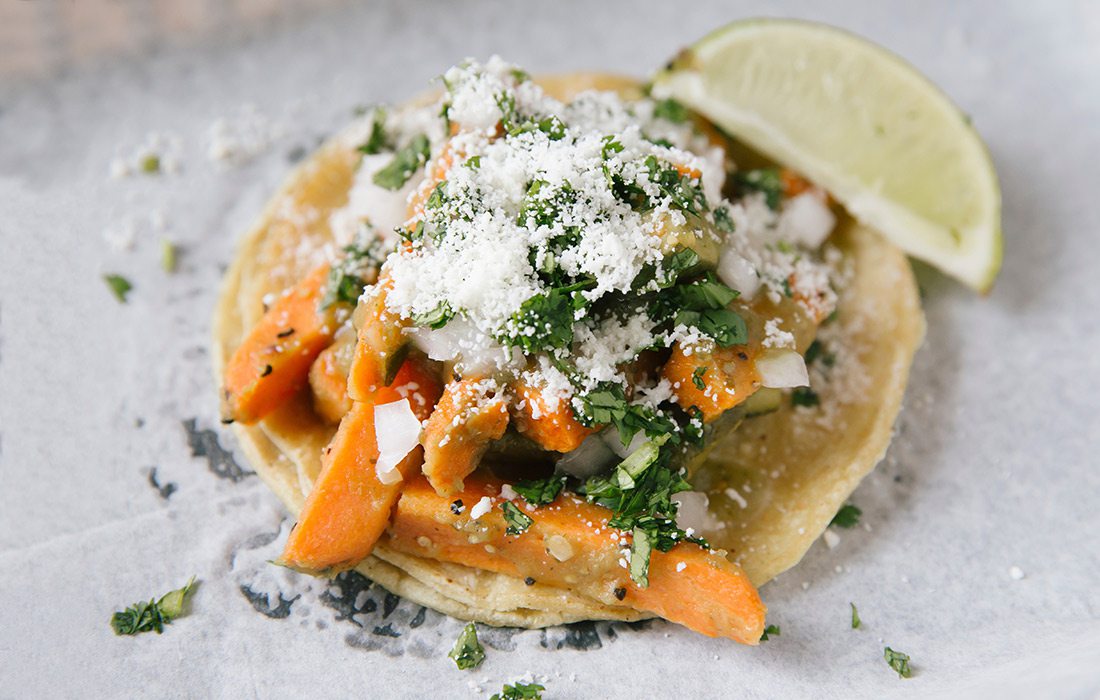 Rountree residents have been seeing red now that Team Taco (1454 E. Cherry St., Springfield) has finally opened for business. Owners Brent Sonnemaker, Cary Harris, Daniel Stern and Doug Riddle, a.k.a. the Skeleton Crew, have been churning out tacos from the fully renovated (and now bright red) former home of Elle's Patisserie.
Although small, the menu is mighty in flavor. Five tacos make up its core, including chicken, pork, beef and veggie options, plus nacho or rice bowls and chips, guac and queso add-ons. The tacos are street-sized, so you can build a sampler platter of your favorite tastes without over-indulging, and each bite packs variety in flavor and texture. Take the Groundskeeper veggie taco, for example. Tender zucchini and still-toothsome carrots are coated in just enough rojo sauce to make you sweat a bit. And in the Globetrotter, the unctuousness of the pork belly is cut by the acidic verde salsa. But ultimately, at the end of the day, these are tacos, and whether they're highbrow or lowbrow, you're going to crush a lot of 'em.
Which is where Team Taco's drinks menu shines. Featuring tequila-focused cocktails (margs and palomas) and Skeleton Brew, a collaboration beer with neighbor Tie & Timber, these sippers encourage you to sit back at the counter or on the patio while you savor the flavor of our newest neighborhood taco shack.