Spaces
Room to Relax at Acacia Spa
The new location of Acacia Spa is more than triple the size of the old one and creates a destination spa–like atmosphere in the heart of Galloway.
Written by Rose Marthis | Photos by Brandon Alms
Feb 2017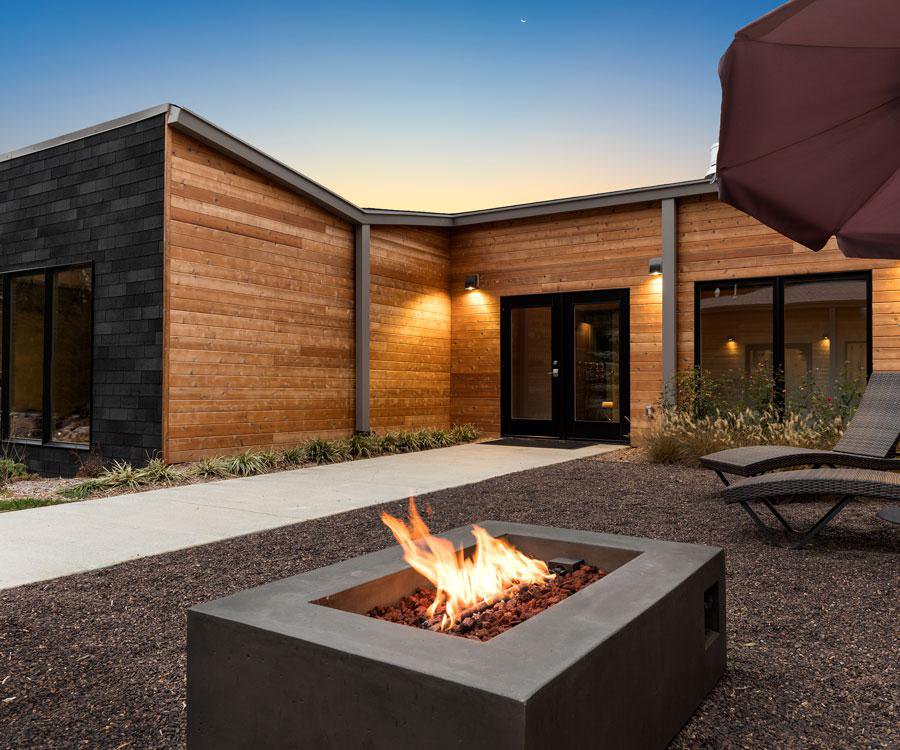 COURTYARD: A landscaped courtyard separates the two wings of the building. The courtyard is a robe-friendly zone, and provides another place for guests to relax before or after treatments, especially around the fire pit. The wood, stone and teal design scheme is continued outside, representing earth and water elements.
Solitude. Serenity. Oasis. Refuge. Transformation. These are just some of the aptly named treatment rooms at Acacia Spa, which moved to its new location on South Lone Pine Avenue in June 2016. Some of the 13 rooms are named Relax, Refresh, Restore and Revive, which are also names of the private label essential oil line that guests choose from for massages. If these words already inspire a calmness and make you want to get away, good. That's exactly what owner Allyson Kennedy wanted to accomplish. 
Kennedy has had the vision for the new spa for years, but wanted to wait until Springfield was ready for it, she says. Now, the community embraces the destination-type spa in the Galloway district. She enlisted the help of Butler, Rosenbury & Partners, Adam Pyle & Associates and CJD Engineering to take her ideas from paper to reality. Now, loyal Acacia guests and newcomers alike head to the modern wood-and-stone building for treatment and relaxation.
Guests enter the spa through the first floor boutique to check in at the reception desk. The first level is also home to the injectable and laser treatment rooms, part of Acacia's medical spa offerings. After browsing the products, clothing and gifts available in the boutique, guests can head to the second floor by elevator or by the stairwell that's flooded with natural light. The wooden surfaces and teal accents continue here, with a fun printed couch where guests can sip coffee or tea. There's another reception desk to check in and get your robe and slippers before heading back to the amenities and treatment rooms. Two hallways house the treatment rooms for men and women, along with the fitness studio and spray tan room in the back. The fitness area has its own reception desk, and guests can park in the back lot and head straight to the rear entrance for fitness classes to avoid walking through the spa side. The 10,000-square-foot building is more than triple the size of the previous spa location and provides more than enough room for guests to focus on wellness.
DOWNSTAIRS LOUNGE: Visitors to Acacia Spa can also relax in the downstairs lounge, which features a large table made of acacia wood. 
DOWNSTAIRS INJECTING ROOM: Part of Acacia's services include medical treatments, injectables and laser performed in a relaxing spa setting. 
PRODUCT WALL: After receiving treatment, guests can head to the product wall and take home goodies to continue their spa experience at home. 
DOWNSTAIRS BOUTIQUE: Just like the rest of the spa, the boutique expanded in the move. Now there's even more clothing, gifts and accessories.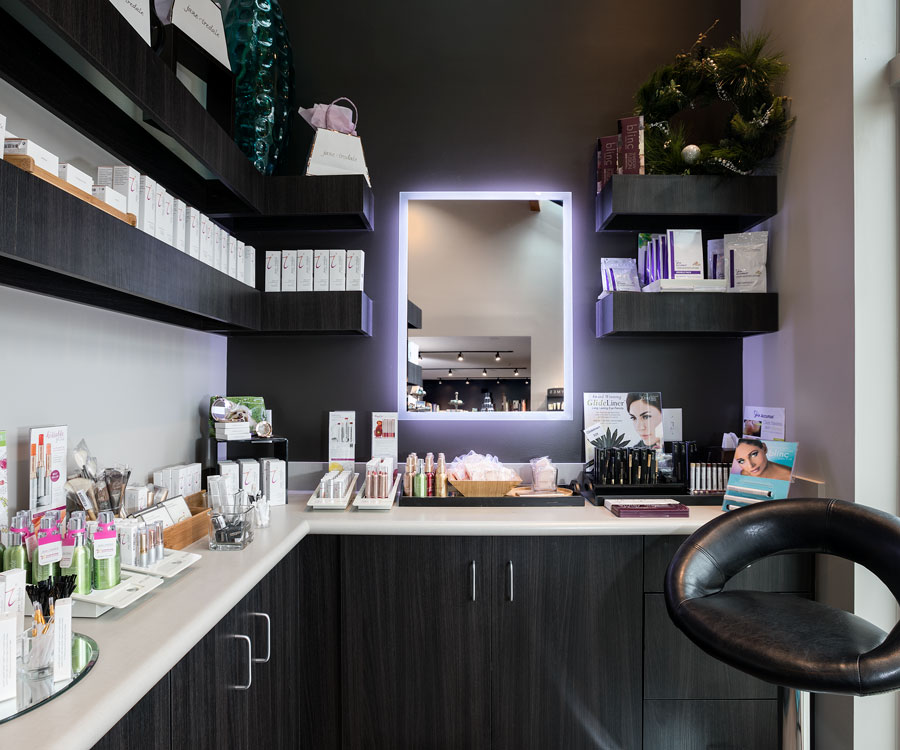 MAKEUP AREA: There are two separate makeup areas where makeup artists advise people on application techniques and finding the right products.
UPSTAIRS RECEPTION: After shopping in the downstairs boutique, guests head upstairs to check in for their treatments and relax. A small sampling of products is also available up here for guests to experience.
COFFEE AND TEA BAR: In the upstairs reception area, guests can help themselves to a coffee and tea bar with many flavors to choose from. 
CUSTOM OILS: The spa has its own line of custom essential oil blends that guests may add to their massages and take home after the service.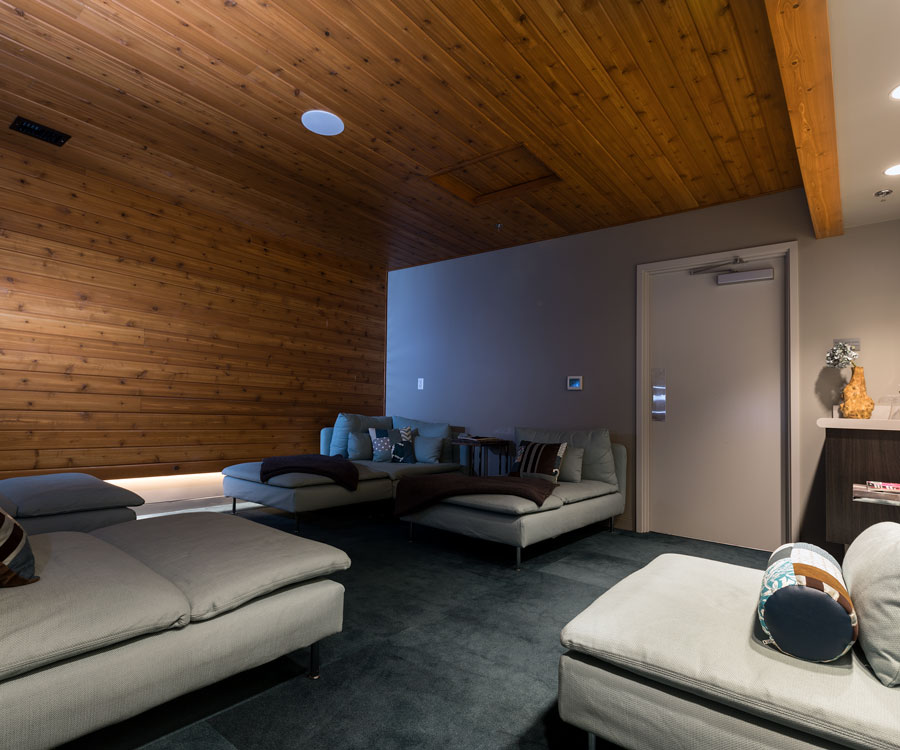 AMENITIES AREA: Members can come and go as they please, and anyone who comes to the spa for a service can enjoy the amenities area that day. 
WOMEN'S LOCKER ROOM: When passing through the door to the treatment rooms, the music changes from Top 40 hits to relaxing nature sounds. Guests head to the women's relaxation room, put their belongings in the locker room and unwind in the amenities area before their treatments start. 
STEAM ROOMS: The saunas, steam rooms and arctic rooms create a circuit of dry heat, wet heat and cold for muscle therapy and detox.
SHOWERS: The eucalyptus showers and steam rooms are duplicated on the men's side and are available before or after services. 
SAUNAS: Kennedy installed two custom infrared saunas that are capable of heating from 100ºF to over 190ºF. 
FITNESS STUDIO: The custom built studio provides space for the variety of yoga and fitness classes Acacia holds, including TRX. Classes here are small, averaging four to five people and capping out at 10 to 12. Guests are able to enjoy the amenities such as the infrared saunas and eucalyptus steam showers after class.
UNITY ROOM: A specific suite was designed for couples or girls' day parties, with larger massage rooms and double showers and steam rooms. The inhalation room features a low output steam that emits an herbal blend. The room also includes a bowl of the mud used in the Terra Vital Mud Wrap treatment, for guests to do a couple's treatment called a "mudslide." 
FITNESS RECEPTION AREA: A separate entrance allows access to the fitness reception area where workout clothing and accessories are available to purchase.
MANI/PEDI ROOM: When guests come for manicures and pedicures, they don't even have to leave their seats for both treatments. The high-tech pedicure chairs double as manicure tables and have massage features for ultimate relaxation. The windows provide a view of the courtyard, and internal curtains can close for private sessions or be left open for a group treatment. 
NAIL POLISH: Guests may choose from a variety of professional brand nail colors for their manicures and pedicures. 
FRONT EXTERIOR: Acacia Spa grew from 3,200 square feet to 10,000 square feet in the move to Lone Pine Avenue.