Health
Big Cedar's Vichy Shower
We head to the Cedar Creek Spa at Big Cedar Lodge to dive in to a rare spa service for 417-land: a vichy shower.
By Katie Pollock Estes | Photos by Kevin O'Riley
Jan 2016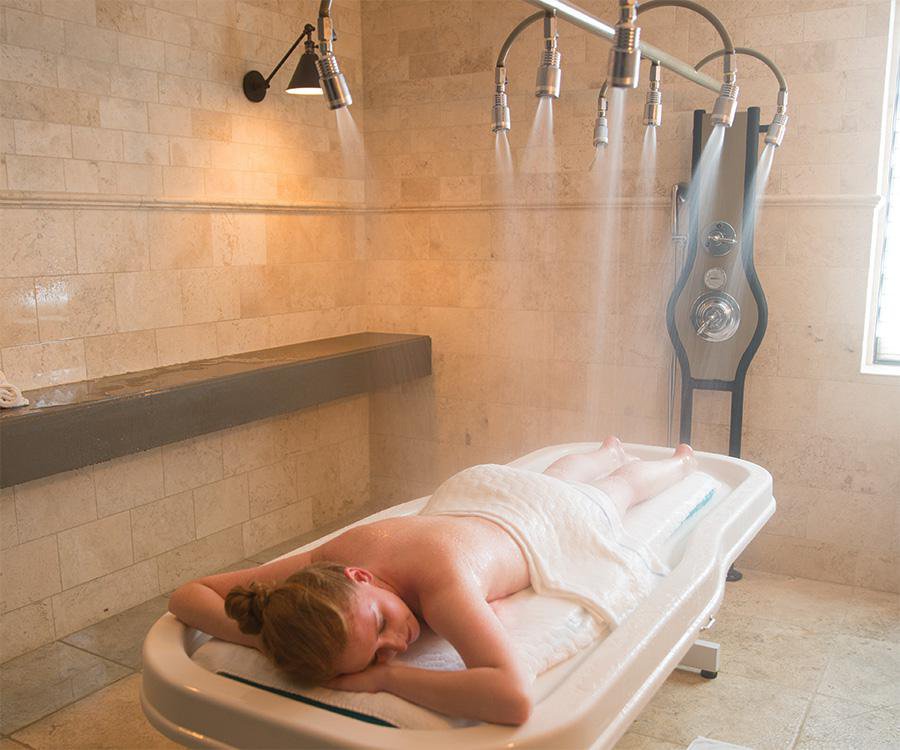 Common spa treatments are easy to come by in 417-land. You can get good massages and wraps at spas all over the region, but we especially love when we come across something that you can't find anywhere else. Like the Ozarks Rain Experience at Big Cedar's Cedar Creek Spa (612 Devil's Pool Rd., Ridgedale, 417-335-2777), which is their take on a vichy shower. Never heard of a vichy shower? You're probably not alone. The best way to describe it is like this: Picture a massage table that sits under a network of about eight shower heads. While you get your treatment (a sugar scrub in the case of the Ozarks Rain Experience), the shower heads rain down on you. The result is part water therapy and part scrub-massage. We tried it out for you, so we can tell you all about it.
What It's Like
Jodi Lilly, who was the therapist for my Ozarks Rain Experience, told me that most people either love or hate vichy showers. You either relish a chance to relax in hot water, or you feel claustrophobic and hate every wet minute of it.  I could stand in a hot shower for hours. Hot water spraying down on me is my idea of ultimate relaxation. 
If you are self-conscious about your body, I'll warn you that you'll feel more exposed getting this treatment than you would getting a massage. Your therapist will use a sugar scrub, which (to me) is better than a massage because it involves less poking and pressure. But it also means the technician has to rub the stuff all over your body. At one point Lilly was kneading my belly—it's pretty squishy down there, and I wondered if she felt like she was making bread. Then I got over it. You just gotta get over it.
Overall, the experience is supremely relaxing. The shower heads are carefully moved over your body so you never feel chilly. The temperature is hotter than your typical shower. At first it felt almost too warm, but then my body acclimated to the temperature, and it felt perfect. At times, Lilly would move the shower heads back and forth over me, and the cascading water felt amazing. Barbara Reffitt, spa manager at Cedar Creek Spa, told me later that the goal of that cascading water is to hint at the ebb and flow of natural water, and to give you a warm and nurturing feeling. It worked. When it was all over, I was so relaxed I just wanted to lie there and take a nap.
Making it the Best
Reffitt says that she traveled to a spa in Arizona to research how to incorporate a vichy shower into the spa at Big Cedar. The therapists there complained about the fixed shower heads and the spray of water that would inevitably land on guest's faces. So Reffitt found ways to avoid those problems at Cedar Creek Spa. There, technicians make sure to cover guests' faces with a towel, and the shower heads are individually adjustable for comfort. 
Would I do it again? In a second. But, full disclosure, I got to do it for free for this story. For customers, the treatment weighs in at $140. But if you're a spa junkie with stars in your eyes for treatments that you can't get anywhere else, then it's worth every penny.