Dishes
5 Best Slices of Pie
To inspire sweet snacking during the holidays and all year long, we found five creative pies that break the dessert mold.
By Katie Pollock Estes
Nov 2018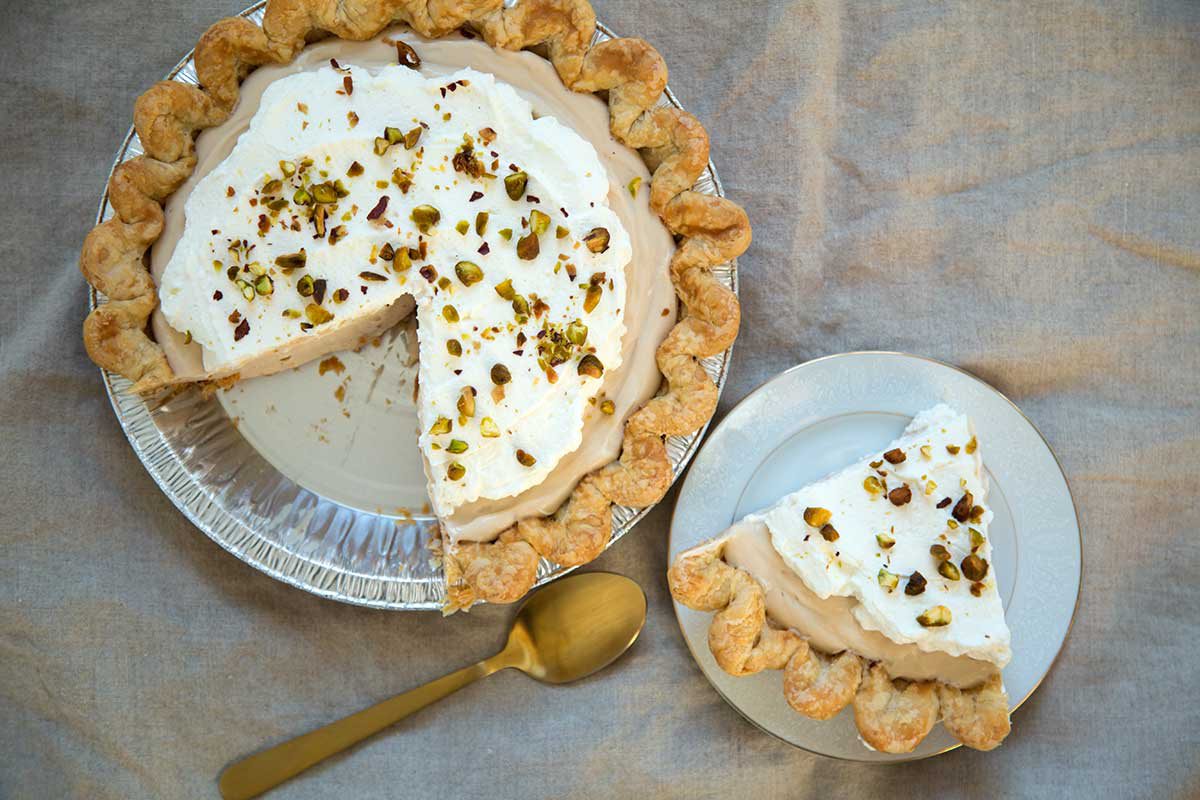 1. Earl Grey Cream Pie from Prairie Pie 
Key Ingredients: Milk that has been steeped in Earl Grey tea is used to create a decadent pastry cream that's served over a thick layer of sweet chocolate ganache inside a rustic all-butter pie crust. On top are chopped pistachios. This pie is seriously to-die-for. 
How to Get It: You can place an order with the Springfield-based company at prairiepie.com, by calling 417-459-8222 or by sending an email to eleanortaylor@prairiepie.com.


2. Rustic Pecan Pie from The Pie Safe 
Key Ingredients: This clever take on pecan pie features rich flavors that are as irresistible as they are surprising. There's both Ghirardelli chocolate and smoky single barrel bourbon from Missouri Ridge Distillery.
How to Get It: Visit The Pie Safe at 3681 N. Main St. in Joplin or call 417-843-8564 to place your holiday order. 


3. Vanilla Apple Pie from European Café 
Key Ingredients: The apples that are packed into this beautiful pie are sweet-tart Jonathans, purchased from A&A Orchard and grown in the Ozarks. The bakery makes its own homemade filling and preserves it so its bakers can whip up perfect apple-centric treats all year long. 
How to Get It: Visit the shop located at 207 Park Central East in Springfield or call 417-986-4646 to place an order.


4. Chocolate Chess Pie from Magpie's Pie Company 
Key Ingredients: Classic chess pies have simple ingredients. We could list them, but we know the chocolate is what you came for. This pie is rich and indulgent to the core. Plus the bakery is a peanut- and tree nut–free facility, so it's great for people with those food allergies. 
How to Get It: Visit Magpie's Pie Company at 801 E. 20th St., Suite 5 in Joplin or call the bakery at 417-986-6556 to place an order. 


5. Chocolate Oatmeal Pie from Fork & Crust in Rogers
Key Ingredients: This is the second pie on our list to feature a layer of chocolate ganache at the bottom, and we're not complaining. This sweet little treasure also has a gooey filling made with oats, cinnamon, maple and coconut. It's an addictive blend of flavors and textures. 
How to Get It: Visit Fork & Crust Pie Company, located at  5208 W. Village Parkway, Suite 11 in Rogers, Arkansas.
Or create your own sweet treat instead!