Health
What Is Microneedling and Where to Go for the Procedure in Southwest Missouri
Finding a facial treatment that delivers plump, clear skin can be like finding a (micro)needle in a haystack. In an effort to get fresh-faced this winter, we gave microneedling a try.
By Claire Porter
Feb 2020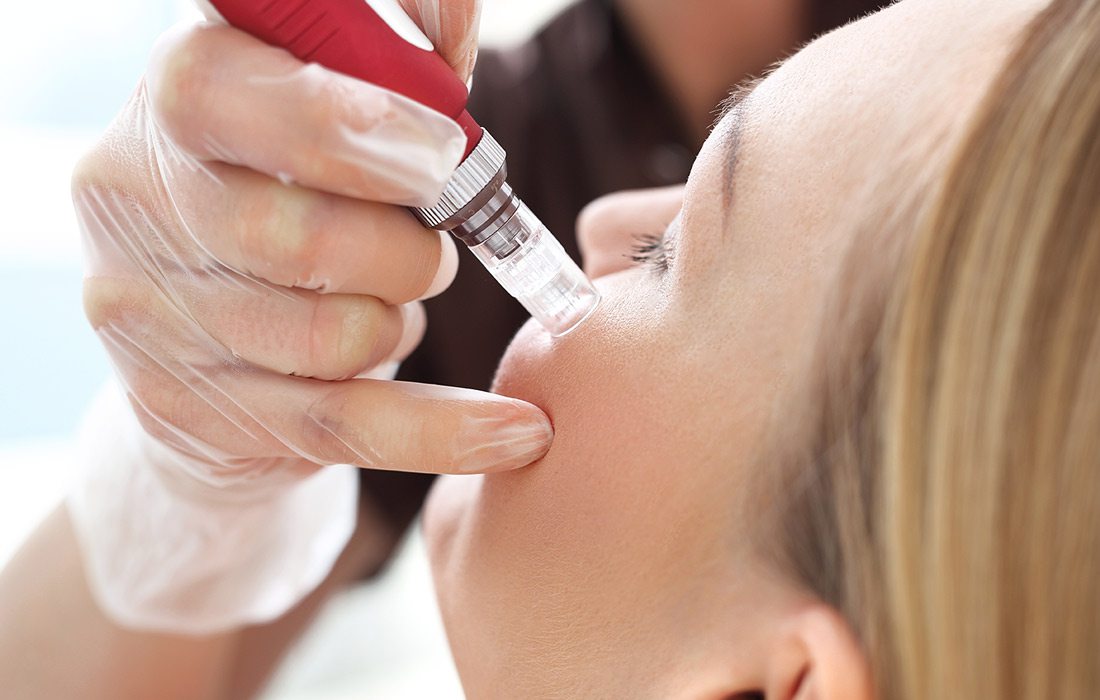 My skincare journey started 17 years ago when I was trying every medication, toner and treatment on the market to tame my chronic acne. Over the years (and several rounds of Accutane later), I've mostly quelled the acne, but the resulting scarring, uneven pigmentation and dullness remained.
Skin Smoothing
I've since jumped on the skincare bandwagon. Lately, there's been a lot of chatter about microneedling—it even had a viral moment when Kim Kardashian underwent a "vampire facial." Microneedling (also called collagen induction therapy) is a procedure using a tool with several needles that puncture the top layer of the skin. The microscopic injury promotes collagen and tissue production, breaks up scar tissue and reduces the appearance of lines, pores and wrinkles.
The process, typically done with an automated sterile pen, is usually paired with skin-boosting treatments, like hyaluronic acid, which hydrates and plumps. Or you can use your own platelet-rich plasma (PRP). In those cases, a syringe of your blood is spun in a centrifuge to separate the plasma, which is needled into the skin. The high growth-factors within PRP promote the healing of scar tissue more than microneedling alone.
Pins and Needles
When microneedling started trending locally, we knew we needed to give it a try, and I was the only editor willing to get stabbed for beauty. This isn't the first time I've gone under the needle for a story. I've had my eyebrows microbladed, getting what is essentially a face tattoo with a brush of itty-bitty needles. So, how bad could a stabby pen and my own vampire blood be? I bit the silver bullet and set up an appointment at DermaHealth Laser & Skin Care Clinic (1850 S Stewart Ave, Springfield, 417-447-7777). There was no prep work necessary; I merely showed up for a consultation in which my esthetician Melissa Canlas talked about my skin history and skin goals before determining the best treatment.
The Procedure
We opted for a PRP treatment, so a nurse drew my blood and extracted the plasma. Then, Canlas cleansed my face, applied numbing cream and took a few "before" photos to track my progress. Then it was time for the inevitable. Canlas wiped off the numbing cream and applied my plasma to my face. (It's actually yellowish and has the viscosity of egg whites, so it's not as haunting as you'd expect.) I was chatty and feeling great until she fired up the microneedling pen—think of it as a tattoo gun with 12 acupuncture needles.
I clammed up as she firmly pressed the pen across my forehead. It made a deep scratching sensation, and the pressure on my sinuses was incredibly uncomfortable. Certain areas were far less sensitive—my nose, chin, jawbone and cheeks went without a hitch (save for a giggle fit on a ticklish spot). Other areas like my under-eye and upper lip were so intensely painful my eyes watered.
As Canlas finished a section, she rubbed more PRP onto the freshly punctured skin, allowing the plasma to soak into the open channels. It dries quickly and leaves your raw skin feeling taut. After about an hour, Canlas had finished the procedure. She washed off the plasma, applied a few balms and oils and sent me on my way.
Microneedling Results
Immediately after, my skin was tender and splotchy. I applied every moisturizer and hydrating serum I owned that night to calm my angry epidermis. (You can also buy a post-treatment kit at DermaHealth.) The next few days, my skin was insanely smooth, though I had the redness, flakiness and stinging sensation of a windburn. I kept up with my hydrating regimen, and a few days later, I had plump, glowing skin. After documenting my journey on Instagram, I kept getting asked if I endorsed the "vampire facial." My answer? For the appearance of glowing undying skin, it's worth the bite.
Where to Go for Microneedling in Southwest Missouri