Life
Your Guide to Fall Fun in Southwest Missouri
Use 417 Magazine's guide to fall fun in southwest Missouri to help you plan every moment of your perfect autumn.
By Kate Duby, with additional reporting by Katie Pollock Estes and Michelle Lewis
Sep 2022
Fall is approaching. The crisp autumn air and fiery leaves are short-lived here, where summer encroaches on the season a little too long, and winter comes hard and fast. So make sure you soak up every pumpkin-colored and apple-scented moment of our shortest—but arguably very best—season. We can help you out with that. Use this guide to fall fun in southwest Missouri to plan every moment of your perfect autumn.
Choose Your Favorite Fall Activity
Best Springfield, Missouri Neighborhoods to Trick or Treat
Winter Kinne lives with her husband, Marshall, and her two children, Walker and Kate, in Springfield's Rountree neighborhood, a place notorious for its festive Halloween spirit. Kinne shares how she, her family and her neighbors prepare for the holiday and what October on Weller is really like.
By Winter Kinne, as told to Kate Duby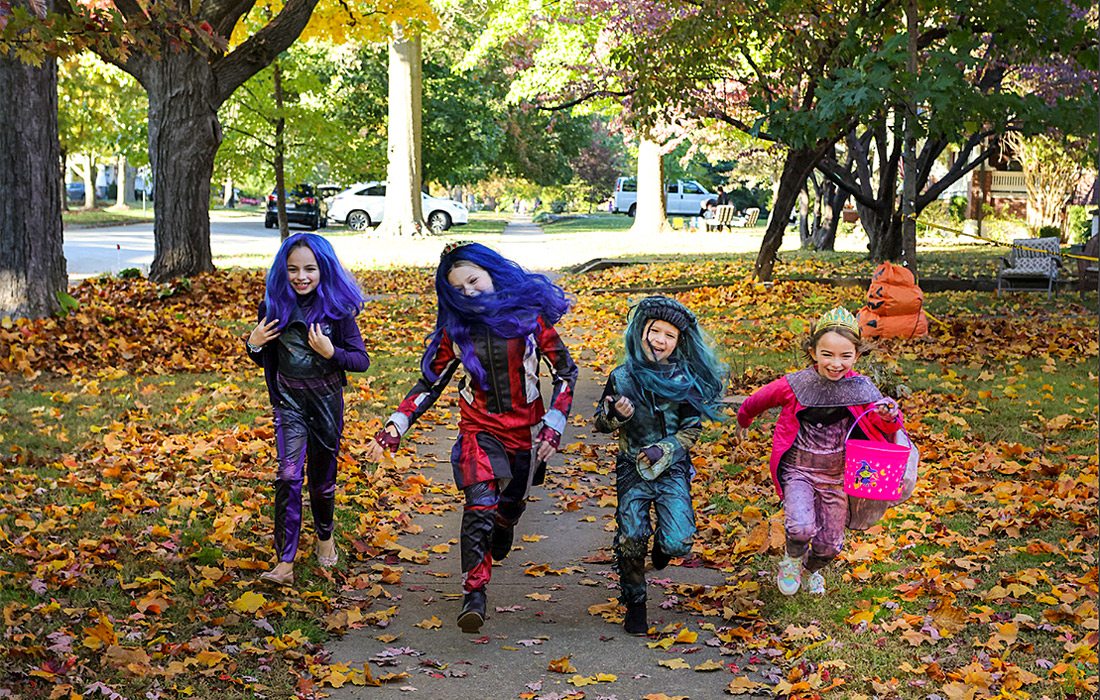 We live on Weller Avenue, right in the heart of Rountree. The Halloween parade comes right past our house. We moved in six years ago, right before Halloween. Of course, I knew about Rountree and knew about Halloween. I had bought a little house by myself in my mid-20s on Kentwood Avenue, which is just outside of the Rountree neighborhood, as close as I could get with what I could afford then. When Marshall and I got married, he moved in there, but it was not really big enough to have a family. I was pregnant with Walker when we moved over to Weller six years ago.
I will say––you can know about Halloween in Rountree, but experiencing it is completely different. Luckily, I have some coworkers and friends that also live on Weller, and they had given me a heads up of how much candy we needed to buy and what we needed to do. We start buying candy a month in advance, because we need at least 1,500 pieces––and that's giving just one piece of candy per child that comes at least for the first hour, hour and a half.
I think the thing I love about it that strikes me every year is it feels like what you might call old-fashioned Americana in a lot of ways. Whatever day of the week Halloween falls on, the neighborhood really starts dragging out their Halloween decorations and all of a sudden, there's lawn chairs and fire pits in the front yards and driveways, and everybody comes to the front.
We actually take our little kids trick-or-treating at 4:30 or 5 o'clock in the afternoon, before the parade starts, just because there's so many people afterward that it's really the only way we can go and see our neighbors and our neighbors kids. I think it's really cool that the neighborhood embraces it. I will be honest, Halloween is not my favorite holiday, but we knew, buying a house on Weller, that we weren't going to be the Scrooges that didn't have our lights on or participate. You sort of can't help but love it.
Festive Neighborhood Roundup
Rountree might have the biggest Halloween, but it's not the only local neighborhood that gets festive.
Neighbors get to cozy up at the neighborhood-wide bonfire and bring a roastable, shareable treat! After the bonfire and frontyard-mingling fun, kids take off together in a parade to begin their night of trick-or-treating.
It's always a party here! Whether you're looking for an adults-only Halloween bash or a family-friendly gathering, Emerald Park is your place, and there is candy galore. Neighbors can keep up with the Emerald Park HOA Facebook page for updates on events throughout the fall season.
This charming and quiet neighborhood is a great spot to take younger kids trick-or-treating, and its proximity to Phelps Grove Park makes for some fantastic leaf-peeping.
Fall Markets and Open Houses
All the best open houses, pop-up markets and boutiques for seasonal decor hunting.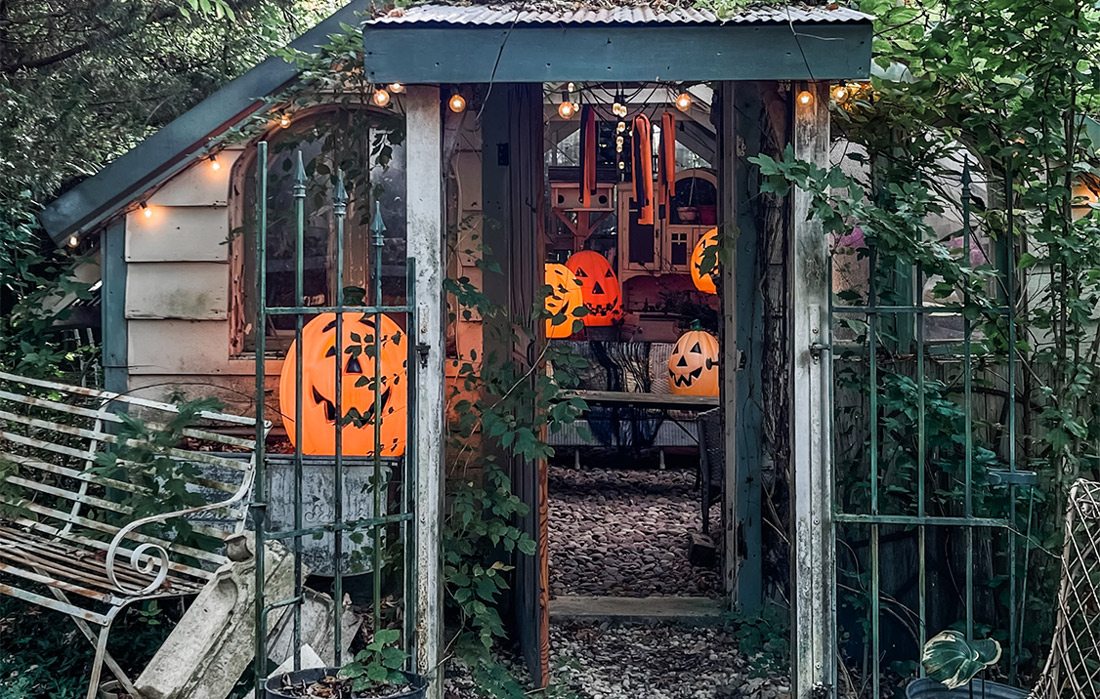 This Fordland favorite is a one-stop shop for all things cozy-chic. Their annual Fall Festival & Antique Market (scheduled for Saturday October 1 this year) boasts an enviable collection of vintage and antique home goods, as well as boutique items and gifts. And thanks to the on-site food trucks, there's no shopping on an empty stomach.
Spice up your outdoor space with autumnal goodness like mums and cornstalks, or integrate cozy fall colorways into your interior design. Wickman's has you covered either way, and the best time to get the seasonal fall goodies is at their annual Fall Festival on September 10–11 featuring local artists and crafters, food vendors, and all the garden goodies you can carry. 
The greenhouse and boutique at Schaffitzel's are great places to soak up all the fall vibes and find everything from fall plants (mums of course!) and a great selection of pumpkins to chic home decor and gift items. At press time, their fall open house was tentatively scheduled for September 9–10, so keep your eye on their social media for an announcement of the official date!
Liven up your countertops or your porch with massive mums, colorful pumpkins, warty gourds and more. Fassnight Creek Farm always has a huge selection of front-porch décor to choose from, and the pumpkins comes in all shapes and sizes from itty bitty palm-size cuties to monsters you'll need help lugging up your porch steps.
Looking for Local Fall Festivals?
Check out our guide to fall festivals in southwest Missouri.
Places to Go Apple Picking
Fall's best fruit grows well here in 417-land, where a few local orchards will even let you pop in to pick your own.
8011 E. Hwy AD, Rogersville
From September to November, the Sunshine Valley farmstead offers fifteen fall apple varieties. We recommend pink lady apples for longevity, tart Granny Smith apples for pie making and GoldRush apples for a crisp snack.
255 N. Highway 60, Marionville
Come for the apple-picking fun but stay for the award-winning fresh cider. You also cannot go wrong with a slice of apple crumb pie.
4455 W. Farm Rd. 2, Brighton
This farm is your spot if you want a full day of fall fun before you head home with your basket of hand-picked apples. Kids will love the baby animal petting zoo and tractor rides!
How to Tailgate in Springfield, Missouri
Fall means football, and football season is the perfect excuse to don your team's gear, gather up some friends and snacks, and tailgate in the brisk autumn air.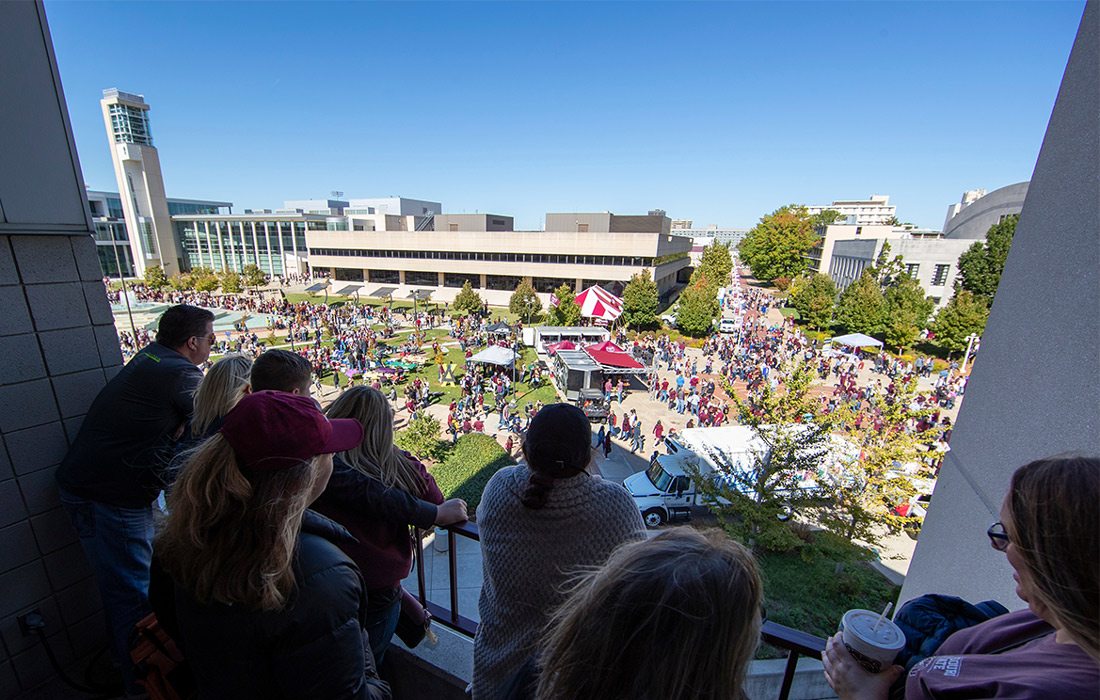 Who to Root For
Cheer on the Missouri State Bears before their first home game of the season, September 8, against UT Martin. The Bears are at home every other weekend through mid-November. Special events include the family weekend game on September 24 against South Dakota State, the homecoming game on October 29 against Western Illinois, and the senior day game on November 12 against Youngstown State.
Where to Tailgate
Head to BearFest Village to take part in all the fun before the migration to Plaster Stadium.
Where to Get the Gear
Be a good luck charm in maroon! You can find a lot of great MSU gear at sporting goods stores like Academy Sports and Outdoors in Springfield and Dick's Sporting Goods in Osage Beach, but the best selection is at the BearWear Team Store inside the Missouri State Bookstore. Wear your favorite player's number, cozy up in a Bears hoodie or wave some maroon and white poms.
What to Bring
When we think of fall tailgate food, we obviously think of grilled burgers, hot dogs and every Midwestern mom's delicious, mayo-focused salad concoction. If you want your spot to be the hit of the tailgate this year, though, we have a few out-of-the-box recommendations to level up your game-day grazing spread. Bambino's (1141 E. Delmar St., Springfield) offers panini trays, pastas by the pan, desserts and sides that will absolutely rally a crowd. Another favorite is Hy-Vee's (1720 W. Battlefield Rd., Springfield) Tailgater platter, which features fresh sandwiches, sides and cookies.
Pick Your Own Pumpkin at a Local Pumpkin Patch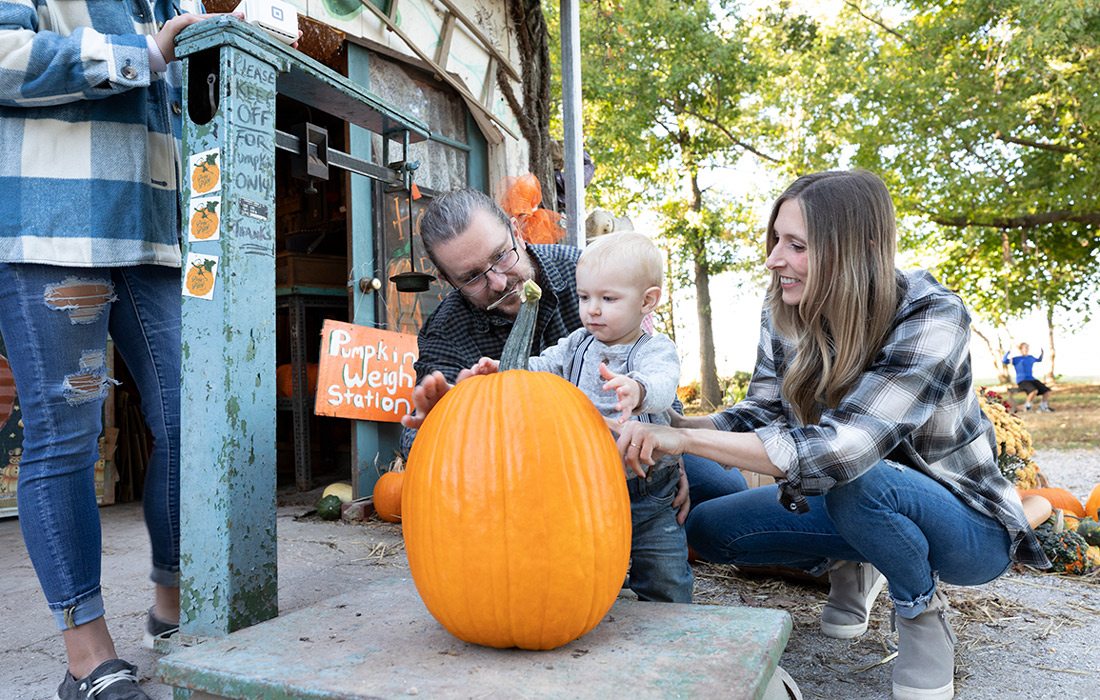 2657 Sunset Inn Rd., Branson
The pumpkins: Pick-your-own and take it home!
The food: The best food combo that not enough people are talking about: wood-fired pizza and s'mores. We suggest renting a fire pit for the optimal group marshmallow toasting experience!
The fun: Enjoy classic fall activities like hayrides and a corn maze, or try your hand at pickleball, cornhole and the challenge course.
22813 Hwy ZZ, Marionville
The pumpkins: One-of-a-kind, picked by you from the field or plucked up from the market
The food: This patch is optimal for a fall picnic, offering an outdoor area perfect for a picnic.
The fun: Classic fall hayrides, weiner-roast bonfires and a spooky corn maze
The shopping: Hello, gourds galore! Pickin' Patch has all sorts of homegrown wonders that will amp up your Halloween front-porch display, including pumpkins in every shape and color.
5484 W. Sunshine St., Springfield
The pumpkins: You can pick 'em and you can paint 'em!
The food: On weekends, enjoy food from local vendors who set up shop on the farm.
The fun: Catch an outdoor movie, navigate your way through the hay-bale maze or let out your competitive side in a round of pumpkin bowling!
The shopping: Browse festive front-porch decor like mums, colorful gourds, milo stalks and scarecrows––the perfect complement to your hand-picked or painted pumpkin.
14038 Farm Rd. 84, Ash Grove
The pumpkins: They grow in all sorts of shapes, colors and sizes in the patch.
The food: Every fall season, you can find a variety of pop-up food trucks at the farm, which operate on a rotating schedule. With can't-miss Springfield favorites like Pineapple Whip and Ash Grove specialties like Maple Lane Bakery.
The fun: Check out the Homestead Hollows (not one, not two, but THREE corn mazes!), which cater to different levels of adventurous-ness. For younger kids, try the Happy Hollows; older kids can try the Harvest Hollows and Haunted Mine.
The shopping: Find everything from corn stalks and mums and a major home decor selection.
Summer Fun in the Fall
There are some quintessential summertime activities that we really should be doing in the fall instead. You might consider these things part of your summer fun bucket list, but hear us out: They'll be better in autumn when the tamer weather lets you enjoy them instead of sweat through them.
Millsap Pizza Nights 
These farm dinners at Millsap Farms offer such a quaint and neighborly atmosphere—we just love them. But you know what we don't love? Mosquitos. Sweating. Feeling sticky in the summer heat. The pizza nights run through October, and we think the end of the season is the best time to go, when cooler nights lend their own charming vibe.
Float Trips
Okay, so maybe you won't plunge into the super-cold spring-fed water on a fall float the way you do in the summer. But a fall float offers a unique way to see fall color as you float through the Ozarks wilderness on your canoe. Instead of sweating your way to the next gravel bar so you can stop and cool down in the water, you'll be enjoying the journey.
Boating on the Lake
Like floating on our region's rivers, boating on our region's lakes lets you see fall color from a whole new perspective. If you don't own a boat, you can always rent one from one of our local marinas (there are tons of them, but State Park Marina and Port of Kimberling Marina are always good bets). They're less busy in the fall, so it's easy to get a reservation.
Riding Your Bike
Who actually enjoys sweating under their helmet? Even avid summertime cyclists must hate that, right? In the fall, you can enjoy a cool breeze on your face instead. And if you ride through a scenic spot like Dogwood Canyon Nature Park, you'll be able to take in changing fall color as you go.
Head Out for a Hike This Fall
One of the best ways to appreciate the fall in southwest Missouri is to step out onto the trails. Check out our collection of fall hikes.
Pack up the car and some picnic supplies to take a long, picturesque drive this fall.