Spaces
Find Hand-Woven Rugs at Rug Fashion Store
We take a peek inside Springfield's new Rug Fashion Store for some stylish home inspiration.
By Morgan Doyle
Oct 2020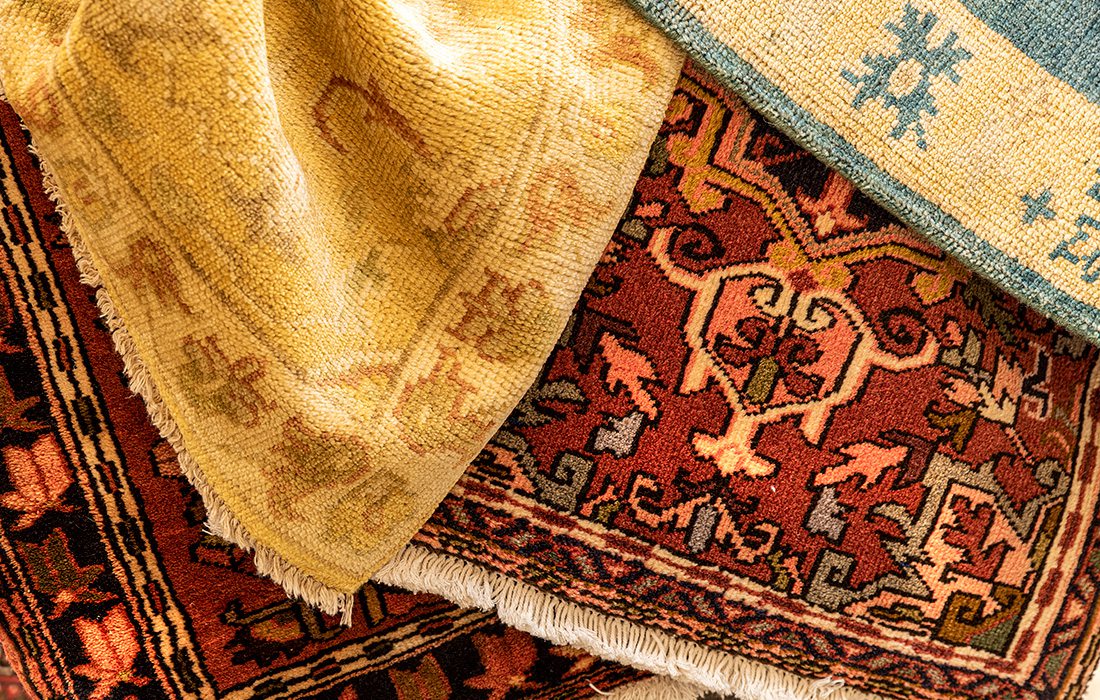 The rug business is a family affair for the owner of Springfield's Rug Fashion Store, which is located in Brentwood Shopping Center. Siamak Ahmady represents the third generation in a family of rug experts, with decades of experience under his belt—not to mention the influence of both his father and grandfather who were also in the business.
In fact, a lot of the handmade rugs  available in-store at Rug Fashion Store are actually Ahmady's own designs. His father and grandfather were in the rug business in Iran and had a loom of their own. Now, Ahmady has a loom overseas where 300 to 400 rugs are produced each year. He doesn't personally make the rugs, but he has been having them made for more than 30 years. 

Depending on what you're looking for, the handmade rugs at Rug Fashion Store are most likely going to be investment pieces. Ahmady says he carries some 2,000 handmade rugs in-store, and prices range from $150 to $95,000. They are hand-knotted on a loom and come in just about any style. They're made from natural wool or silk and natural dye and usually take a year or longer to complete. And if you have a specific design in mind, handmade rugs can also be made to any pattern of the customer's choosing.
Ahmady says his handmade rugs should last a lifetime, while the machine-made rugs will last 10 years or more. You can shop the store's website for more rugs or home decor with free shipping. And on top of that, the store even offers cleaning and repair services.
Rug Fashion Store is a Midwest-based chain that carries about 4,000 handmade rugs from all over the world, including India, Iran, Pakistan and Turkey.
The shop also carries many machine-made rugs and designer brands, including Karastan, Loloi and Nourison. Rugs range in size from 2-by-3 feet all the way up to 12-by-18 feet, and the store can also create custom sizes—which means you can likely find inspiration for every room in the house.
Q&A with store owner Siamak Ahmady
417 Magazine: Can you tell me a little bit of background behind the Rug Fashion Store chain?
Siamak Ahmady: About 10 years ago, the industry changed to [a] more modern style, so I came up with the idea to do a combination of handmade and machine-made [rugs] to provide more affordable styles to the customers and to bring in a bigger customer base. The first store opened in 2013. It had a slow start, but we have now evolved into a large customer base, as well as an ecommerce site that's doing very well.
417 Magazine: What inspired you to open up a Rug Fashion Store in Springfield?
S.A.: I did some research and it turns out there aren't many stores offering what I have, so there is a lot of potential for the business to grow and do very well. It's the kind of city where people will appreciate something like art for your floor.
417 Magazine: What are a couple of your favorite products right now that you sell in-store?
S.A.: I love the new handmade custom designs; some are on the wall and some in the pile, but the silk ones are really high quality and a great price for the quality.